Thick Italian Vegan Hot Chocolate
I think I might have created a monster. This thick Italian vegan hot chocolate is so rich, creamy, and chocolatey that you will seriously fall in love with it.
It's between a normal hot chocolate and a chocolate pudding. The thickness slides down your throat so nicely, and the gorgeous creamy whipped coconut cream on top will just take it to another level.
I first came across this style of hot chocolate when Michael and I visited a local chocolate bar that just introduced a new vegan menu. It was on my birthday 18 months ago and it was seriously the perfect way to end the celebrations. We indulged in some churros and a hot chocolate each. I ordered the thick Italian hot chocolate without realising what my tastebuds were about to experience.
Ever since I've been craving it. They recently removed it from their menu, and I was devastated. I knew though that the vegan hot chocolate that they had on their menu probably didn't have the healthiest of ingredients and would be full of emulsifiers.
So, I have taken it upon myself to recreate this beautiful decadent and luscious drink at home.
It can be dangerous to recreate and make things at home that you've fallen in love with, but I think that it would be wrong of me not to do this and share it with you 😉
What plant-based milks can you use in a hot chocolate?
When you go about making a dairy-free hot chocolate, you've got to consider what kind of milk you might want to use. I personally like soy milk or coconut milk for this drink. I've found that they work great, but you can, of course, use whatever plant-based milk you like!
Some other wonderful options are:
Cashew milk
Hazelnut milk (this could be sensational!)
Oat milk
Hemp milk
Almond milk
What's the difference between cocoa and cacao powder?
I get asked this question all the time. And so many people don't realise that there is a difference. I didn't use to. About eight years ago it was really hard to find cacao powder on the shelves or online. But now, you can source it from pretty much anywhere. I love this one by Wildly Organic.
Cacao powder is processed at low temperatures which means it's raw and keeps its full nutrients, minerals, and enzymes profile intact. It is typically used in raw desserts but can certainly be used in baked desserts as well as drinks like this one. Keep in mind though that it's a little more bitter than the cocoa powder.
Cacao beans are also rich in nutrients like iron, zinc, magnesium, potassium, calcium, copper, and manganese. They're a great ingredient to add to your smoothies, breakfast cereals, and desserts.
Cocoa powder, on the other hand, is heat-treated at higher temperatures and loses a lot of its nutritional benefits. I've also heard that they typically use the leftovers of the cacao bean processing as the "lower-grade" quality for the cocoa powder. It is usually cheaper as most of the products you'll find will have some kind of filler which might be sugar, artificial sweeteners, emulsifiers, and dairy products.
This is why I always buy the raw materials and make things from scratch at home. This way I know exactly what's going into my food and drinks.
Chocolate lovers dream
Thicker and more complex than a normal hot chocolate, this recipe will satisfy all chocolate lovers. The perfect pairing with this drink is my double choc chip cookies to really put you in that chocolate coma you're after! haha
I love the addition of coconut cream as it melts into the hot chocolate to give it something cooler, even creamier, and refreshing. You can instead add a dollop of coconut ice cream! Oh, I'm drooling just thinking about that.
A couple of tips to keep in mind when making this vegan hot chocolate recipe
If your cacao powder is a little clumpy, use the back of a spoon to help break up those lumps and make it a nice, even consistency.
Mix the milk and cornstarch together well so that there aren't any clumps in it. This will allow for a smooth, creamy hot chocolate.
If you like drinks to be very sweet, you can add in another tablespoon of coconut sugar or a few more chocolate chips.
Other recipes you'll love:
If you try this recipe, let me know! We'd love for you to leave a comment and rating below. If you want to go that extra mile, tag us on Instagram or share your photo of the recipe on Pinterest.
Print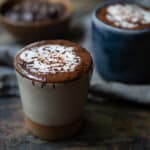 Thick Italian Vegan Hot Chocolate
---
Author:

Prep Time:

5 minutes

Cook Time:

10 minutes

Total Time:

15 minutes

Yield:

2-3
Description
Rich, creamy, thick chocolatey goodness. You will fall in love with this decadent Italian vegan hot chocolate.
---
2 cups

/ 500ml +

2 tablespoons

soy milk

½ teaspoon

cornflour*

2 tablespoons

cacao powder

3 tablespoons

coconut sugar (or any other granulated sugar)
Pinch of salt

½ cup

/ 90g good-quality vegan dark chocolate or chocolate chips (plus extra for topping, optional)

½ tsp

vanilla extract
Whipped coconut cream (optional)
---
Instructions
In a small saucepan, add the 2 cups / 500ml of soy milk and bring to a boil.
While you wait for the milk to come to a boil, mix the remainder of the milk with cornflour in a small cup and set it aside.
In another bowl, combine the cacao powder, coconut sugar, and salt. Set aside.
Once the milk has been brought to a boil, reduce heat and whisk in the milk and cornflour mixture, followed by the cacao powder mix. Whisk for a minute.
Add in the dark chocolate and vanilla extract and stir for a couple of minutes. The mixture will have thickened up by now and is ready to serve.
Enjoy with a dollop of coconut cream and some grated chocolate.
Notes
Cornflour: Where I live, cornflour is the name for the white fine powder that is used as a thickener. It may be called corn starch as well.