Vegan Gluten-Free Chocolate Cookies
If you're after vegan gluten-free chocolate cookies that are gooey on the inside and nice and crispy on the outside, you've come to the right place!
These cookies are pure chocolatey goodness without the use of wheat, butter, milk, and eggs. Who would've thought!?
The decedent addition of chocolate chunks makes these cookies rich, fudgy, and perfect. If you don't usually enjoy gluten-free cookies, trust me, you won't even notice that you're not using regular flour. They're that good.
This post may contain affiliate links, for which we earn a small commission at no additional cost to you. Read our full disclosure.
As much as cookies seem like a straightforward recipe to create, there are a few things that need to be considered when crafting a new one from scratch:
What's the consistency of the cookie? Chewy, soft, fluffy, crunchy, crispy?
How much do you want them to spread? E.g. smaller cookie with more volume, or a flatter larger cookie.
The temperature of the ingredients. Are some ingredients cooler or warmer than others?
To refrigerate and/or freeze the cookie dough or not and for how long?
The temperature of the oven.
Baking duration.
This is what your cookie dough should look like before you pop them into the oven to melt down and go all crispy and soft. It's a slightly wetter dough, but don't worry, it will work beautifully!
Regardless if you're vegan, gluten-free or neither, this will quickly become your favourite vegan chocolate cookies recipe.
Some tips to help you make these cookies
I'm sure that all the chocoholics out there (like myself), are cheering! Here are a few tips to help you get the best results:
You can use both block chocolate and chocolate chips in this recipe. The only difference is that chocolate chips are designed to hold their shape, even after they're baked. In comparison, chocolate bars will melt much easier and create that pool of melted chocolate in every bite.
The chocolate you use will also determine how sweet your cookies are. The darker the chocolate, the more bitter the chocolate is. I used a 55% cocoa chocolate for this recipe, making the cookies quite sweet. If you'd prefer a less sweet cookie, go for a 70%+ chocolate. Just make sure you read the ingredients to confirm that it's vegan.
If you know that your oven runs a little hot, be sure to adjust the temperature about 10 degrees less to get the same/similar result to mine.
Please be aware that the smallest change to this recipe will give you a different cookie—and is why I have made this recipe mainly with metric measurements. This will provide you with the best result every time.
Please don't skip the cooling time in the fridge. The cookies will not turn out the same!
Perfect holiday cookies
These dairy-free chocolate cookies are perfect for the holidays as it meets all dietary requirements being:
Gluten-free
Dairy-free
Egg-free
Nut-free
They're also easy to make in a larger batch by just doubling the recipe. So there'll be plenty for everyone! I mean, who doesn't love chocolate?
They keep well in an airtight container for up to 5 days, which makes them a simple but perfect make-ahead treat.
Super easy to make gluten-free cookies
These cookies don't require any creaming (vegan butter or softened coconut oil and sugar beaten together), making them so much easier to put together. I've tried to make them as approachable as possible.
So even though you can go wrong and not get the same cookies as mine, I'm pretty confident in saying that they'll still taste pretty amazing regardless.
The reason I used the 1-t-1 baking gluten-free flour from Bob's Red Mill is that it's been created to make baking gluten-free easier and just as delicious. You'll know that they're slightly underbaked if you get a little bit of a rice flour taste.
Not a worry, just pop them back in the oven for a couple more minutes to crisp up on the outside, and the taste will go away! Magic 🙂 Don't worry, you'll still have a gorgeous chewy and soft center.
Other chocolate recipes
If you love this recipe, you'll also love these:
If you try this recipe, let me know! I would love for you to leave a comment and rating below. If you want to go that extra mile, tag us on Instagram or share your photo of the recipe on Pinterest. 
Print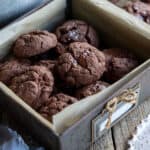 Vegan Gluten-Free Chocolate Cookies
---
Author:

Prep Time:

15 minutes

Chill Time:

1 hour

Cook Time:

18 minutes

Total Time:

1 hour 33 minutes

Yield:

15 cookies
Description
No wheat, no dairy, insanely decadent. These vegan gluten-free chocolate cookies are crispy on the outside and chewy in the middle, just the way a chocolate cookie should be!
---
Wet ingredients:
2 tablespoons

maple syrup

½ cup

/ 110ml neutral oil (I used rice bran oil)

1 cup

/ 150g coconut sugar

1 teaspoon

vanilla extract
Dry ingredients:
250g

/ 1¾ cup 1-to-1 gluten-free flour

1 teaspoon

baking powder

½ teaspoon

bicarb soda

½ teaspoon

fine salt

⅓ cup

/ 30g cacao powder
Extras:
100g

/ ¾ cup vegan chocolate chunks
Salt flakes
---
Instructions
In a large bowl, whisk together all the wet ingredients plus ¼ cup / 60ml water for around 1 minute until well combined and when the sugar has dissolved.
Sift in the dry ingredients and mix. Don't overmix.
Fold in the chocolate chunks and refrigerate for 1 hour. Don't skip this step.
15 minutes before you take the cookie dough out of the fridge, preheat the oven to 180 degrees Celcius (350 degrees Fahrenheit) and line two baking trays with unbleached parchment paper.
Once the cookie dough is ready, remove it from the fridge, and using a spoon, scoop out round balls and place onto parchment paper. (See image above for size and shape.) If you're using a large tray, 6-8 cookies will fit. Make sure if you use two trays that the one that's lower in the oven bakes for a little longer.
Sprinkle a pinch of flaked salt on each ball.
Place in oven and bake for 16-18 minutes. Mine takes 18 minutes to create that nice crispy edge and gooey centre.
Leave on the baking tray to cool completely.