Vegan Vanilla Cake with Coconut Cream and Berries
This vegan vanilla cake is fluffy, moist, and super delicious. The only vegan vanilla cake recipe you'll ever need! It's refined sugar-free (unlike most other recipes out there), filled with a beautifully thick coconut cream paired with fresh berries and edible flowers.
This may not be your typical vanilla cake, but one bite of this deliciousness, and you'll be making this cake every time you get a craving or need it for a special occasion.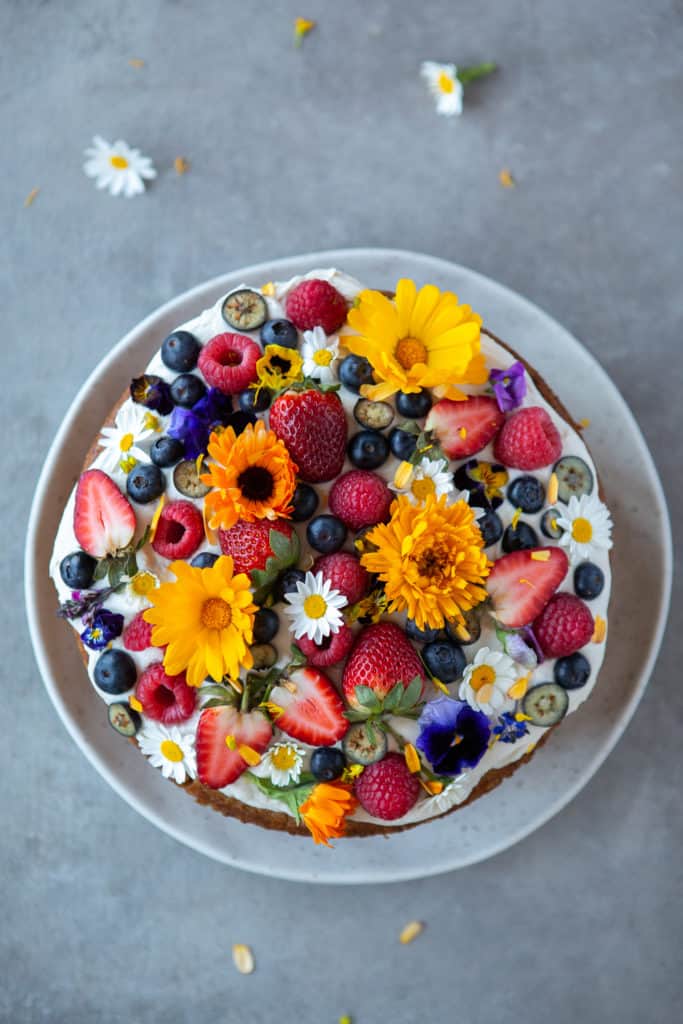 I think the best part about this cake is that it's so versatile! You can dress it up or down, depending on what you'd like to do with it. You can make it 1,2, or 3 layers.
A good vanilla cake should be a part of everyone's recipe essentials. If you prefer chocolate, no problem, my chocolate cake should give all you chocoholics out there the right fix.
Kitchen tools needed to make this naked vegan vanilla cake
The items that you'll need to execute this cake are:
Scales
Measuring spoons
Large bowl
Small bowl
Fine mesh strainer (for sifting dry ingredients)
Mixing spoon
Whisk
9inch cake tin/s
Unbleached parchment paper
Wire rack (for cooling the cake/s)
Silicone spatula or palette knife/offset spatula (for spreading coconut cream)
Tips for making this easy vegan vanilla cake
There are a few tips and tricks to get the best results with this cake.
If you'd prefer to have a lighter cake (in colour), use regular caster sugar. If you're in the US, make sure it's organic as otherwise, it's not vegan.
Use two separate cake tins if you're making the double layer as you want to make sure that the cake tin is completely cool before placing in the oven for even heat distribution and baking.
Don't use frozen berries for decorating the cake. The berries will start to bleed by losing their moisture, and your coconut cream will suddenly have a pool of berry juice throughout it. Not the best look! Trust me, I've made this mistake, and it ruined the whole cake.
Tips continued…
Berries and flowers are the best decorations for a cake that will be eaten the same day. They don't hold well for long, so make sure that you decorate it when you plan to eat it. Alternatively, use other things to make your cake pretty. Nuts and seeds, chocolate, dried fruit and flowers are all great options. Things like puffed grains also add a lovely texture to the cake decorating. Eg. Puffed amaranth.
The coconut cream is best prepared ahead of time. I usually buy full-fat coconut cream that has a thickener in it (guar gum), so the consistency is nice and smooth. Once I've combined all the ingredients for the cream, I pop it in the fridge to firm up before spreading it on the cake. This typically takes about 2-3 hours. We've got a recipe that shares tips and tricks and how to make whipped coconut cream.
If you want to spruce up the coconut cream, you can fold in my passionfruit curd into it or use it in place of the coconut cream and make the cake a tropical adventure!
Don't overmix the batter! You'll otherwise risk of overdeveloping the gluten and will end up with a chewy bread-like cake. We're not trying to bake bread here 🙂
What makes this vegan vanilla cake recipe unique?
This cake is unique because it's a healthier alternative to the other vegan vanilla cake recipes out there. Here are some of the differences:
This recipe doesn't use refined sugar (which is what gives it the darker coloured sponge) using a mix of coconut sugar and good-quality maple syrup.
There's no classic frosting or buttercream on this cake, so it's much healthier without the icing sugar, vegetable shortening and/or vegan butter.
No tricky business! It's SO easy to whip up even a child could make it (with your supervision, of course).
The sponge has only ten ingredients, making it quicker and more approachable to put together.
If you're after a cake that tastes amazing and looks beautiful but doesn't contain any processed ingredients, this cake is for you! You can eat it guilt-free and share it with loved ones.
Other cake recipes you'll love:
If you try this recipe, let me know! We'd love for you to leave a comment and rating below. If you want to go that extra mile, tag us on Instagram or share your photo of the recipe on Pinterest.
Print
Vegan Vanilla Cake with Coconut Cream and Berries
---
Author:

Prep Time:

15 minutes

Cook Time:

1 hours

Total Time:

1 hour 15 minutes

Yield:

9-inch cake, 14 slices
Description
Enjoy this super simple refined sugar-free vegan vanilla cake recipe. With a vanilla sponge and a simple coconut cream, you can easily dress this cake up for birthdays and other occasions or pair it down to eat any day of the week!
---
Dry ingredients:
2 cups

/ 270g plain flour

1½ tablespoons

baking powder

½ teaspoon

bicarb soda

1 cup

/ 160g coconut sugar

½ teaspoon

salt
Wet ingredients:
1 cup

/ 250ml plant milk (I used organic soy)

½ cup

/ 105ml neutral oil (I used rice bran oil)

¼ cup

/ 80ml maple syrup

1 teaspoon

apple cider vinegar

1½ teaspoons

vanilla extract

1

flax egg
Toppings:
Your choice of berries (I used half a punnet each of blueberries, strawberries, and raspberries)
Edible flowers (optional)
---
Instructions
Preheat the oven to 180 degrees Celcius (355 degrees Fahrenheit) and place the oven rack in the middle. Line a 9-inch cake pan with parchment paper and grease the sides for easy removal from the pan. Set aside.
In a large bowl, sift all the dry ingredients and whisk together to combine well and remove any clumps.
In a separate smaller bowl, combine all the wet ingredients and whisk them until they are well combined and slightly frothy.
Pour the wet ingredients into the dry and mix using the whisk until there are no lumps. Please don't over mix!
Pour batter into the prepared tin and tap on the benchtop a few times to release any air bubbles.
Place on the middle rack in the oven, baking for 45 minutes to 1 hour. Bake until the skewer comes out clean when inserted into the middle of the cake. Please don't be tempted to open the oven any sooner as this will make the cake collapse in the middle as it cools. You will see that the cake is starting to separate from the sides of the pan; this is when you can test to see if it's finished. You want the cake to spring back if you touch the top.
While the cake bakes, you can prepare your whipped coconut cream.
Once the cake is made, let it cool in the pan for 15 minutes before carefully removing it and letting it completely cool on a wire rack.
Once the cake is completely cooled, refrigerate.
When you're ready to add toppings, remove the cake from the fridge and smooth the whipped coconut cream over the cake and decorate it with berries and edible flowers.
If you're making the two-tier cake, spread coconut cream in the middle and add a layer of cut strawberries, then gently press down the second cake on top. Finish off with more whipped cream and decorations as desired.
The sponge will keep at room temperature in an airtight container for up to 5 days undecorated or in the fridge for 3 days with the coconut whipped cream. We recommend if decorating with berries and edible flowers that the cake will look its best when done on the same day.
Notes
Please note: This recipe is only for one vanilla cake in this two-tiered cake. Double the recipe to get the same look as pictured. Make sure to also double the whipped coconut cream recipe.