An egg is typically one of the key ingredients in baking recipes, desserts, and breakfasts. Being vegan, we don't use eggs (even from backyard chickens). So when it comes to cooking, we use vegan egg substitutes in recipes where required.
You'll also find that non-vegans will substitute an egg in many recipes to avoid the egg smell, sometimes the portion is too small that the recipe doesn't require a whole egg, or they simply don't like eggs.
A flax egg is one of the most successful substitutions that work well with cookies, pancakes, waffles, bread, muffins, cupcakes, cakes, and even tarts. But unfortunately, you'll not achieve a creamy texture in your puddings, pies, and custards if you use a flax egg in them. So pick your baking recipes wisely when using flax egg as a substitute.
If you're after something that will create a creamy or fluffy consistency, then you can use an ingredient like aquafaba or coconut cream instead.
What is a flax egg?
It sounds odd and may seem like some science project that you need to perform in the kitchen, but making a flax egg boils down to mixing two ingredients together.
To make yourself a flax egg, you need to combine ground flaxseed with warm or room temperature water using the right proportion. Check the flax egg recipe below and see how easy it is to make at home!
Health benefits of flaxseeds
The trend of flaxseed (aka linseed) and flax eggs in our cooking and baking, is one that has certainly risen with the popularity of veganism. However, the cultivation of flaxseed has been around since ancient times.
Flaxseeds can also be found in two different colours—golden and brown. The latter is the more popular variety, however, they're equally as nutritious. You may like to choose the golden for its lighter colour in baking so it blends in more with the colour of the other ingredients, as the brown ones give your baked goods a much deeper colour once baked.
One other thing I'd like to point out is that the brown flaxseeds have a nuttier/stronger flavour profile compared to the golden ones. So again, keep that in mind when choosing to buy them for your recipe.
One single serving of whole flaxseeds is typically 7 gm or 1 tbsp. One single serving provides a good amount of fibre, omega-3, protein, vitamins, and minerals. It's commonly known that flaxseeds are a great source of vegan omega fatty acids.
Vegetarians and vegans can get great value from flaxseed as they are high in alpha-linolenic acid (ALA). Our body cannot produce these nutrition macros, so consuming the whole foods abundant in these macros is a great solution.
The fibre (soluble and insoluble) in flaxseed improves our bowel movement. It regulates blood sugar levels and prevents constipation.
How do flax eggs taste?
The main task of an egg in many recipes is to bind everything together, and we know a flax egg can do it quite well, but the question is, how well does it taste?
A flax egg has no strong taste, and in most recipes you use it, you won't notice any extra flavours for using a flax egg. The taste is slightly nutty but very mild. It will not affect any of your flavours in the recipe you're using if you're only substituting 1-2 eggs.
How much flaxseed (flax egg) is needed to replace an egg?
For one regular sized egg, you'll need to add 2 tbsp (4g) of the flax egg. Find the recipe for making a flax egg below.
Buying flaxseeds
There are two options for you to choose from. You can get whole flaxseeds and then grind them yourself at home, or you can buy a flaxseed meal that is ready to use. Viewing purely from a price point, buying whole flaxseeds, and then grinding them yourself at home would save you a few dollars.
However, after the flaxseeds are ground, the natural oils inside the seed are exposed to oxygen and begin to oxidize pretty much straight away, making them very perishable. This oxidization turns the oils rancid so it's important to refrigerate them and use within a week of grinding. I've never understood why shops sell pre-ground flaxseeds and have them on the shelf, not the fridge!
Ideally, grind your flaxseeds on an as needed basis to get the best out of them.
One other thing that is worth mentioning is that they're best ingested ground for our bodies to access all of the nutritional benefits of these wonderful seeds. If kept whole, they'll just pass straight through us!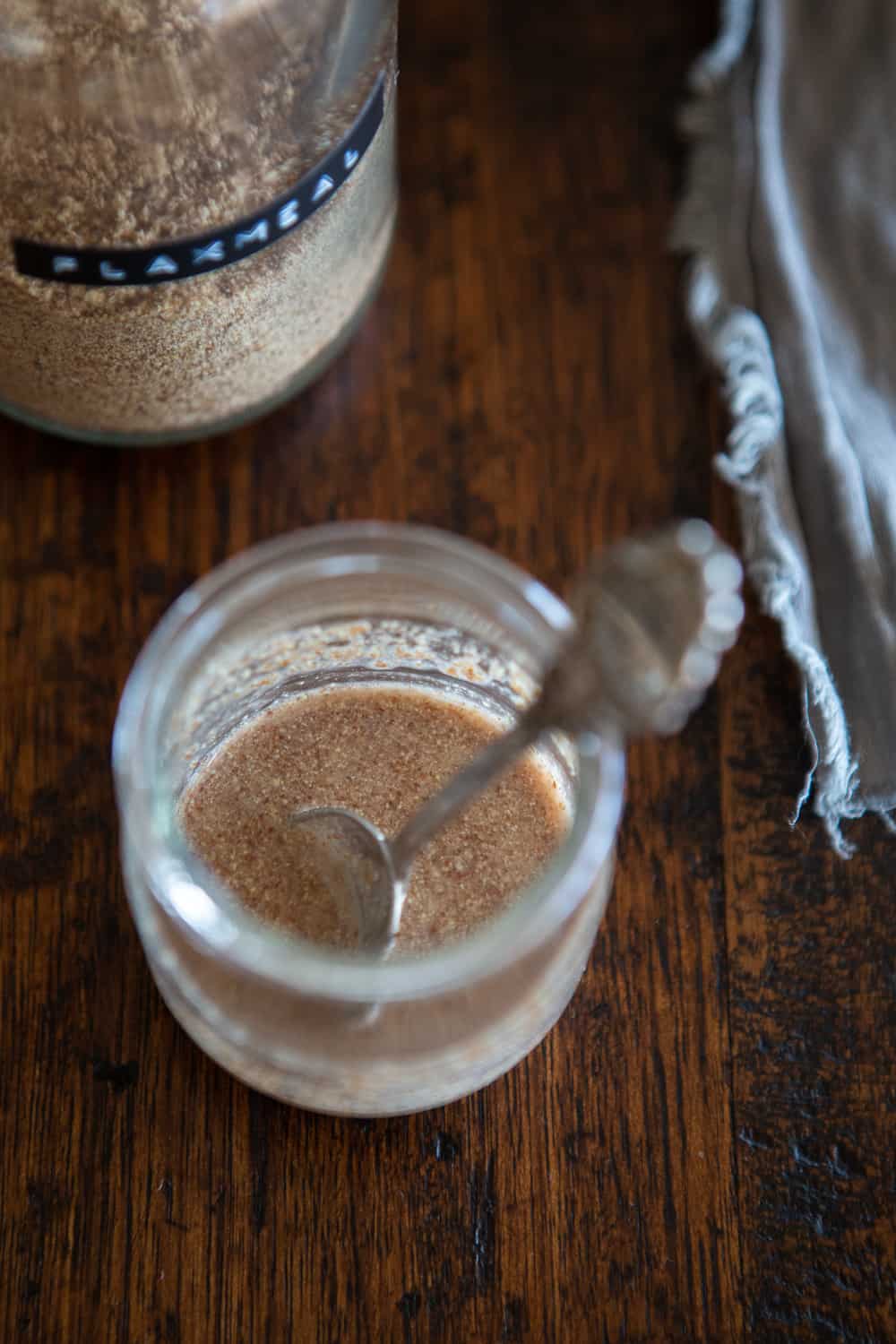 Tips when using a flax egg
Flax egg/s will work in most recipes that call for a regular egg except creamy pies, whipping cream, and puddings as mentioned earlier. For example, you can use a flax egg in a recipe like my peanut butter and chocolate pie.
For other recipes like pastries, cookies, pancakes, waffles, cakes, muffins, cupcakes, crepes, bread, flax egg would work well. For example, check out this vegan cookie recipe – Speculaas Cookies (Dutch Spiced Cookies), and see how beautiful your cookies turn out using a flax egg. You'd be surprised how amazing savoury dishes like this lentil loaf turn out using flax eggs too!
When you're combining the flaxseed powder/meal, make sure you stir until it's well incorporated with the liquid. If it doesn't mix properly, it will not bind as effectively.
Wait for at least 10 minutes after mixing the flaxseed meal with liquid as it needs time to expand and work as a binder.
You can use any plant-based milk, or just water to combine the flaxseed meal/powder. There is no strict ruling on using only water here.
You'll need to use a flax egg exactly where the recipe calls for a regular egg.
You can store a flax egg mixture in the refrigerator in an airtight container for three days. If you freeze it, it will stay good for one month, but it is best to use it within one week.
If you have a recipe you'd like to try out using a flax egg in place of a chicken egg but are unsure, ask in the comments below!
Other basics you'll love:
Print
Flax Egg Recipe
---
Author:

Prep Time:

10 minutes

Total Time:

10 minutes

Yield:

1 flax egg (replacement for 1 regular egg)
Description
Enjoy this step-by-step guide on how to make a flax egg which you can use in your vegan baking for cakes, tarts, muffins and more!
---
1 tablespoon

flaxseed powder/meal

2½ tablespoons

water (or plant-based milk)
---
Instructions
In a small bowl, add the flaxseed meal. 
Pour in the water or the liquid you're using. 
Stir for about 10-15 seconds or until the flaxseed meal completely incorporates with the liquid.
Let it sit for 10 minutes, it will turn into a gel-like consistency. 
It's now ready for use in your recipe!