Vegan Speculaas Cookies (Dutch Spiced Cookies)
These vegan Speculaas cookies are spicy, crispy, and chewy. If you're after the perfect vegan cookie recipe for the holiday season, this is it!
When I was planning my recipes to share with you over the holiday period, I wanted to share recipes that many of you love. Ones that aren't typically vegan like eggnog and meatloaf.
When I started thinking of what kind of cookie I love, I couldn't go past the Speculaas cookies (aka Dutch spiced cookies or Speculoos). Crunchy, fragrant biscuits that are perfect to dunk in your tea, coffee, or even hot chocolate.
I've had these in Slovenia when I was growing up and I loved them. I've also been enjoying the storebought variety here in Australia that happen to be vegan as well, particularly in the past year.
I notice that within minutes I can inhale a large amount of these cookies. It's like I blackout and next thing I've eaten ten of them!
I don't know if it's a good thing that now I've got a recipe for them, or it will simply just feed this addiction of mine, but I was curious to re-create them nevertheless.
If you haven't had vegan Speculaas cookies before, trust me, you'll be wondering how they've only entered your life now!
When I was doing research for this recipe, I came across some interesting facts about these gorgeous Dutch cookies. Not only are they filled with delicious spices, but they're also typically in the shape of a windmill.
The traditional moulds are made of wood and they are baked in these moulds. This is why they are also called Dutch windmill cookies.
Creative ways to imprint these vegan Speculaas cookies
Since I want to make this recipe as accessible as possible, I wanted to give you plenty of ideas of how you can create a beautiful mould without needing an unnecessarily expensive Christmas rolling pin, some fancy moulds, or cutters that will come out only for one month of the year (if that).
So, here are some creative ways to achieve beautiful imprints with things you'll probably have around your home:
Using the bottom of a glass that has a pattern
A thick simple patterned doily
The tip of a whisk
An apple cutter
Apple corer for the centre and a small tart/cupcake tin to cut the outside
The inside of a lemon juicer
Sides of a glass (use it like a rolling pin)
Old fashioned crystal salt and pepper shakers (see image)
A fork
The base of old cutlery that is engraved
A rosemary branch
A potato masher
The main time of year when these cookies are popular is now, at Sinterklaas (Saint Nicholas Day) which is on the 5th of December (Eve), and on the morning of the 6th of December.
This holiday is celebrated more than Christmas in countries like the Netherlands, Belgium, Luxembourg, and northern France (French Flanders, Lorraine, and Artois). These spiced cookies are also very popular in Germany.
Even though the sale of Speculaas cookies is predominantly around the holiday season, they are available all year round.
A beautiful gift
Since you may have gathered by now (if you're familiar with our blog), we're not so big on gift-giving. If we do exchange gifts, it's typically in the form of experiences. Otherwise, if you really want to gift a physical item to a loved one, it can be food!
These cookies make the perfect little gift. Pop them in a jar and tie a little bit of natural twine, and voila! Maybe you can be a bit fancy and also add a little flower or a branch of some greenery when tying the twine. Now, this is the type of gift that I love!
These vegan Speculaas cookies will make your whole house smell like Christmas as they are flavoured with a range of warm spices like cinnamon, nutmeg, cardamom, aniseed, clove, and ginger.
If you like a strongly spiced cookie, you can leave the dough to sit in the fridge for a couple of days before rolling out and baking. This will infuse those flavours even more and make for stronger flavoured vegan Speculaas cookies.
A couple of tips
Below are five things to keep in mind when making these vegan Speculaas cookies:
If you want a crunchy cookie on the outside and soft and crumbly on the inside, bake it for less time.
If you want the stamp (whatever you use to imprint the dough) to be dominant, you want to stick to the lower heat and longer time that is suggested in this recipe.
These cookies will keep in an airtight container or jar for up to one week. Or if you're super organised, you can bake them well in advance and freeze them. When you're ready to use them, thaw them completely and then store them in a jar or container.
If you plan to put icing on the cookies, do so after they have completely defrosted.
Don't be intimidated by the spices that are used. They are pretty accessible in supermarkets and bulk food stores.
Traditional Speculaas cookies use rosemary extract, you are welcome to use it if you have some on hand.
I hope you enjoy these crispy, fragrant beautiful vegan Dutch spiced cookies as they are perfect to create that winter cosiness that we all want.
Other recipes you'll love:
If you try this recipe, let me know! We'd love for you to leave a comment and rating below. If you want to go that extra mile, tag us on Instagram or share your photo of the recipe on Pinterest. 
Print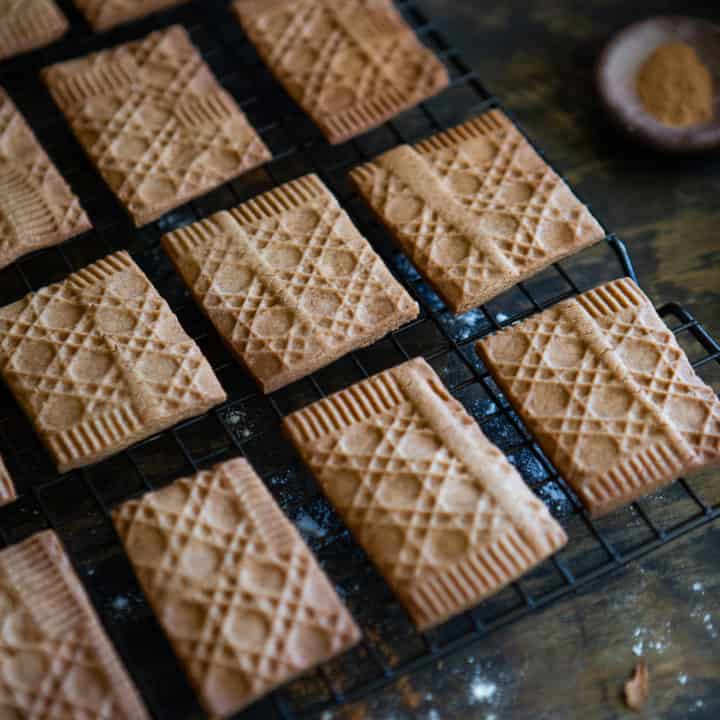 Vegan Speculaas Cookies (Dutch Spiced Cookies)
---
Author:

Prep Time:

1 hour 15 minutes

Bake Time:

12 minutes

Total Time:

1 hour 27 minutes

Yield:

Makes 35-40 cookies*
Description
These spiced fragrant cookies are perfect for the holidays with a cup of tea, coffee, or hot chocolate. Your house will smell like a big warm hug!
---
1

flax egg*

½ cup

vegan butter, room temperature (not melted)

¾

–

1

cup / 120g-160g coconut sugar*

1 teaspoon

vanilla extract
Dry ingredients:
1½ cups

/ 200g all-purpose plain flour (plus extra for rolling)

½ teaspoon

baking powder

½ teaspoon

salt

1 tablespoon

ground cinnamon

¼ teaspoon

each of ground nutmeg, and cloves

1/8 teaspoon

each of ground ginger, cardamom, aniseed, and white pepper
---
Instructions
In a small bowl, mix the flax egg ingredients well and set aside.
In a stand mixer, hand mixer, or by hand, whisk the butter and sugar together until it turns into a cream. Usually around 1-2 minutes.
Whisk in the vanilla extract and the flax egg. Set aside.
In a large bowl, sift all the dry ingredients.
Add the butter and sugar mixture to the dry ingredients and mix well. It will still be a little soft. Once it's well incorporated, this is where I normally get my hands into the bowl and work the dough for about 30 seconds.
Wrap in some unbleached parchment paper and put it in the fridge to chill for 30 minutes. Alternatively, put a plate on the bowl and put it in the refrigerator to chill for 40 minutes.
At this stage, preheat the oven to 180 degrees Celcius (355 degrees Fahrenheit) and line two baking trays with unbleached parchment paper. Set aside.
When the dough is ready, on a lightly floured surface, roll out the dough to around 3mm-6mm (1/8 inch – 1/4 inch) thick dough. Imprint dough with whatever you're using (if anything, see ideas earlier in the post) and cut to size. My cookies were approximately 1.5cm x 7.5cm (1.5 inches x 3 inches). You can make whatever size you like! Cut with a sharp knife and carefully transfer onto the lined baking tray. I use a spatula to do so.
Bake for 12-15 minutes* until golden brown.
Cool on tray for 10 minutes and then transfer to a wire rack to cool completely.
Notes
Flax egg: A flax egg is made in a small bowl with 1 tablespoon flax meal and 2½ tablespoons of water. Mix well and leave aside for 10 minutes. If you want to learn more about flax eggs, you can find out here.
Coconut sugar: I like these cookies quite sweet (because they normally are when you buy them), however, you can use a little less sugar if you like. I've tested it both ways and it will turn out well.
Baking: Baking time will depend on what kind of cookies you like and how thick they are. If you want them slightly softer in the middle, bake for less, if you want them crunchy, bake for longer.
Yield: The amount of cookies this recipe yields depends on what size and thickness your cookies are. This was based on how many I was able to make with the size and shape I used.