I love falafels. They would have to be one of my favourite foods when combined with the right condiments and vegetables.
Soft but crispy, they are a little ball of goodness. I've created a recipe that uses them in this beautiful colourful salad, these falafel wraps (image at the end of this post), and in a falafel bowl. They are so versatile, and that's what I love about them the most.
Every time I go somewhere and see falafel on the menu, I can't help myself. The worst that could happen when you order them out is that they are dry, but you can easily fix that with some extra sauce, hummus, tahini dressing, or tzatziki? That's what you get can get with a pre-made mix or too much flour in the mix. The right balance of wet and dry ingredients, as well as the right spices, will give you the perfect homemade falafel.
Is falafel typically gluten-free?
Based on the research that I've done, most recipes won't use flour to help bind it. If they do, it is typically chickpea (besan) flour. Which, of course, you can use in this recipe instead of the all-purpose gluten-free flour I use. The reason I used an all-purpose blend is that it's what I have in my kitchen most of the time, and use it in many other ways. If I had chickpea flour, I would use that.
This is the only component that would potentially compromise the falafel not being gluten-free. You can alternatively use plain flour if you're not gluten-free.
Is falafel normally vegan?
Yes and no. I would say that 90% of them would be vegan, but again if you're eating out, I would double-check. We typically check, and out of probably over 30 places, 2 of them said that they use eggs in their mix. So always check to be on the safe side. As for recipes on the internet, I think yes, they would mainly be vegan. If you want to make sure they are, just use this recipe! 🙂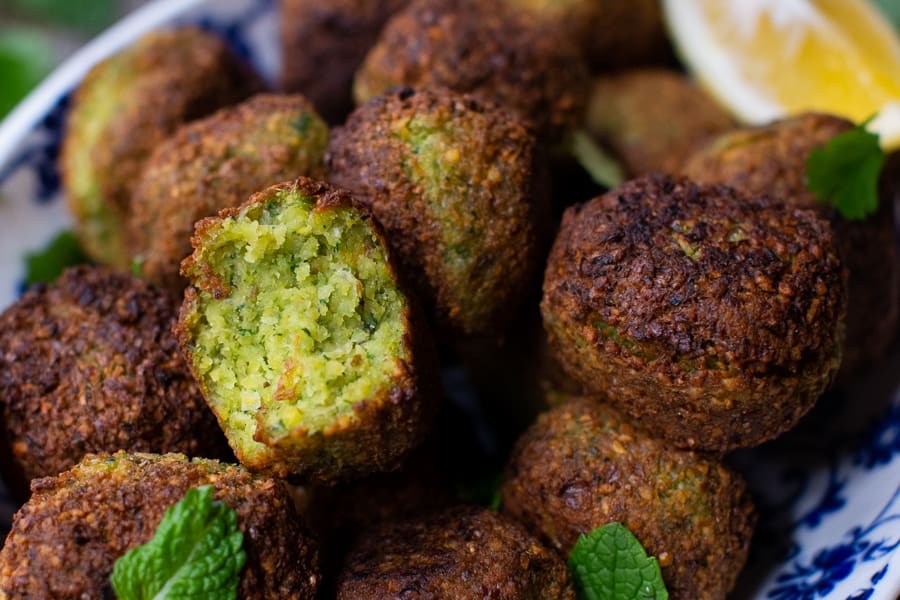 This recipe will make you a fairly wet falafel mixture; it shouldn't turn out dry. If you feel that it's too wet to bind, leave it for a few minutes or add a little bit more flour.
You can store these in the fridge for up to 3 days and reheat them before serving. A great savoury snack to have in the fridge or a quick and easy lunch in a wrap or salad with the recipes I shared above.
So what makes the perfect vegan falafel?
I personally think it all comes down to the spices and a good base. The secret is to use dried chickpeas rather than canned ones. The texture is better. If you choose to use canned chickpeas, just make sure you add more flour so that they can keep together better. Otherwise, you're really just making hummus!
The combination of:
Cumin
Coriander
Garlic
Lemon
Mint
Really helps to balance out the flavours with a kick of freshness from the lemon and mint. However, don't feel like you can't make them if you don't have all the spices. I've made them without the mint and coriander before and used parsley instead and they still turned out great!
Can these vegan falafel balls be baked instead of fried?
They sure can! Just pop them on a lined baking tray in a preheated oven of 190C (375F) for 15 minutes on either side until they are nice and golden. This process just takes a little longer, but if you're trying to avoid using oil, this is the perfect alternative.
Just make sure that you flatten them a little so that they are more like a pattie instead of a ball.
Here are these easy vegan falafel balls in a wrap with hummus, lettuce, cucumber, red onion, fermented turnip, and radish. Everyone will love it!
Wondering what on earth fermented turnips are? It's amazing! Don't let the colour put you off (the bright pink), as it actually turns that colour from beet juice. If you can't find it in the supermarket or your local Middle-Eastern store or European deli, you can use this recipe to make it at home.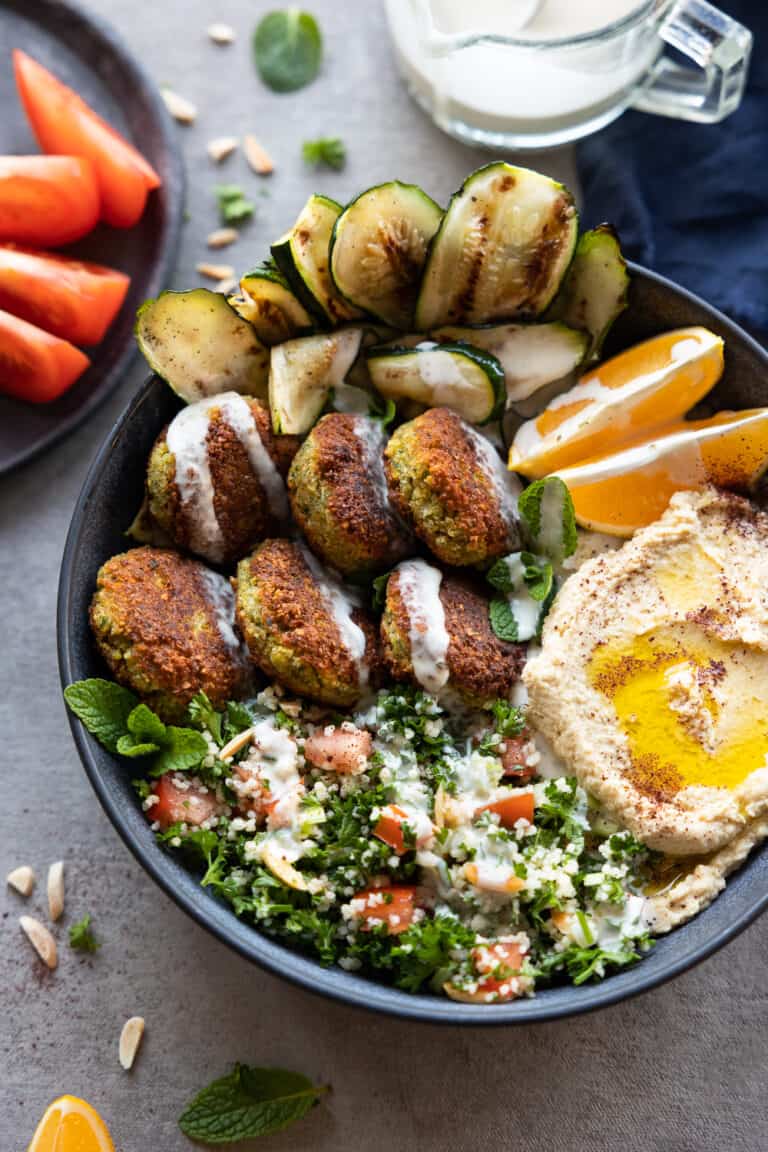 Other great vegan recipes you'll love:
If you try this recipe, let me know! We'd love for you to leave a comment and rating below. If you want to go that extra mile, tag us on Instagram or share your photo of the recipe on Pinterest.
Print
How To Make Vegan Falafel
---
Author:

Prep Time:

15 minutes

Soaking Time:

12 hours

Cook Time:

10 minutes

Total Time:

12 hours 25 minutes

Yield:

18 Falafels
Description
---
1 cup

dried chickpeas* (soaked in water overnight –

12

hours)

1

onion, diced

1 teaspoon

ground cumin

½ teaspoon

ground coriander / cilantro

1 cup

fresh coriander

4

cloves garlic, minced

½ teaspoon

baking powder
Zest of one lemon

15

mint leaves

2 tablespoons

gluten-free flour (or all-purpose flour)

1½ teaspoons

salt

½ teaspoon

pepper
Oil, for frying
---
Instructions
The next day, drain and rinse the chickpeas and add them to a food processor with an S blade and pulse a couple of times.
Add in the rest of the falafel ingredients and blend until it forms a soft paste-like consistency. You may need to stop a couple of times to scrape down the sides. If it's too dry, add in a tablespoon of water and blend again. You should be able to pick it up and form a ball, and it should stick together. It's meant to be quite a wet, soft mixture. As long as it sticks together, they will be fine.
Using a tablespoon, spoon out some mixture and form it into a ball. You can make them more into a patty if you wish by pressing them down with your palm.
Add oil to the frypan, just enough for the oil to cover around half the falafel. I didn't put how much oil as it depends on how shallow your frypan is.
Put the pan on high and wait until the oil warms up. I usually just hover my hand over the top of the pan to see how hot it is. Once it's quite warm, add in a test falafel to see if it starts to sizzle and fry straight away. If it does, it's ready. If not, wait until it does. Once it's ready, reduce heat to medium-high.
Add as many balls into the pan as you can comfortably fit, and fry for about 30 seconds to a minute on either side. When flipping, be careful not to splash oil everywhere. Repeat until they are all done. The mix should make around 18-20 falafels.
Notes
Chickpeas: The chickpeas should not come from a can. They should be dried and soaked as we won't cook them. When soaking, make sure you add plenty of water as they absorb quite a lot of it.