This Mediterranean-inspired vegan falafel bowl is packed with all the good stuff. A simple tabbouleh, crispy falafels, creamy hummus, grilled zucchini, and a smooth tahini dressing to bring it all together. What more could you want?
If you're looking for a filling, protein-packed, delicious bowl, you've come to the right place!
When it comes to fitting my favourite things into a bowl, this falafel bowl would have to be it. It has a variety of textures, colours, and flavours that work so well together.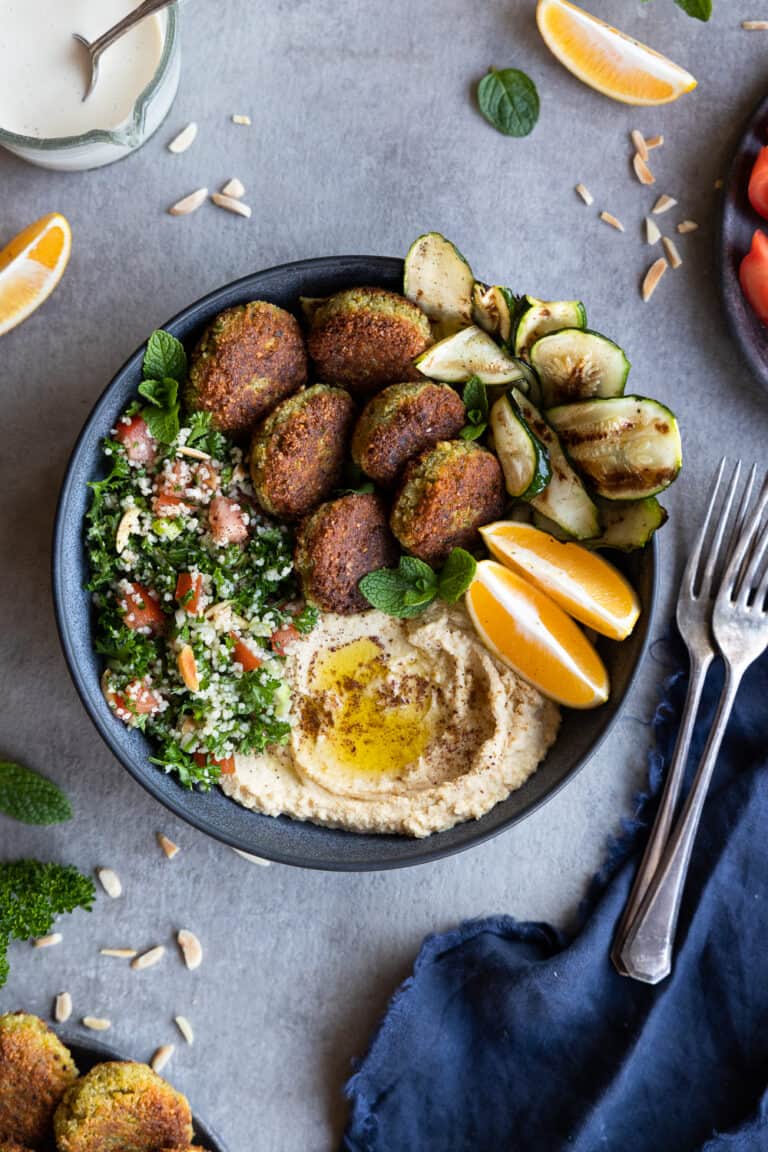 What's in a vegan falafel bowl?
What makes up this falafel bowl are the following components:
Tabbouleh – this tabbouleh is so quick and easy to make. It's a simplified and faster version of my quinoa and pomegranate tabbouleh recipe. If you'd like to keep this bowl gluten-free, swap the couscous for quinoa. Or you can follow the linked recipe for tabbouleh. I used couscous here as it's more traditional and takes next to no time to make. Since there are a few components to this bowl, I wanted to cut down on prep time.
Hummus – speaking of cutting down on prep time. My ultimate creamy and silky smooth hummus recipe uses dried chickpeas soaked the night before and then cooked with bicarb soda to help break them down faster. For this version, we're using canned chickpeas. To be honest, it's not as impressive, but it's less involved and much faster to make. If you want to take it to the next level, follow my original recipe for the creamiest hummus you'll ever have!
Falafels – these crispy on the outside and fluffy on the inside parcels of goodness are probably one of my favourite things in the food world. And for some reason, I have yet to enjoy them out as much as I do my own. Does anyone else find falafels in cafes, takeaways, and restaurants really dry? Well, these homemade ones will not disappoint. If you want to cut down on time, I don't have shortcuts for these falafels, but you can, of course, always substitute them with store-bought ones (even though they won't be as impressive 😉).
Grilled zucchini – without the zucchini (or as it's known to our UK friends, courgette), this vegan falafel bowl will still be amazing. I like adding it as it brings another vegetable onto the plate, and you can't go wrong with that. I like to drag the strips through the hummus before curling it into my mouth. You can grill them on a barbecue (which is how I do it), on a grill skillet, or in a pan. They're done in no time! This is probably my favourite way to eat zucchini. When they're in abundance, I like to grill a whole bunch and then toss them through my garlic parsley sauce. They keep really well for days in the refrigerator. Heaven!
Tahini dressing – the sauce that brings it all together. It's the go-to dressing in our household to make any meal tastier and more nutritious. Tahini is probably one of the most used ingredients in Middle-Eastern cooking, and you couldn't have a falafel bowl without this dressing. Rich and creamy, use as much or as little as you like. I tend to drench my bowl in it!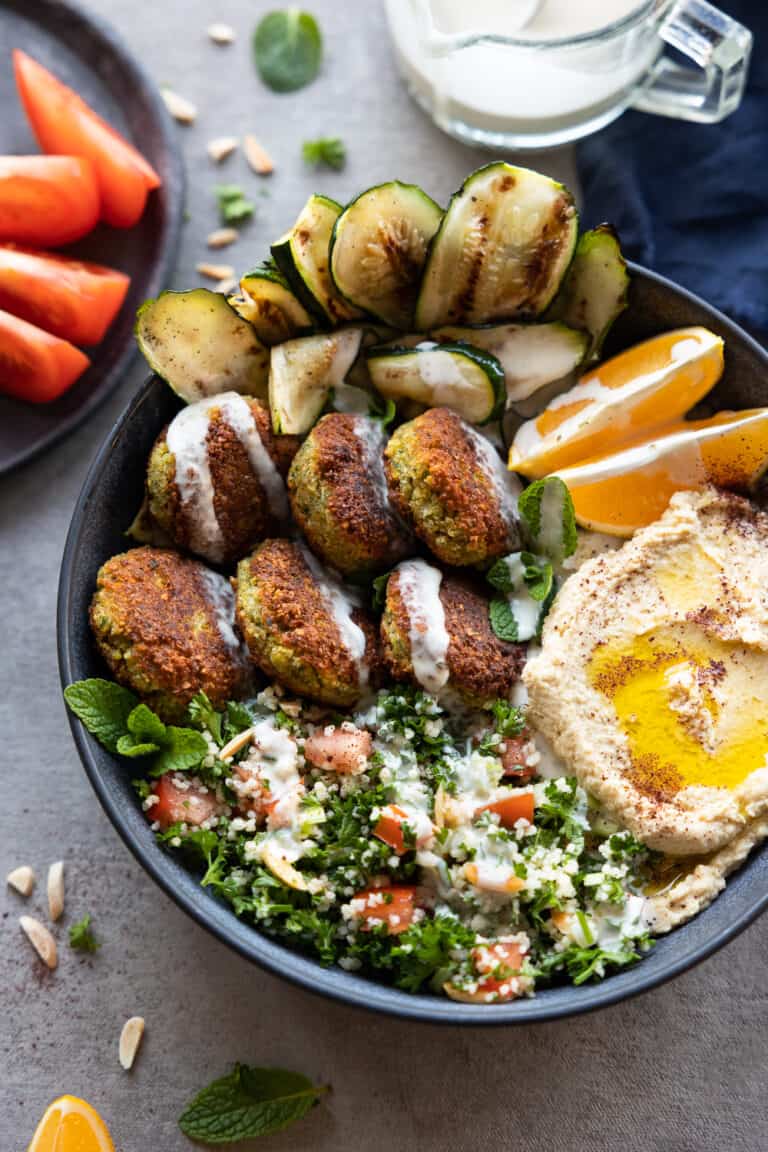 Can this falafel bowl be prepared ahead of time & how long does it keep for?
All the components will keep well for a couple of days in separate airtight containers in the refrigerator.
If you keep the tabbouleh for more than 24 hours, I suggest you leave the dressing to the side. All the other elements will keep fine.
I like to slightly warm up the falafels before eating them, which you can do in the microwave, in a pan, or the oven.
This bowl is excellent for meal prep. If you take it to work or school, I know everyone will envy your food. And that, my friends, is how you win people over with food.
What else can you add to this bowl?
The options are honestly endless! Here are a few suggestions:
Cucumbers
Avocado
Olives
Vegan feta
Pickled red onions
Instead of the tabbouleh, you can use the salad from my falafel salad recipe
Pickled turnips (I am obsessed with them!)
Chilli jam
This bowl is:
Gluten-free (if you swap the couscous for quinoa or millet)
Dairy-free
Soy-free
Nut-free (if you remove the almonds from the tabbouleh)
Other beautiful recipes you'll love:
If you try these recipes, let me know! We'd love for you to leave a comment and rating below. If you want to go that extra mile, tag us on Instagram or share your photo of the recipe/s on Pinterest.
Print
Vegan Falafel Bowl
---
Author:

Total Time:

1 hour*

Yield:

2
Description
A vegan falafel bowl with smooth hummus, crispy falafels, quick tabbouleh, and grilled zucchini, topped off with a creamy tahini dressing. All the goodness you'll ever want inside a bowl!
---
Quick hummus:
1

can (400g / 14.10 ounces) chickpeas, drained and rinsed (or 

1½ cups

cooked chickpeas)

2 tablespoons

tahini (hulled or unhulled)

2 tablespoons

lemon juice

1

clove garlic, chopped

½ teaspoon

salt
Pinch ground cumin

2

–

4

tablespoons cold water
Tabbouleh:
2 tablespoons

couscous (and

2 tablespoons

boiling water)

1 cup

curly leaf parsley, finely chopped

½

spring onion, finely sliced (around

2 tablespoons

, white part only)

5

mint leaves, finely chopped

½ cup

/ half a medium tomato, chopped

1 tablespoon

slivered almonds, toasted (optional)

2 teaspoons

lemon juice

1 tablespoon

olive oil
Salt, to taste
Pinch sumac (optional)
The rest:
---
Instructions
To make the hummus: Add all ingredients to a food processor and start with 2 tablespoons of water. Blend until smooth, and add more water if necessary to get a smooth and creamy hummus. Set aside.
To make the tabbouleh: Add the couscous and boiling water to a small bowl and let it sit for 5 minutes. Fluff up the couscous with a fork and let it cool. Once cooled, add the rest of the ingredients to a bowl and add the couscous. Stir well, and then set aside.
Grill the zucchini slices on a barbeque, skillet, or grill pan. You may need a little bit of oil, so it doesn't stick. Once done, set aside. 
Make the falafels as per the recipe.
As the falafels are frying, you can prepare the tahini dressing as per the recipe.
Now you're ready to assemble. To each bowl, divide the hummus, tabbouleh, zucchini, falafels, and drizzle with the tahini dressing. Add a wedge of lemon if you like.
If you want to save it for later, keep all the components separately in containers in the refrigerator for up to a couple of days. The tabbouleh should be left undressed if prepared more than 24 hours before.
Notes
Total time: This doesn't include soaking time for chickpeas needed for the falafels. They need to be soaked overnight. The time includes everything else in the recipe.