Cherry and Almond Vegan Sheet Pan Pancakes
These fluffy, easy to make vegan sheet pan pancakes are my new favourite thing to make for breakfast! Not only does it turn a rushed morning into a special treat, but the toppings are also endless!
Only taking 20 minutes to prep, you can have breakfast that would generally take an hour (if making pancakes the usual way) take much less time.
I went with a delicious combination of morello sour cherries and flaked almonds for this vegan pancake recipe. It's something that I always have in my pantry, and it's such a classic duo.
It's embarrassing to admit that I've only recently come across this great concept! Something that once used to be only saved for weekend breakfast can now easily be made midweek!
However, as soon as I saw it, this genius idea sparked some great joy in me, and I knew I needed to create a recipe that was something you guys would want to make.
So here it is!
This post may contain affiliate links, for which we earn a small commission at no additional cost to you. Read our full disclosure here.
These pancakes are topped with more cherries and flaked almonds and accompanied with a perfect dollop of coconut whipped cream and a drizzle of maple syrup.
I mean, can it get any better than this?!
If you have kids at home and want to make it even more exciting (because which child doesn't get excited about pancakes?), you can use cookie cutters when it's baked to create whatever shapes you like! Bears, gingerbread men, stars, love hearts, anything would make it that extra bit fun.
Here are some tips for making these vegan sheet pan pancakes
Be mindful of the size pan you use if it's larger or smaller than mine. The baking time will vary.
You can double the batter and freeze half to have it ready whenever you feel like making them, but don't have the extra time to whip up the ingredients. Just freeze it flat in a ziplock bag and then thaw it out in the fridge the night before. Add your toppings, and you're ready to bake. They'll be ready in no time!
You can store them in the fridge for a couple of days in containers, and they can be an on-the-go breakfast option or something you can pop in the microwave at work and enjoy with a drizzle of maple syrup and/or cream.
I used cherries because they are an easy thing to keep in the pantry for months and used when needed. You can use any fresh, canned or frozen fruit. Jam would also work. Just add dollops of it, then using the back of a spoon, drag the jam across the batter. You'll get more flavour distribution and a pretty pattern!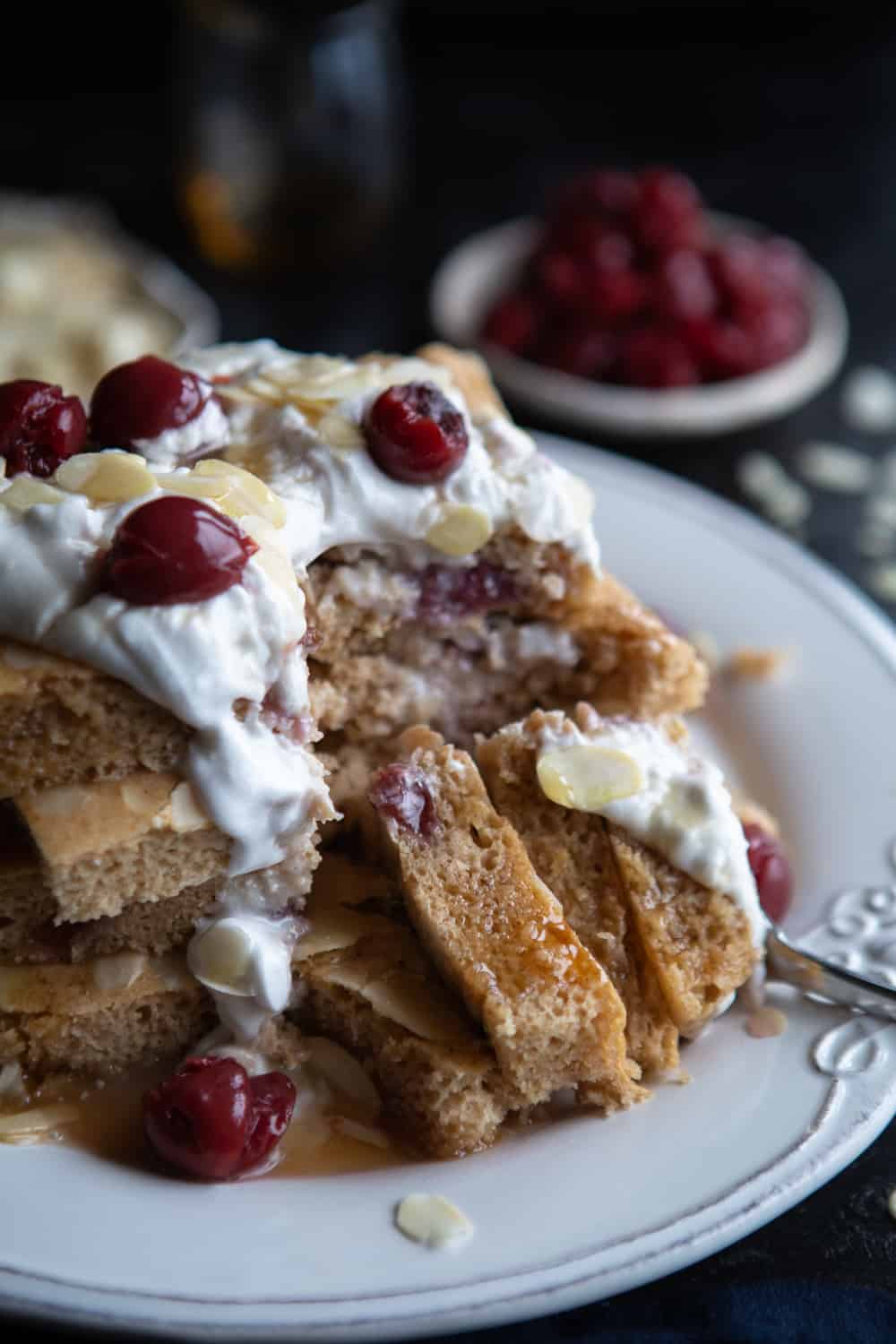 Rather than standing over a hot frying pan, missing out on the morning chats and action, this is a much more time-efficient way to enjoy pancakes.
We used to have our niece and nephew come and stay for sleepovers when we lived in the same city, and it was our tradition to have pancakes for breakfast. If only I made this for them, it would have saved some precious time I could have spent with them rather than in the kitchen.
I look forward to them visiting so I can make this for them!
Quick and super easy, even the pickiest of eaters will love them. How soft and fluffy do they look? Everything you want in a pancake and more!
Egg-free
Dairy-free
Fuss-free
Oil-free (making them a healthier option to your normal pancakes)
Ready in no time!
Other recipes you'll love:
If you try this recipe, let me know! We'd love for you to leave a comment and rating below. If you want to go that extra mile, tag us on Instagram, or share your photo of the recipe on Pinterest. Or Pin It for later!
Print
Cherry and Almond Vegan Sheet Pan Pancakes
---
Author:

Prep Time:

20 minutes

Cook Time:

25 minutes

Total Time:

45 minutes

Yield:

Makes 8 Large Pancakes
Description
These fluffy, soft and easy to make pancakes will be your new go-to breakfast recipe when you want a weekend breakfast treat midweek!
---
Wet:
2¼ cup

/ 535ml unsweetened plant milk*

2 tablespoons

apple cider vinegar (or lemon juice)

1 teaspoon

vanilla extract
Dry:
2 cups

/ 270g unbleached plain flour

1 cup

/ 100g almond flour

¼ cup

/ 40g coconut sugar

1½ tablespoons

baking powder

1 teaspoon

cinnamon

½ teaspoon

salt
Toppings:
---
Instructions
Preheat oven to 200 degrees Celcius (390 degrees Fahrenheit) and line a 25.4cm x 38.1cm / 10 inch x 15 inch (or similar) sheet pan with parchment paper.
In a measuring jug or smaller bowl, combine the milk and apple cider vinegar and mix. This will curdle to make your vegan buttermilk. Set aside.
In a large bowl, sift in all the dry ingredients and whisk together to combine.
Add the buttermilk and vanilla extract to the dry ingredients and whisk until combined. Don't over whisk! You want nice fluffy pancakes.
Let it sit for 5 minutes.
Pour into the sheet pan and top with sour cherries and flaked almonds.
Place in the oven and bake for 20-30 minutes until a skewer comes out clean. Mine took 25 minutes.
Cut into 8 large pancakes and serve with toppings of choice. We enjoy them with coconut whipped cream and maple syrup.
Notes
Plant-milk: Please make sure that you use unsweetened milk as otherwise, the milk might not curdle. Soy, almond, oat and coconut milks seem to work well.