Vegan Chickpea Pancakes With a Creamy Pesto Dressing (Gluten-Free)
You'll be surprised how good these vegan chickpea pancakes taste! Especially considering that they're gluten-free, grain-free, egg-free, and dairy-free.
I set out to make something delicious, that also had plenty of flavour, as well as quick and easy to make.
I'd been looking at all the other chickpea pancake recipes online and wanted to make my own version with loads of veggies.
If you're short on time, you can, of course, eat the pancakes on their own. Still very delicious and filling and perfect to pack for a work or school lunch!
Perfect for any meal
These vegan chickpea pancakes can be served for any meal. Breakfast, brunch, lunch, or dinner! You can also throw in pretty much any veggies you like. I've made it with fresh tomatoes inside the pancakes before and works well. I've also done it with mushrooms and spring onions.
You can use whatever you have in the fridge. I like the colour and flavours that come from the onions, red bell peppers, and the grated zucchini, and lots of greens give it a wonderful texture.
I've also left the batter in the fridge overnight as I made a double batch once and they were still amazing when made the next morning for breakfast. I haven't experimented with freezing them once they're made so I can't say how well they will hold when thawed. If you give it a try, please let me know how you went!
Before we get into the recipe, some of you may have never heard of chickpea flour before. So I thought I'd share some useful information on this wonderful ingredient. 
What is chickpea flour?
Chickpea flour, also known as besan, gram, or garbanzo flour is made up of ground-up raw chickpeas.
It has a distinct smell and flavour when wet. However, when you cook it, most of that flavour goes away. If you add the right balance of flavours, you won't taste it at all. I don't recommend you taste the raw batter, trust me, it's pretty awful.
The flour may also vary from brand to brand in consistency, so please use the image of the wet pancake batter as a gauge for what it should look like. If it's too dry, mix in a little more water. Too wet, add a tablespoon or so more of the chickpea flour. 
Once you get the hang of it, you'll be whipping up these chickpea flour pancakes all the time! I don't say that to scare you but to give you confidence that it's not that tricky to stuff up if you know the consistency you're going for in the batter. 
I buy my flour from my local bulk store. That way, I can just take my jar in and fill up as much as I need. I always have some in my pantry. 
The benefits of chickpea flour
As I mentioned earlier, I started digging around for ideas of meals I could eat that were high in protein. Anything to make with chickpea flour kept coming up time and time again. 
Read more: 12 Yummy Chickpea Flour Recipes (Savoury & Sweet)
Not only is it high in protein, but it's also a great source of fibre amongst other nutrients such as potassium, magnesium, zinc, iron, and B vitamins. It may assist in helping keep weight down, has been known to improve cardiovascular health, assists in boosting your immune system, and since it's high in fibre, it helps with constipation.
It's truly is wonderful stuff!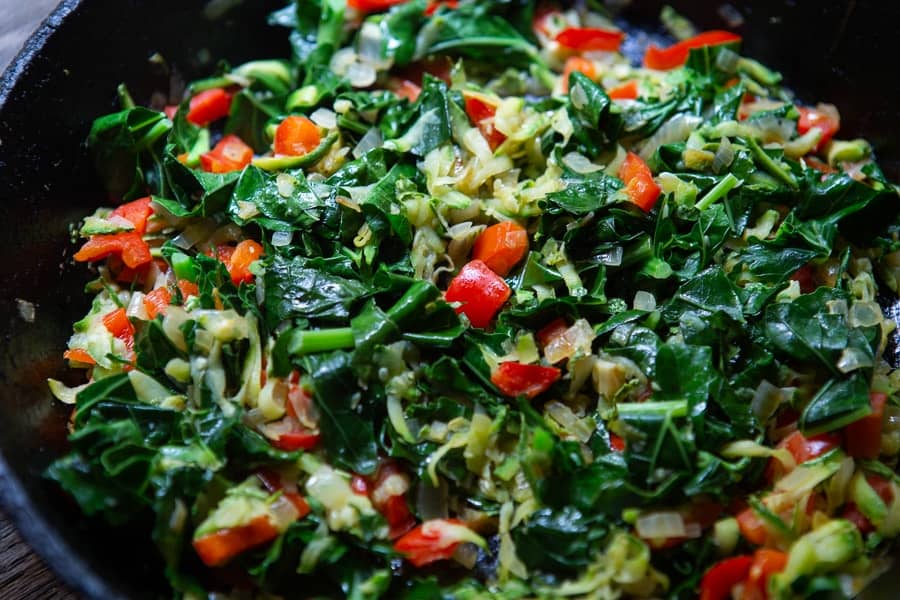 I hope you fall in love with these fluffy, golden chickpea pancakes as much as I have. Soft and healthy, they've become my go-to meal when I don't feel like cooking. Paired with a deliciously creamy, earthy, and rich pesto dressing, the rocket, and tomato salad will take it to another level.
I would totally serve this dish to guests when they come over for breakfast or brunch. It caters to so many dietary restrictions that it's perfect in any situation. If you have someone that is allergic to nuts and can't serve the pesto, you can swap the cashews out for sunflower seeds.
Other recipes you'll also love:
If you try this savoury chickpea pancakes recipe, let me know! I would love for you to leave a comment and rating below. If you want to go that extra mile, tag us on Instagram or share your photo of the recipe on Pinterest.
Print
Vegan Chickpea Pancakes With a Creamy Pesto Dressing (Gluten-Free)
---
Author:

Prep Time:

25 minutes

Cook Time:

20 minutes

Total Time:

45 minutes

Yield:

Yields 10-12 pancakes
Description
These fluffy vegan chickpea pancakes are a great high protein gluten, grain, egg and dairy-free breakfast or brunch option. Packed with veggies and a delicious creamy cashew pesto, this dish is a wonderful healthy meal option.
---
1

small onion, diced

1 cup

red peppers (capsicum), diced

1 cup

/ 1 medium zucchini, grated

2

handfuls of greens, chopped (you can use kale, collard greens, baby spinach, silverbeet/chard)
Dry ingredients:
2 cups

/ 230g chickpea flour

2 teaspoons

baking powder

2 tablespoons

nutritional yeast

1 tablespoon

garlic powder

1 teaspoon

sweet paprika powder

½ teaspoon

turmeric powder

1½ teaspoons

salt

¼ teaspoon

pepper, or to taste
Wet:
1½ cups

/ 375ml water

1 tablespoon

apple cider vinegar (or lemon juice)
Neutral oil, for frying
To serve:
Rocket (arugula)
Tomatoes, diced
Creamy pesto dressing:
2

handfuls / 30g fresh basil

⅓ cup

/45g raw cashews

2

cloves of garlic

2 tablespoons

nutritional yeast

2 tablespoons

olive oil

1 tablespoon

lemon juice
Salt, to taste
Pepper, to taste

¼ cup

/ 60 ml water

¼ cup

/ 45g vegan mayonnaise
---
Instructions
In a skillet, add in a tablespoon of oil and add the onion. Cook for a few minutes until the onion is soft.
Add in the red peppers and let it cook for 4-5 minutes, stirring occasionally.
Add in the zucchini and cook for a further 3-4 minutes until the zucchini becomes soft.
Add in the greens and put a lid on the skillet. This will help the greens to shrink and then cook for a further 3-4 minutes. Transfer to a bowl and set aside.
While the veggies are cooking, in a large bowl add in all the dry ingredients. Whisk to combine.
Pour in the wet ingredients and whisk to make sure that there are no lumps in the mixture.
Add in the vegetables and combine well.
Give the skillet a wipe out and add oil to it again (1-2 tablespoons) on medium heat.
Using a ¼-⅓ cup, scoop out some batter and spread out evenly to the desired shape.
Let it cook until the edges of the batter look like they're cooked (see image above), this should take around 4 minutes. Flip over (it should be nice and golden) and cook for a further 2-3 minutes on the other side.
Repeat the process until all the batter is used.
Serve on a bed of rocket with some cherry tomatoes and a generous dollop of the creamy basil pesto.
To make the pesto: Add all but the vegan mayonnaise to a blender or food processor and blend until you reach a nice consistency. I like to still have a little bit of texture in mine, but if you want it super smooth, just blend for a further 30 seconds. Add in the mayonnaise and blend enough to combine.
Notes
These pancakes do tend to be a little on the dry side (in my opinion) if eaten on their own, so I recommend that you either use some sauce/dressing with them or with a salad (as recommended).