Crispy Baked Vegan Hash Browns
These vegan hash browns are crispy, gluten-free, and easy to make. We've paired them with a simple caper mayo sauce for a great snack, an addition to a big breakfast or on the side of your favourite meal.
You only need a handful of pantry staple ingredients, and you're set to go. If you're after a baked hash brown recipe that hits the spot, you should give these a try!
Which potatoes are best for making hash browns?
Getting the potatoes right is crucial for making the best texture and consistency with your hash browns.
What you're looking for is a starchy potato. Starchy potatoes are high in, you guessed it, starch. They're also low in moisture, making them the perfect type of potato for this recipe.
These kinds of potatoes have a floury texture with white flesh that's creamy.
If you can't get a floury potato, you can always add potato starch to your mix. This is why we prefer a gluten-free flour blend like Bob's Red Mill because it has potato starch as one of the ingredients to give it that extra crispy outer layer.
Try and avoid using a waxy potato. They brown much slower and are less crispy as a result.
All of this to say, here are a few varieties you can use for hash browns:
Russet
Yukon
Idaho
Sebago
Golden delight
King Edward – what we used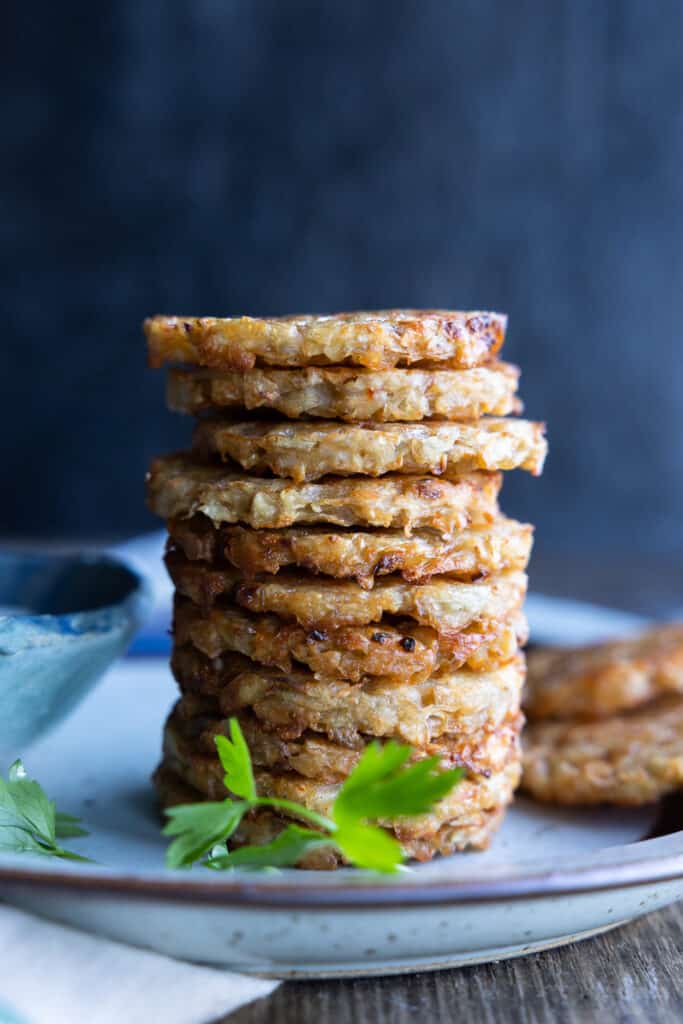 Some tips on how to make these vegan hash browns
Use a box grater to grate the potatoes to get the best texture for the hash browns.
The potatoes once grated need to have the excess moisture squeezed out of them. Please don't skip this step. You'll require way too much flour to make the patties stick together and it won't be a hash brown with that beautiful crispy outside.
You can also grate the onion, however, we found that once grated it releases a lot of liquid. There's a lot of flavour in that liquid that we don't want to lose but this will make your mix quite wet. A finely chopped onion is a better option.
For shaping the hash browns, you can use frying rings or cookie cutters if you want them all the same size, but it's not essential. Just make sure whatever size you do make them that they're the same thickness so that they bake evenly.
The baking time may vary depending on your oven and if it's over or under heating and how thick they are.
You can swap the all-purpose gluten-free flour for chickpea (besan/gram) flour, rice flour, potato starch, or plain flour.
As mentioned above, use a starchy potato to get the best results.
You can use sweet potato for these hash browns. You won't need to squeeze out excess moisture as sweet potatoes don't have much excess.
You can use an air-fryer for a completely oil-free hash brown.
They're best enjoyed straight away.
A simple recipe without any special processes
There's no need to stand over a frying pan to flip these potato cakes, simply place them in the oven and midway through, give them a flip and bake a little longer.
The other great thing is that you don't have to wash the potatoes multiple times to remove the starch, parboil them first, or add the starch that you drained from the potatoes back into the mix. I've tried to keep this recipe super simple.
These crispy oven-baked vegan hash browns are:
easy to make
gluten-free
versatile – other vegetables can be added
crispy
eggless
dairy-free
vegan
low oil (no oil option)
To make it a more substantial meal, you can serve it with a salad! My Panzanella and Caprese salads are a great fresh addition.
Other recipes you'll love:
If you try this recipe, let me know! We'd love for you to leave a comment and rating below. If you want to go that extra mile, tag us on Instagram or share your photo of the recipe on Pinterest.
Print
Crispy Baked Vegan Hash Browns
---
Author:

Prep Time:

15 minutes

Bake Time:

30 minutes

Total Time:

45 minutes

Yield:

12-14 hash browns
Description
These super easy vegan hash browns are perfect as a snack, or part of a vegan big breakfast. You only need a handful of pantry staple ingredients for this delicious recipe!
---
2

large / 450g / 1 pound potatoes,* washed with skins and grated

1

medium brown onion, finely chopped

½ cup

/ 70g all-purpose gluten-free flour*

1 teaspoon

salt

½ teaspoon

smoked paprika (optional)
Cracked black pepper
Oil,* for baking
Dipping sauce:
1 tablespoon

capers, drained and finely chopped

¼ cup

/ 55g vegan mayonnaise

¼ cup

parsley, finely chopped (or coriander/cilantro works well too)
---
Instructions
Preheat your oven to 200 degrees Celcius (390 degrees Fahrenheit) fan-forced. Line a large baking sheet with parchment paper and brush a thin layer of oil onto it. Set aside.
Place the grated potatoes in a clean tea towel, muslin cloth or nut milk bag over a bowl or the sink and squeeze out as much moisture as you can. I find it much easier to squeeze out the liquid this way than just through a sieve or hands because you can get a better grip on the potatoes. Discard the liquid.
To a large mixing bowl, add the potatoes, onion, flour, salt, paprika and as much cracked pepper as you like. Mix the ingredients well – I find it easiest to use my hands to ensure that it's all distributed well.
Place your cookie cutter or frying ring onto the baking tray to form your hashbrowns. Scoop out about ¼ cup of the mixture and place it inside the ring. Press the mixture down onto the baking paper (not too hard) to create a flat disk. You don't have to use a shaping device; however, they create a consistent look and help with even baking. Clean up the edges to avoid burning. 
Bake for 15 minutes (Keep an eye on them from about 10 minutes onwards as not every oven is the same). 
Now they would have turned golden brown and slightly crispy, remove the tray from the oven, lightly oil the top of each hash brown and flip each one with a spatula. Return to the oven for approximately 12-15 minutes until golden brown. 
For the dipping sauce: Add the capers, mayonnaise, parsley, and 1 teaspoon of water to a small bowl and mix well.
Once all the hash browns are done baking, serve them with sauce to dip or simply dollop on top. They can be enjoyed as a snack, as a part of a big breakfast, or with a green salad. 
Notes
Potatoes: Use a starchy variety like Russet, Idaho or Yukon. More information about this earlier in the post. 
Flour: You can swap the all-purpose gluten-free flour for chickpea (besan/gram) flour, rice flour, potato starch, or plain flour.
Oil: Use an oil with a high smoke point. We like sunflower, rice bran or grapeseed oil.
This recipe was first published in April 2016 and redone January 2022.