Vegan Spinach Pie with 'Ricotta'
Looking for a delicious vegan recipe that will impress your friends and family? This vegan spinach pie with homemade tofu ricotta will certainly do the trick!
It's easy to make and will please everyone at the table. Plus, it's packed with nutritious ingredients, making it a healthy choice for any meal.
So, not only will you satisfy your taste buds, but you'll also be doing your body a favour. Unless you're gluten intolerant, then, sorry, I can't help you. Keep browsing my website for other options here.
This recipe is easy to follow and yields a delicious and satisfying result. The combination of spinach and a homemade vegan ricotta filling makes for a creamy, flavorful dish that will please vegans and meat-eaters alike.
How to eat this vegan spinach pie?
This dish can be served hot or cold. I love it both ways.
It's a meal that can be served for breakfast, lunch or dinner. That's the beauty of wrapping up delicious and nutritious ingredients in filo pastry; it becomes super versatile! Serve it for breakfast cold on its own (also makes a great grab N' go option), add it to a lunchbox, or serve it warm for dinner with a side salad (like my Caprese salad). It's also great with sides like these chargrilled red peppers.
This pie is a great school lunchbox option because it's a nut-free recipe. Great for a nutrient-dense meal that is filled with protein and some veggies.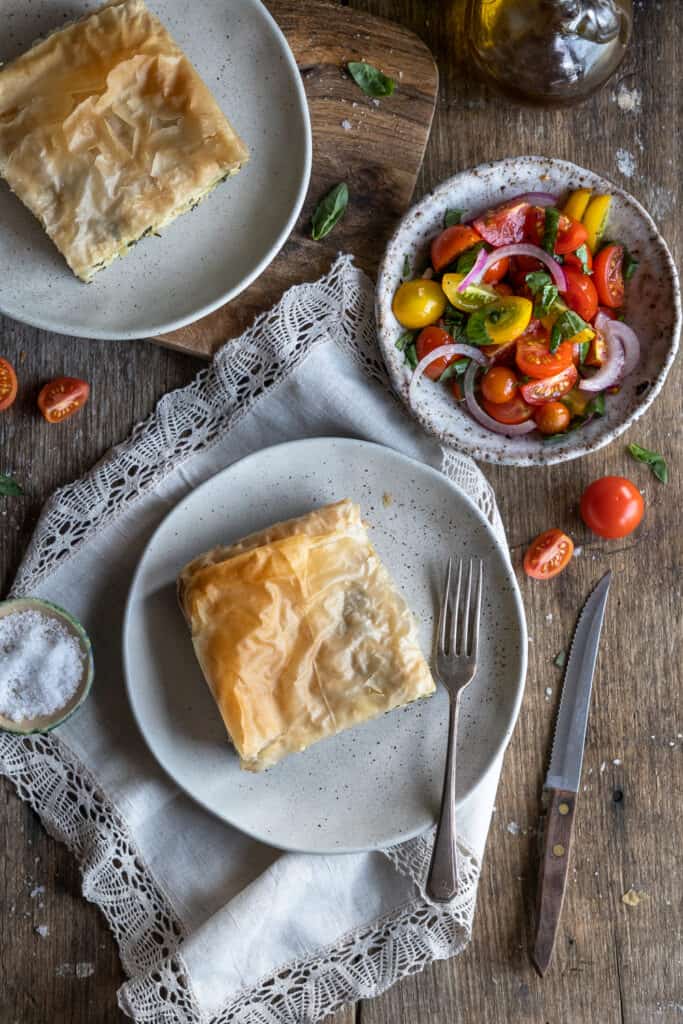 A few tips for making a dairy-free spinach pastry
If you're using a frozen pastry, make sure to thaw it out completely before you start using it.
Any baking dish will work here—a stainless steel one, ceramic or glass. Just make sure that the size will fit the whole pie. I wouldn't use a dish smaller than 24cm (9.4 inches).
Also keep in mind if you use a different sized dish, the baking time will vary. This will also vary if you use a ceramic dish vs a stainless steel one.
If you're making a thicker pie, make sure to bake it for longer. In contrast, if it's a thinner one (using a large baking dish), it will bake faster. So make sure to keep an eye on it and aim for the same outcome of look based on my pictures. With time, you'll get a better gauge for it.
If you have a super deep smaller dish, you'll have to take it out midway through baking and flip it onto a flat baking tray so that the bottom bakes evenly.
I like to use silverbeet (aka swiss chard, chard or even rainbow chard) in this dish as it's a more robust leafy green compared to its spinach counterpart. You would need more volume with spinach as it weighs less. I just remove the stems and save them for another dish.
You can add herbs into the dish like dill, parsley, spring onion (aka green onion or scallion), or chives.
How do you make a vegan ricotta and spinach pie?
It's straightforward once you get the hang of how the pastry is added into the baking dish. It gives the pie a lovely varied texture from the spinach and 'ricotta' folded into the fillo dough. I've taken photos to help demonstrate it.
To make it easier, here's a quick breakdown of the process for you. (It's described in more detail in the recipe card below).
Preheat the oven to 200 degrees Celcius (390 degrees Fahrenheit).
Prepare the vegan ricotta.
Cook the onion and silverbeet (aka chard) and add to the ricotta along with the other ingredients.
Oil and line your baking dish with the fillo dough.
Add fillo dough that has been immersed in the filling until finished.
Fold in the sides of the filling and top with more fillo pastry.
Place in the oven to bake for 45 minutes then turn to get heat from just the bottom of the oven for 10 minutes.
Let it cool a little and serve warm or cold on its own or with a side salad.
My mum used to make this for us growing up all the time. She would use eggs, ricotta, sometimes fetta, and sour cream. It really depended on what dairy she had on hand at the time. It's called 'burek' in our household. It's a well-known south Slavic dish.
When I became vegan back in 2014, I was missing this dish in my life. I set out to create the traditional-style Serbian cheese pie called Gibanica a couple of years ago, and it was with the intent of making this spinach and ricotta version. It can be served with sour cream on top, but I personally love it with this tzatziki.
I can easily say that I love it even more now, and I'm grateful that I can have those nostalgic meals in my own home now!
So if you're typically intimidated to use fillo pastry, don't be; this recipe is a great and easy way to start!
If you want to experiment with fillo dough, check out some of my other recipes below that use similar ingredients.
Other wonderful recipes you'll love:
If you try these recipes, let me know! We'd love for you to leave a comment and rating below. If you want to go that extra mile, tag us on Instagram or share your photo of the recipe/s on Pinterest.
Print
Vegan Spinach Pie with 'Ricotta'
---
Author:

Prep Time:

30 minutes

Bake Time:

1 hour

Total Time:

1 hour 30 minutes

Yield:

4-6*
Description
This vegan spinach pie using homemade vegan tofu ricotta is a great family meal that can be eaten warm or cold. It's a great nutritious recipe that can be served for breakfast, lunch, or dinner!
---
200g

/ 7.05 ounces firm tofu

1½ tablespoons

lemon juice (fresh is best)

1 teaspoon

salt

3 tablespoons

 

neutral oil

 (plus extra for brushing fillo)

1

onion, diced

3

–

4

cups / 150g / 5.29 ounces silverbeet / chard,* washed, drained, and roughly chopped with white stems removed (save for another dish)

¼ cup

/ 18g nutritional yeast

½ teaspoon

baking powder

½ cup

/ 110g coconut cream (or vegan unsweetened plain yoghurt)

1 cup

/ 250ml water (warm to room temperature is best)

¼ cup

/ 60ml 

aquafaba,

* whisked (chickpea water)

290g

/ 10.22 ounces fillo dough (around

15

–

16

sheets)
---
Instructions
In a large bowl, crumble the tofu quite fine using your hands.
Add in the lemon juice and salt and stir well. Set aside.
Preheat the oven to 200 degrees Celcius (390 degrees Fahrenheit).
To a large skillet on medium-high heat, add one tablespoon of the oil, onion and saute until they're golden. This will take a few minutes.
Add in the silverbeet (also known as chard) to the skillet and cook until it has just wilted.
Add it to the tofu and follow in with the nutritional yeast, baking powder, coconut cream, and water. Mix until just combined.
Fold in the whisked aquafaba (it should be foamy). 
Oil a medium square baking dish (mine is 24cmx24cm or 9.5inches x 9.5inches) and layer two sheets of the fillo pastry, creating an + (cross-section) with it, oiling the dough in between.
Scrunch up one sheet of pastry into the filling mixture and make sure it's immersed in the filling. Bring the dough over to the baking dish (with some filling) and start to fill it with the soaked sheets. I normally get 4 in each layer. (See photos earlier in the post for visual help if needed.)
Repeat this process for one sheet at a time until you have only two sheets of fillo left. If you have any extra filling, pour this evenly over the top.
Bring in the overhanging filo from the sides of the baking dish over the pie. Wrapping it like a parcel, brush it with some oil.
Lay one of the sheets of the remaining fillo, brushing it with oil, tucking it in to make sure that it completely covers the top. I like to use my pastry brush to do so. Do the same with the last sheet of fillo and brush with more oil over the top and make sure that the pastry is tucked in well. 
Place in the oven to bake for around 45-50 minutes or until golden brown on the top (if your dish is bigger, it will need less time). Now either place foil on the top, or if you have a setting on your oven that allows heat to only come from the bottom of the oven, turn that on for 10 minutes to make sure that the bottom of the pie isn't undercooked.
Remove from the oven and let it cool for about 20-30 minutes before cutting and serving. You can also wait for it to completely cool. The slices will hold their shape better (all images were photographed when the pie was almost cold).
Enjoy it on its own or with a side salad.
Notes
Yield: Serves 4 people as a main and 6 as a side or appetiser.
Silverbeet or chard: I like to use silverbeet (aka swiss chard, chard or even rainbow chard) in this dish as it's a more robust leafy green compared to its spinach counterpart. You would need more volume with spinach as it weighs less. I just remove the stems and save them for another dish.
Aquafaba: Aquafaba is the liquid from a can of chickpeas. Strain the chickpeas and store them for later use. You want the liquid from this to whip. It acts in a similar way to egg whites.