Vegan Apple Crumble (Gluten-Free)
Apple crumble—one of those classic dessert dishes (and probably the oldest) that you can find. With so many variations of it out there, I wanted to keep it simple, tasty, vegan (of course) gluten-free, and healthy(ish)!
You can jazz it up with some nuts, raisins, or other fruits in the filling but I sometimes love to keep it simple and use spices to make it interesting. You can certainly opt out of some of them, but they add a beautifully diverse range of flavours. Ginger, nutmeg, vanilla, and cinnamon are a great combination.
I love using the oven for recipes, especially with desserts. This vegan apple crumble turned out perfectly the first time I tested it. I love that the top adds a lovely crunch but doesn't overpower the apples. They work as a great combination to balance each other out. The apples themselves are rich, soft, and gooey.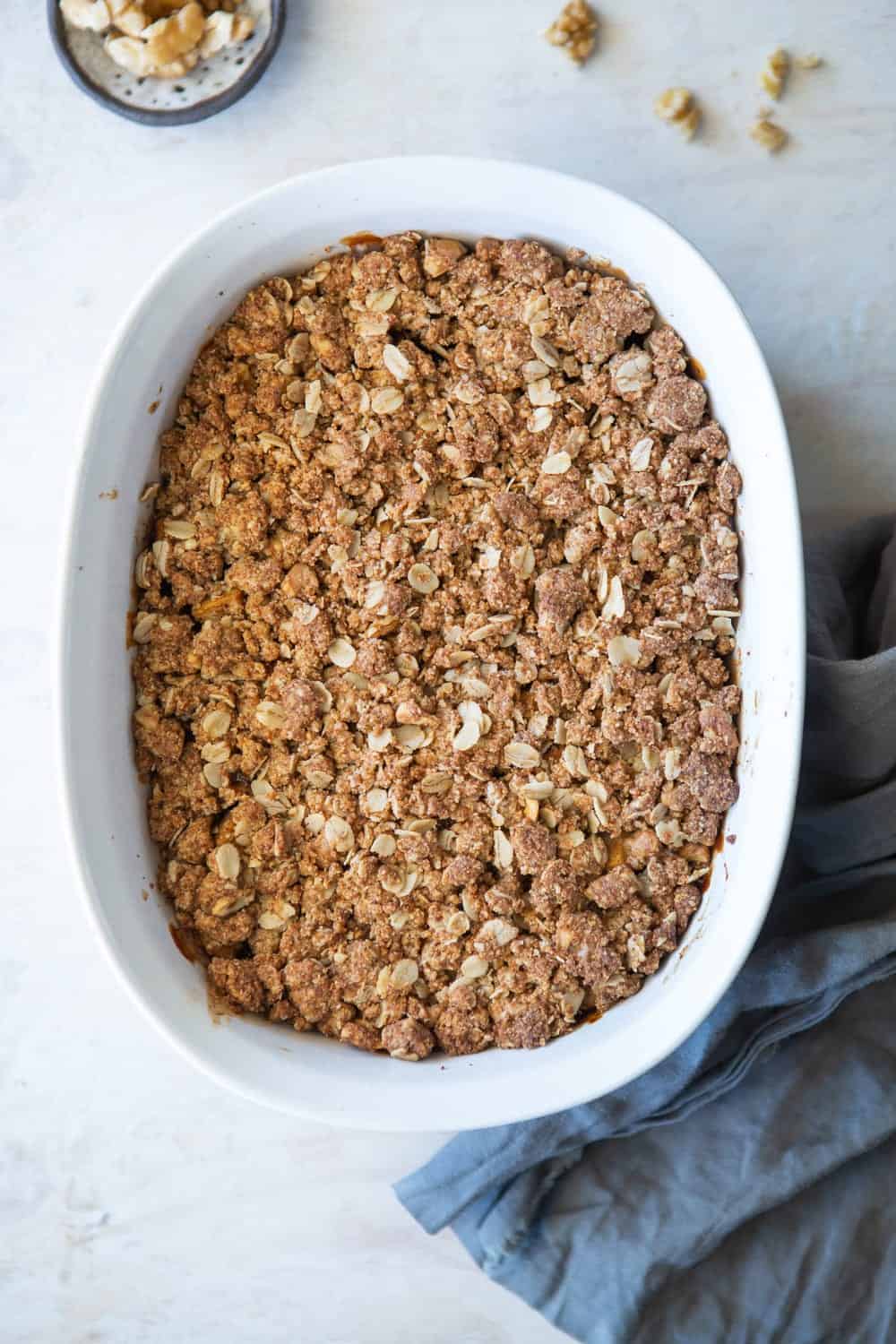 What is the difference between an apple crumble and an apple crisp?
When I first started writing this post, I wanted to see what else was out there. I came across quite a few recipes that were apple crisps rather than apple crumbles.
Being an Aussie, I'd never heard of a crisp before so I had to do a bit of searching for working out what the difference is. Wonder the same thing yourself?
Well, they are quite similar, but the main difference is that apple crisps contain oats, yet apparently, crumbles don't. Well, I've seen many apple crumble recipes in my time and most of them seem to use oats in their topping.
Not to say that you can't call it an apple crumble, it's just the main difference that has been talked about out there. I'm still choosing to call mine an apple crumble because I would have regardless if I knew this information or not. I guess now you know what the difference is if you ever come across an apple crisp recipe out there.
Why use Granny Smith apples for an apple crumble over other varieties?
The base of this crumble is basic, and you're likely to have the ingredients in your house already. I usually don't eat granny smith apples on their own, but they are perfect for a recipe like this!
Granny Smiths tend to hold their shape together compared to many other varieties of apples out there. They're also slightly tart, which balances out the flavour and makes the crumble topping the perfect addition.
I have a great recipe for Nut and Date Stuffed Apples that uses Granny Smith apples.
You can, of course, use any variety if that is all you have handy. Just keep in mind that it will be sweeter and that the apples may not hold their shape.
This vegan apple crumble is best served warm and ideally with a generous scoop of ice cream. Let it melt a little and enjoy the beautiful combination of flavours and textures.
It makes a generous amount of crumble and can be eaten over a couple of days or served to your family and guests. I'm confident that it will be a hit with vegans and non-vegans!
Love the idea of apple cake instead? Why not try my Easy Apple and Almond Cake recipe!
Other great vegan and gluten-free dessert recipes:
If you try this recipe, let me know! I would love for you to leave a comment and rating below. If you want to go that extra mile, tag us on Instagram or share your photo of the recipe on Pinterest. 
Print
Vegan Apple Crumble (Gluten-Free)
---
Author:

Prep Time:

30 minutes

Cook Time:

50 minutes

Total Time:

1 hour 20 minutes

Yield:

6
Description
This vegan apple crumble is a wonderful balance of flavours and textures. It is gluten-free, however, doesn't compromise on taste. A perfect family favourite!
---
Filling:
6

large / 1 kilo / 2.2 pounds Granny Smith apples, peeled, cored, and chopped into cubes

½ cup

/ 80g coconut sugar

¼ cup

/ 30g arrowroot powder

1 teaspoon

ground cinnamon

¼ teaspoon

ground nutmeg

¼ teaspoon

ground ginger (optional)

¼ teaspoon

salt

1 tablespoon

lemon juice

1 teaspoon

vanilla extract
Topping:
1 cup

/ 100g almond meal

1 cup

/ 140g all-purpose gluten-free flour

1 cup

/ 120g gluten-free rolled oats

½ cup

/ 60g walnuts, roughly chopped

½ teaspoon

baking powder

¾ cup

/ 120g coconut sugar

1 teaspoon

ground cinnamon
Pinch of salt

½ cup

/ 100g + 2 tablespoons coconut oil, melted (measured while solid)

1 teaspoon

vanilla extract
---
Instructions
Preheat oven to 180 degrees Celcius (355 degrees Fahrenheit).
In a large bowl, combine all the filling ingredients plus two tablespoons of water, ensuring that all the apples are coated well.
Spread the apples evenly in an approximately 31cm x 21cm (12.2 inches x 8.27 inches) baking dish and set aside.
For the crumble topping, reusing the bowl from the apples, combine all the topping ingredients plus two tablespoons of water, mixing well with a spatula. If you feel like it isn't mixed in well enough evenly, I like to get in with my hands.
Crumb the topping over the apples evenly and put in the oven to bake for around 45-50 minutes.
Serve warm with some vegan ice cream, coconut cream, or yoghurt.