Vegan Tufahije Recipe (Bosnian Walnut Stuffed Poached Apples)
These vegan walnut stuffed poached apples (aka Tufahije) are a very uncomplicated and elegant dessert to make.
If you have a lot of apples and are a bit over the usual apple crumble scenario, this is the perfect recipe to try! Not only is it super easy to make, but it uses only six ingredients that you probably already have on hand.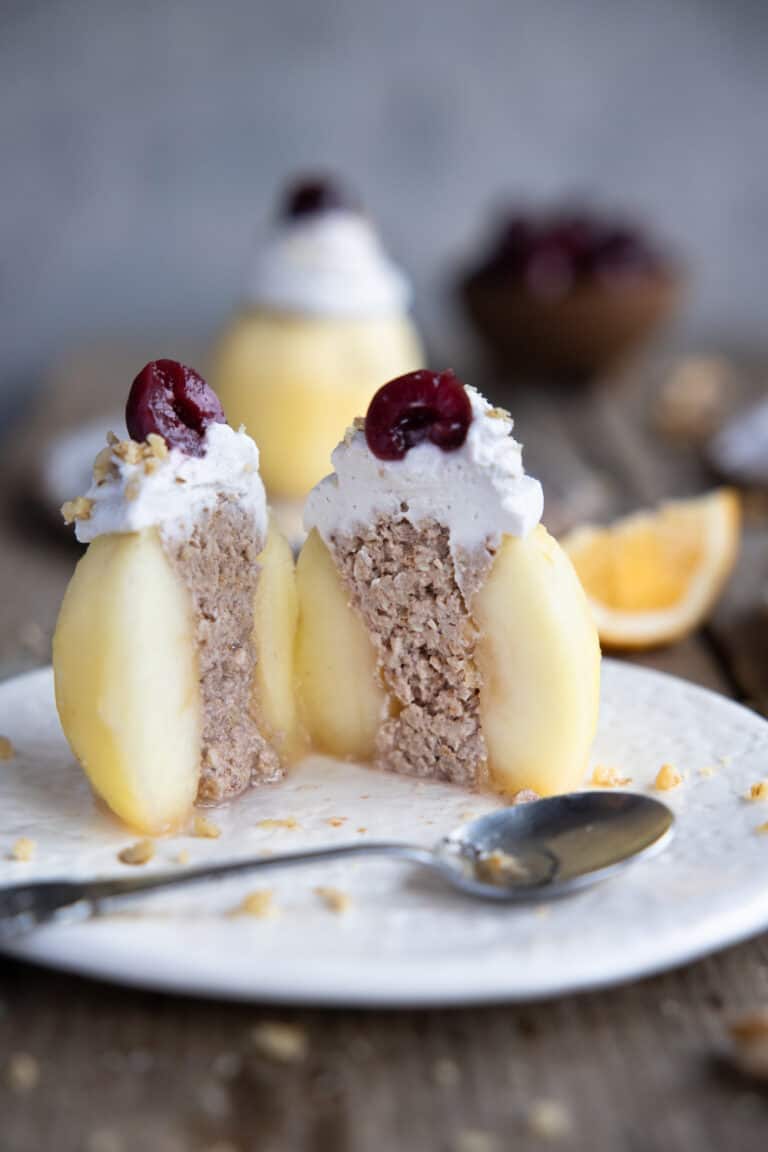 How this Tufahije recipe came about and its origins
One day, I talked to my parents about what desserts they loved as kids, and my dad mentioned Tufahije; he's from Serbia.
He told me how his mum and grandma used to make them when he was a child, which involved baking them.
The dish has a few different variations, and the one that I'm sharing with you is closer to the traditional Bosnian version to simplify it. I'll be creating a baked apple recipe very soon, so keep an eye out for that one if you'd like to make a bake with apples instead.
Tufahije is mainly enjoyed in Serbia, Bosnia and Macedonia. Some say that it was brought over to the Balkans by the Persians.
Much less sugar than the original dessert
A typical Tufahije recipe normally calls for a lot of sugar for the sugar syrup. I find that it's a little excessive so I have chosen to only use 1 cup in this one.
Some will even make a caramel before adding the water, making it even sweeter.
With the apple being a tart-sweet variety, you really don't need more than what the recipe calls for, but maybe my sweet tooth is starting to wear off a little as I get older. I find it just perfect!
I think that's part of the fun, recreating old recipes and making them something that you can enjoy as a vegan. You'd typically find whipped cream in a traditional Tufahije recipe, as well as butter and sometimes even honey.
Depending on where you're from, you'll also have different varieties of apples that are used. Most Bosnian recipes will opt for Granny Smith apples because they say that a tart apple doesn't fall apart when it's being cooked.
I've experimented with a few different apples, and it really comes down to personal preference of how you like your desserts. Sweet with a tart note, or just sweet. If it's the former, use a Granny Smith apple; if you'd like the latter, you can use Golden Delicious, Pink Lady or a Royal Gala.
Pink Lady, however, was my favourite as it has the perfect balance of both sweet and tart.
Which apples are best for poaching?
A few different apples are great for poaching, but I've noticed that this is quite a debatable topic.
From my own research and experience, these are the best varieties for poaching:
Granny Smith
Honeycrisp
Jazz
Rome
Golden Delicious
Lady Gala
Pink Lady
Royal Gala
You want the apples you use for poaching to be ripe but firm. What you're not looking for is for the apple to fall apart as you take it out of the cooking syrup or to start to collapse when cooling.
Some tips for making these stuffed apples
As simple as this recipe is, there are a few areas where you could go wrong. So please take the time to read this section to help you get the best results.
The lemon juice in the sugar syrup adds a nice acidic balance and it also helps the apples from turning brown once they're peeled.
Not a fan of sweet treats? Use a tarter apple for a less sweet dessert. You can also opt out of pouring the sugar syrup over the apples at the end if you want it less sweet.
The reason we use apple peels in the sugar syrup is because they have high pectin levels, which will give the syrup a nice shine. You only need the peel of one apple for this.
Use either a pairing knife, apple corer or lemon scoop to remove the core from the apples. I used a pairing knife as I don't have the other two. It is a little fidly, but works perfectly well.
Tips continued…
These apples can be served warm or cold. Traditionally they're served cold with whipped cream on top. If you'd like to serve them warm, just place a scoop of your favourite vegan ice cream on top or side, like coconut or vanilla. Skip the cooling stage in the recipe below.
They will keep in an airtight container in the fridge for 2-3 days. Add the whipped cream just before serving.
If you're making this to serve to others, I'd recommend making it beforehand to experiment with cooking the apples. This is the only temprimental part of the recipe and you want to try it out with a couple of apples to make sure that the cooking time is right. It can be between 3-5 minutes (on each side) depending on the temperature of your sugar syrup and the apples that you're using. You want them to be soft when you squeeze it a little but still firm enough to hold it's shape.
I hope you give my take on a traditional Tufahije recipe a try! When apples are in abundance, it's the perfect treat to share with family and friends.
Other apple and Balkan dessert recipes you'll love:
If you try this recipe, let me know! We'd love for you to leave a comment and rating below. If you want to go that extra mile, tag us on Instagram or share your photo of the recipe on Pinterest. 
Print
Vegan Tufahije Recipe (Bosnian Walnut Stuffed Poached Apples)
---
Author:

Prep Time:

30 minutes

Chill Time:

30 minutes

Total Time:

1 hour

Yield:

4
Description
My vegan take on the traditional Bosnian dessert, Tufahije. A super simple recipe to make using only 6 ingredients that you can share with family and friends.
---
1 cup

/ 220g cane sugar (organic if in the US to make sure it's vegan)

3 tablespoons

lemon juice

4

apples* (I used the Pink Lady variety)

½ cup

/ 50g walnuts, ground

1/8 teaspoon

cinnamon
Whipped coconut cream
Decoration
4

cherries (optional)

2 tablespoons

walnuts, ground (optional)
---
Instructions
For the sugar syrup, add the sugar, lemon juice and 3 cups / 750ml of water to a medium-sized saucepan. Bring to a boil, stirring to dissolve the sugar.
Prepare the apples. While the sugar syrup comes to a boil, peel and core the apples, you can use a pairing knife, apple corer, or melon scooper. Make sure you get out all the seeds. You want to create a cavity for the walnut stuffing to sit nicely inside. Keep the peel of one of the apples. 
Poaching the apples. Once the water has come to a boil, reduce to a simmer and add the apple peel and the apples. Simmer for 3-5 minutes on each side; flipping it with a spoon and fork is easiest.* 
Once the apples have finished poaching, remove from the sugar water onto a plate and set aside to cool. Keep the poaching liquid.
Making the walnut stuffing. In a small bowl, combine walnuts, cinnamon and 1-2 tablespoons of the poaching water. You want to create a very thick (not runny) paste that will be your filling for the apples. Set aside.
Make your whipped coconut cream as per the recipe linked above. 
Assembling. Once the apples have completely cooled, it's time to assemble. Take a small spoon and stuff each apple with about 2 tablespoons of the walnut filling, making sure to push it down to the bottom. You want the walnut stuffing to create a slight dome at the top, so don't be shy to overfill slightly. 
Pour a little bit of the poaching liquid over each apple and set it aside in the fridge until you're ready to serve. They're best served cold.
Top with whipped coconut cream, a cherry, and sprinkle with some ground walnuts. 
They will keep in the fridge for 2-3 days. 
Notes
See notes above to find the best apples for poaching.
Simmering apples: This will depend on the size of your apples, what variety you use and how hot the sugar syrup is. I did mine for 3½ minutes on each side. 
Please read the tips earlier in the post for best results.