Easy Garlic Parsley Sauce
Super easy and quick to make—this garlic parsley sauce can go on so many different dishes. Ready in just over 5 minutes, this will take any dish from basic to delicious.
Keep a jar of this sauce in your fridge to dress up salads, stir-frys, pasta dishes, tossed through rice, spread on naan, and so much more.
For something so simple, this sauce packs a lot of flavour, and the beautiful thing about it is that you can use this as a base to add other herbs, chilli, lemon juice, different kinds of vinegar, mustard, and pickled veggies.
I was introduced to this handy creation a year ago by my sister-in-law. She learned it from her mother-in-law, and I'm pretty sure that ever since that day, I've had a jar of it in my fridge. Thank you, ladies!
Ways to use garlic parsley sauce
As I mentioned above, there are so many different ways to use this dressing. The applications are endless but here are some favourites:
Roasted vegetables
I love to drizzle this over my baked veggies when they come straight out of the oven. It adds a beautiful aroma and flavour. If it's a large tray, I'd normally use around 2-3 tbsp of it.
Naan
This condiment takes naan to the next level. Just spread some over it when it's straight out of the skillet. It will melt in your mouth!
Steamed vegetables with chickpeas
This is how I was introduced to this lovely sauce. Carrot, broccoli, snow peas, zucchini, and bok choy were steamed and when finished and still slightly crispy, tossed with cooked chickpeas and the garlic-parsley sauce. It's a super quick, healthy meal!
Soup
I love to add it to my soups. With veggies, beans, or lentils, it adds so much flavour to the soup. It would be amazing in this minestrone soup, broth, or a simple miso soup.
Salad
In any salad, just toss it through, and voila! Instant delicious dressing.
I could go on and on with how many great dishes this jazzes up. Would love to know how you use it! Please let me know in the comments below.
Chargrilled veggies
We love it with these chargrilled red bell peppers. You can also do other veggies in the same way.
Cheese
Toss it through our dairy-free bocconcini balls!
What's in this garlic parsley dressing?
This recipe has only three ingredients which I'm sure you've already got on hand—Parsley, garlic, and olive oil. You can season to my recommendations or as you wish. I don't like to add too much salt as there's always salt in the dish that I'm adding it to.
The other variation that I do is adding lemon juice to it at the end (if it will work with the dish). For instance, I wouldn't use it on the naan bread but would add it to a salad. You can also add fresh chilli, freshly grated ginger, or even horseradish.
This condiment can be popped in the freezer in an ice tray to use later. Simply take it out when you want to use it. That way, you'll always have some on hand!
What kind of parsley can you use in this recipe?
You can use flat or curly leaf parsley for this recipe. I've used both, and they're equally as delicious.
Even though I've given you a recipe below, feel free to adjust to your liking as I mentioned earlier. You can add more garlic if you like it stronger, or reduce the parsley so that it's a thinner consistency. It's up to you. I just wanted to provide you with the basics, and you can adapt it from there.
I do recommend using a food processor; however, you can certainly do it by hand. Finely chop the parsley, mince the garlic and mix in the olive oil.
I do find that the food processor is much quicker and makes it all nice and even.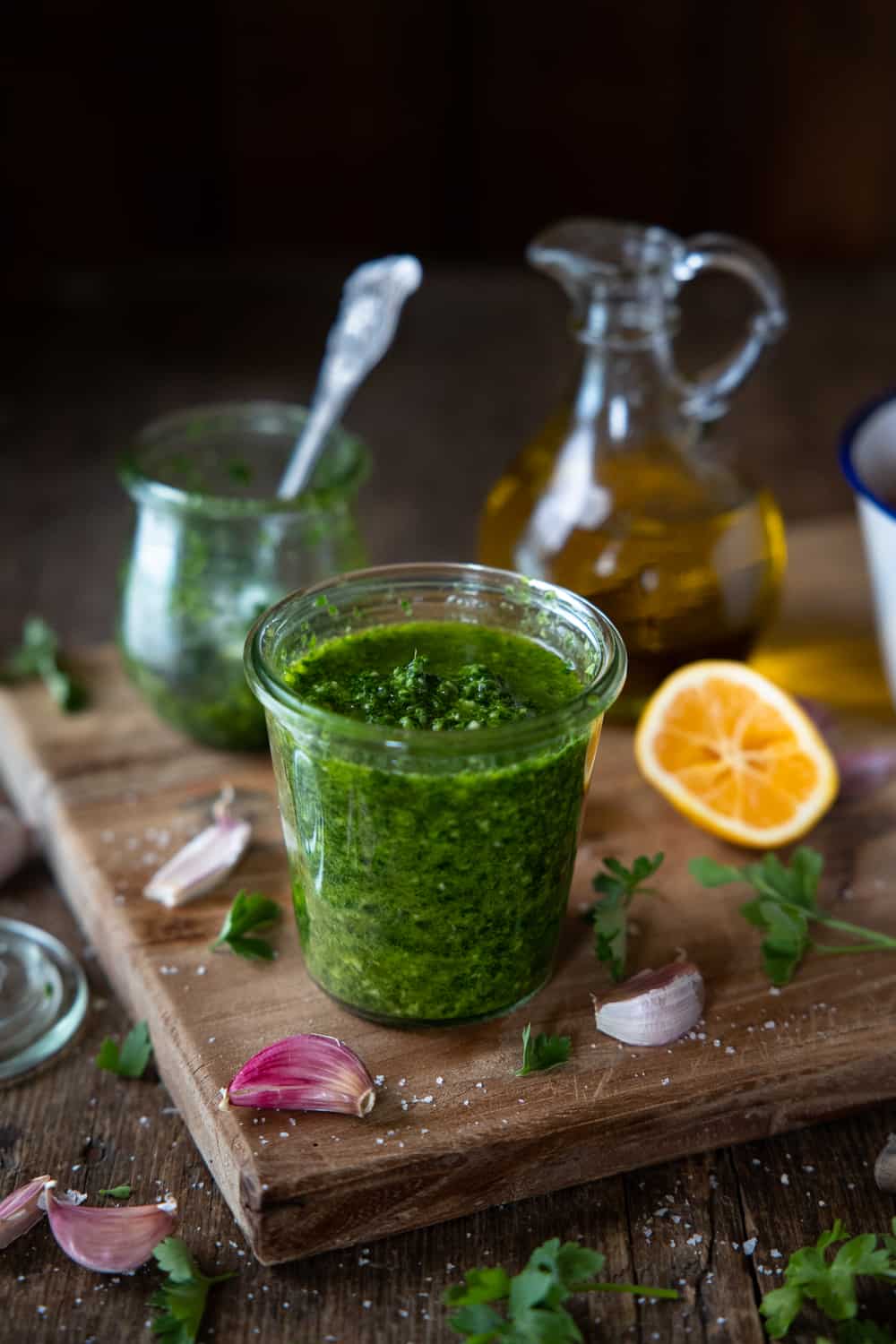 You can find this recipe used in my vegan sweet potato gnocchi and vegan stuffed mushrooms.
Some basic recipes you'll love:
If you try this recipe, let me know! We'd love for you to leave a comment and rating below. If you want to go that extra mile, tag us on Instagram, or share your photo of the recipe on Pinterest.
Print
Easy Garlic Parsley Sauce
---
Author:

Total Time:

7 minutes

Yield:

1 cup
Description
An easy and quick condiment that you can toss through salads, drizzle on veggies and spread over naan bread. The options are endless! Ready in under 10-minutes, this will be your new go-to addition to most meals.
---
3 cups

/ 70g / 2.47 ounces tightly packed parsley

12

garlic cloves (around

50g

/

1.76 ounces

)

¾ cup

/ 130ml olive oil

1 teaspoon

salt
---
Instructions
Add the parsley and garlic to a food processor and pulse a couple of times.
Scrape down the sides and add in the olive oil and salt. Pulse until you reach the desired consistency. I like mine a little finer, but you can certainly have it as a chunkier texture.
Store in the fridge for up to 1 week.