Easy Sesame Miso Dressing (Vegan)
This sesame miso dressing is a quick, easy and versatile way to spruce up anything. Add it to your salad, grilled veggies, pan-fried tofu, noodle or Buddha bowl. The options are endless!
It has a white miso base with toasted sesame oil, sesame seeds, rice vinegar, maple syrup, ground ginger and pepper, making it naturally vegan. I love it when you can put together a few pantry staple ingredients and come up with a versatile Japanese-inspired dressing that will add plenty of flavour to your dish.
So next time you want to try a vegan miso dressing, give this a go! You'll want to keep a jar of it in your fridge at all times.
What is this miso sesame dressing made of?
Let's break down the ingredients that you'll find in this dressing, shall we?
Miso
First up, the all-important star of the show, miso. Miso has been around for thousands of years and is a fermented soybean seasoning originating from Japan.
You can get many different varieties of miso, and they vary in colour from white to dark brown, depending on what ingredients are used. They also vary in quality, so keep that in mind when buying it – not all miso pastes are created equal.
The one that we're using is white miso, that's made predominantly from rice and soybeans. "Shiro miso" is the traditional name for it and can range in colour from white to light brown.
If you want to make this a soy-free dressing, you can use chickpea miso in its place.
Toasted Sesame Oil
This is my favourite rich nutty oil to cook with in the kitchen. You'll also find it in my black rice salad, mushroom & eggplant noodle miso soup, and in this kelp noodle salad. Anything that is Japanese-inspired and that can carry a strong flavour, I'll use it.
If you find the toasted variety a little strong, you can substitute half of it for plain sesame oil. Adjust it to your liking.
Rice Wine Vinegar
Unseasoned rice vinegar has the perfect balance of acidity and sweetness for a dressing like this. It has a more delicate flavour than some other kinds of vinegar on the market.
We've also tried it with apple cider vinegar, and it can be substituted for rice vinegar if that's all you have on hand. You cannot use white vinegar as it's too acidic for this recipe.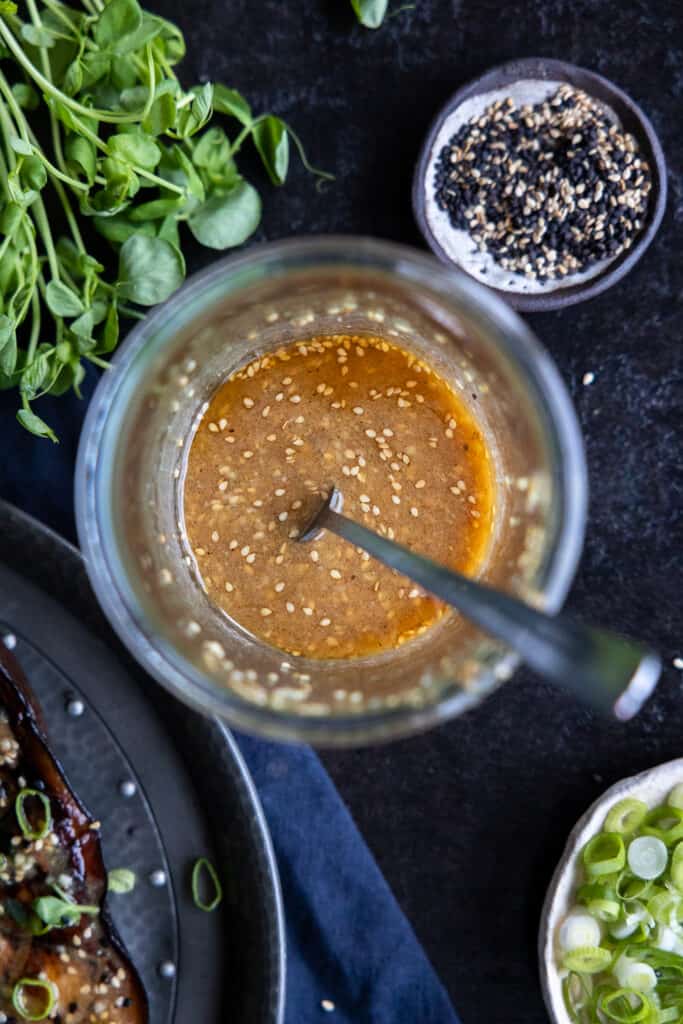 Maple Syrup
It's essential in a dressing to create balance in flavour, and maple syrup certainly brings that sweet harmony to it.
If you want to substitute it, use another liquid sweetener like agave syrup or even rice malt syrup. They will require slightly different quantities as agave is sweeter than maple, but rice malt is less sweet than maple.
I wouldn't recommend a sugar-free substitute like stevia.
Toasted Sesame Seeds
These tiny seeds once toasted, add another nutty and textural dynamic to the dressing.
If you can only find raw sesame seeds, you can toast them slightly for a couple of minutes on your frypan. They turn quickly, so keep an eye on them.
You can also do half white and half black.
Ground Ginger
Ground ginger adds a hum of heat and an undertone of ginger flavour in this dressing. It adds another element of complexity to the recipe and compliments the rest of the ingredients.
Black Pepper
Again, for an extra bit of heat it helps to round out the flavours and add another earthy element. It is, however, totally optional in this dressing.
So that's it! That's all you need to make this show-stopper.
What can you put this miso sesame ginger dressing on?
I've already named a few above, but here's a nice little outline.
Tossed through salad (of course)
Pan fried tofu or tempeh
Grilled vegetables like our miso glazed eggplants
Add to a stir fry at the end
Rice bowls
Asian-style slaw
If you use it in some other way, let me know in the comments below!
You'll never buy a store bought dressing again
A homemade dressing will beat a store-bought one, hands down, every single time. The ingredients are superior and clean. Store-bought dressings are usually low quality and filled with preservatives or other fillers to bulk up the product.
This dressing is concentrated, freshly made, and uses healthy ingredients.
It's a versatile dressing and great to keep on hand in the fridge to make the simplest ingredients shine. Like any sauce or dressing, you can adjust this to your liking. Make tweaks to get it perfect for your palate.
Other recipes you'll love:
If you try this recipe, let me know! We'd love for you to leave a comment and rating below. If you want to go that extra mile, tag us on Instagram or share your photo of the recipe on Pinterest.
Print
Easy Sesame Miso Dressing (Vegan)
---
Author:

Prep Time:

5 minutes

Total Time:

5 minutes

Yield:

About 1 cup
Description
A quick and easy dressing to make and store in the fridge for when you want to make simple ingredients taste amazing! Perfect for salads, grilled veggies, pan-fried tofu, noodle, Buddha or rice bowls.
---
¼ cup

/ 68g white miso paste*

2 tablespoons

rice wine vinegar* (unseasoned)

⅓ cup

/ 75ml toasted sesame oil*

3 tablespoons

maple syrup

2 tablespoons

toasted sesame seeds

¼ teaspoon

cracked black pepper

¼ teaspoon

ground ginger
---
Instructions
Add all the ingredients to a small mixing bowl and whisk until fully combined. Alternatively, you can use a small food processor or blender and process until smooth. If you use this method, stir in the sesame seeds at the end. 
Notes
Miso: We used the white shiro miso variety. You can also use awase miso which is a mix of red and white. 
Vinegar: Apple cider vinegar can be substituted with rice wine vinegar.
Sesame oil: If you find toasted sesame oil a little too strong, you can use half toasted and half plain sesame oil.
Storing: Will keep an airtight bottle or container in the fridge for up to 3 weeks.
Soy-free: Use chickpea miso for a soy-free dressing.
This dressing is not ideal for serving hot. It's best used as a dressing instead of cooking it in your food.