15-Minute Miso Glazed Eggplants (Vegan & Gluten-Free)
This quick and easy miso glazed eggplant recipe is my non-traditional take on a Japanese starter called Nasu Dengaku. It's a dish using pan-fried or baked eggplant brushed with a thick layer of miso glaze. You can serve it as an appetiser or part of the main dish. If you love eggplant, you'll love this dish!
I've grown up eating meals that have been created with smaller dishes. This is a great example of that. You can add plain rice, a salad and pickled veggies. Or even wilted spinach and some pan-fried tofu for protein. Play around with a few different additions and see which combination you like best.
The translation for the name Nasu Dengaku means eggplant grilled over a fire. It will melt in your mouth and has the perfect balance of sweet and salty flavours.
I've had miso glazed eggplants in restaurants and have always loved them. If it's on the menu, I have to order it.
It always looked like a pretty complex dish to make at home. Little did I know how easy it actually was!
There's something about this flavour combination that I really like. I love Asian food and have started making more of it at home.
Even though I'm fond of this recipe, I'll still use ingredients that I can get my hands on easily and products that I won't just use for one dish and let it sit for another few months until I make that dish again. Not very resourceful, is it?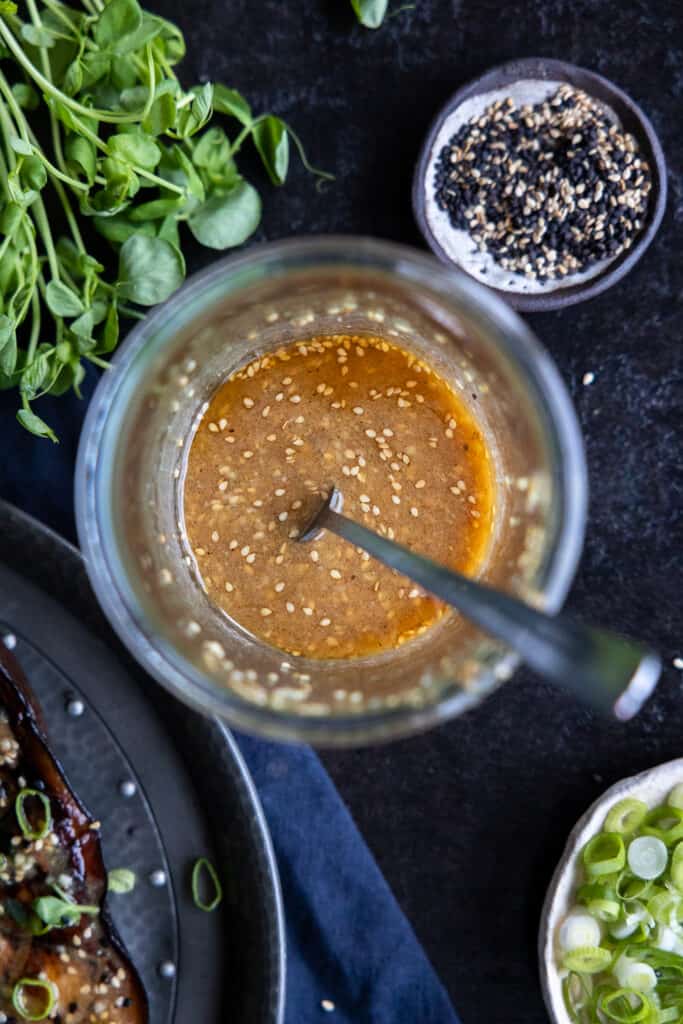 Being resourceful with what you have
I say this is a non-traditional version because I don't use the usual suspects like mirin, sake, or Shaoxing wine in this dish. I wanted to make it as approachable as possible and use ingredients you'll probably already have in your kitchen.
By using staple pantry ingredients, you'll avoid using it once and then placing it at the back of your pantry to collect dust until it's three months past its best before and waste money and resources. Sound familiar?
There's nothing worse than buying a specialty ingredient to only use it once after going to five different stores to hunt it down.
In this miso-glazed eggplant dish, I used rice wine vinegar that's easy to find in supermarkets and can be used in many other recipes like my eggplant and mushroom quinoa risotto and this vegan yaki udon. As you'll see in the notes of the dressing recipe card, you can swap it out for apple cider vinegar.
Miso is a staple for many vegan cooks and has become a super accessible ingredient over the years. I use the white variety because it's sweeter and achieves the right balance for the glaze. Ideally, you'll use a white and/or red miso. If you only have access to a darker variety, you'll need to use less as it's stronger and saltier.
Super quick and easy to make
The other difference with this dish is that I pan-fry the eggplants instead of baking them. It's a much quicker way to make this dish. In fact, in less than half the time!
The important thing is to keep the integrity of the eggplant. You'll need to flip it a little more carefully as it becomes softer. You want the eggplant to have a deep, almost burnt colour on it, so you know it will be flavourful and cooked all the way through.
Even though this dish isn't made the traditional way, I promise you; it doesn't compromise on flavour!
Tips for making this Japanese-style eggplant dish
Here are a few tips and tricks to get the best results with this recipe.
Try and use eggplants that are small-medium in size. They tend to be less bitter than larger eggplants.
Through my research, I found that there are two kinds of eggplants in a species. The male eggplants have a small round indentation at the bottom, have fewer seeds and can be slightly sweeter than their female counterparts that have an irregular or line indentation at the bottom. How interesting is that? BelowI'vee put a visual for you to see the difference.
Some people salt the eggplant before frying or baking it to sweat it out and remove some of the bitterness. I've noticed that over the years, we're less and less likely to come across a bitter eggplant like we used to say 10-20 years ago. It's been bred out of them, and this step is not really required anymore. However, if you do wish to do it, you can. Salt the eggplant after cutting it, leave it for about 20 minutes, and then pat it dry with a paper towel to remove the water drawn out. It can also help prevent the eggplant from absorbing too much oil as the flesh acts like a sponge.
Cut the eggplants in a criss-cross pattern without cutting the outer skin to help the eggplant cook faster.
For this dish, you can use other eggplant varieties, but I've gone for a very accessible variety to keep it simple. I didn't want to use specialty eggplants like the thin Japanese or Thai varieties. I've made them with those before, and it's great. Not as flesh-heavy, but still delicious. You'll need to fry them for less time as they're smaller and skinnier.
The miso and sesame dressing recipe calls for white and or red miso. As I mentioned earlier, if you only have access to a darker variety, use less as it's stronger and saltier in flavour.
Other recipes you'll love:
If you try this recipe, let me know! We'd love for you to leave a comment and rating below. If you want to go that extra mile, tag us on Instagram or share your photo of the recipe on Pinterest.
Print
15-Minute Miso Glazed Eggplants (Vegan & Gluten-Free)
---
Author:

Prep Time:

5 minutes

Cook Time:

10 minutes

Total Time:

15 minutes

Yield:

2
Description
This recipe for miso glazed eggplants is quick, easy, and ready to serve in just 15 minutes! Perfect as an appetiser or added to a main dish. 
---
2

medium-sized eggplants

2 tablespoons

neutral oil (for frying)
Glaze
Serving
1

scallion / green onion / spring onion, thinly sliced
---
Instructions
Heat a skillet or fry pan on medium-high heat. 
While you wait for it to warm up, cut the eggplants in half and cut the flesh in a criss-cross pattern without cutting the outer skin. 
When the pan has warmed up, add the oil and add the eggplants skin side down (flesh facing up), flip after 4-5 minutes and fry on the other side. You may need to flip it a couple of times to get the eggplant to cook evenly. Just be careful as it will get softer. 
In the meantime, make the miso glaze.
Once cooked, smear the miso glaze over each eggplant generously and top with the scallions. If you have any leftover glaze, serve it on the side to add some more to it when eating.
Plate it up on a bed of rice, salad and pickles as a main or on its own as an appetiser.
Notes
See the tips earlier in the post for suggestions and eggplant information.
This recipe was originally posted in September 2018 and completely updated in March 2022.