30-Minute Vegan Buddha Bowls (Three Ways)
In this post, I'm sharing with you three delicious 30-minute vegan Buddha bowl recipes. Most people nowadays know what a Buddha bowl is, but for those of you that haven't heard of it before, it's a bowl that typically consists of a few different components.
Normally you'll start with a grain, add some vegetables, some form of protein, and a dressing of your choice. I usually add some seeds, fermented or pickled vegetables, and some sprouts if I have them in the fridge.
Essentially, it's a colourful bowl of goodness using whatever you have in the kitchen. It's a great way to use up produce and to have a healthy meal.
We've been making some variation of vegan bowls for years in our household and more since becoming vegan. So I wanted to share some basics around creating a vegan Buddha bowl, what ingredients I generally use and three combinations of those that frequent our house the most.
Grains
Start with a grain or something similar. That could be any of the following:
Brown, white, black, red or wild rice
Quinoa – tri-coloured, white or red
Buckwheat
Millet
Farro
Couscous – plain or pearled
Or even noodles
Vegetables
Then you'll add at least two to three different types of vegetables to your veggie bowl. You can have these roasted, raw or steamed.
Carrot
Avocado
Tomato
Cucumber
Zucchini
Eggplant
Sweet potato
Mushrooms
Pumpkin
Cabbage – red or white
Corn
Peppers (capsicum) – any kind but I like red
Daikon
Baby spinach
Kale – massaged
Salad mix
Bok choy/pak choy – cut in half and steamed or lightly fried
Asparagus
Broccoli/broccolini
Peas
Beets
Scallions (spring/green onion)
Cauliflower – typically marinated
Herbs:
Cilantro (coriander)
Chives
Parsley
Basil
Mint
Dill
Arugula (rocket or roquette)
Plant-based protein
Then there's the protein, you'll want at least one of these as part of your vegan bowl to get a well-rounded meal.
Extras
Here are some extras, which I usually keep in my fridge or pantry for that extra bit of flavour, nutrients or crunch.
Fermented vegetables
Pickled ginger
Pickled radish
Olives
Toasted sesame seeds
Tamari seeds
Nigella seeds
Roasted nuts like almonds, walnuts, hazelnuts, cashews and peanuts
Sprouts – like mung bean, lentil, chickpea, alfalfa or bean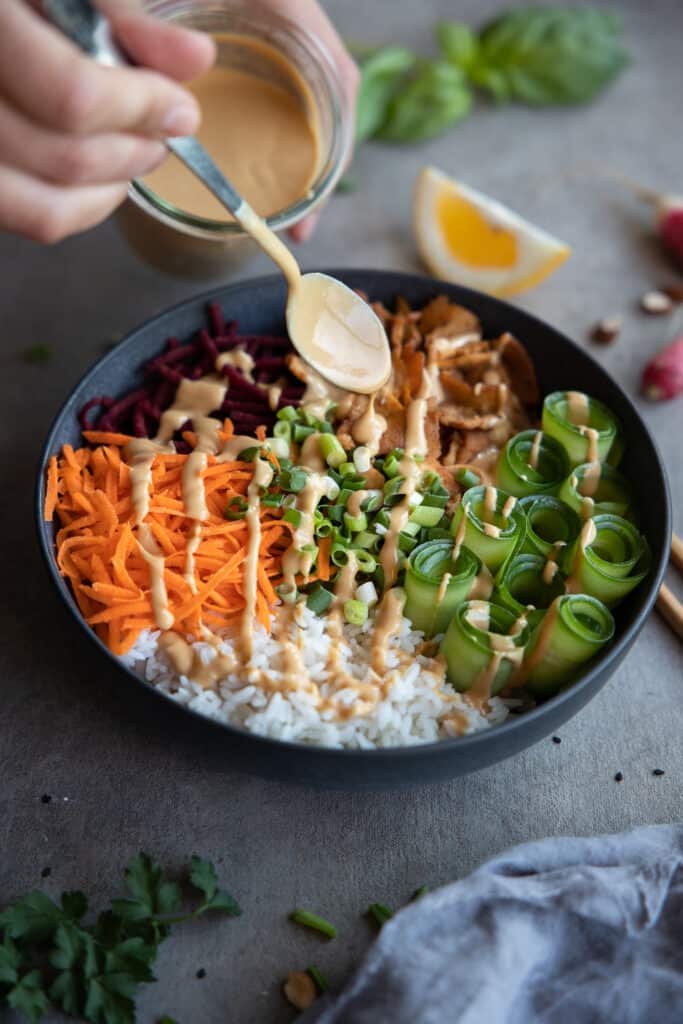 Dressings
And last but not least, a dressing. This is what brings it all together. I keep things simple and mainly use these dressings:
So that's pretty much it! You may be thinking this is overwhelming, but honestly, you can do whatever you like with it. These are just some ideas based on what we use in our house most of the time to whip it together.
Most lunches will be some form of a vegan bowl with the above ingredients. I wanted to share some inspiration and some recipes that can be a starting point of this adventure for you if you haven't dived into it before or want to try different combinations.
There are three super easy recipes that you can prepare well ahead of time and have in the fridge ready for work, school, lunch or dinner. I wanted to keep these recipes no more than 30 minutes to make so you can whip them up anytime!
I love these because of how dynamic and waste-free they are. With so much produce ending up in landfill and money wasted, this is an excellent way for us all to use what we have and turn it into a delicious bowl pretty quickly.
I hope you love these easy vegan Buddha bowl recipes as much as I do!
Other wonderful recipes you'll love:
If you try these recipes, let me know! I would love for you to leave a comment and rating below. If you want to go that extra mile, tag us on Instagram or share your photo of the recipe/s on Pinterest.
Note: These Buddha bowl recipes were updated on the 5th of June 2021 from an original post from February 2018. The bowl recipes are new.