Marinated Vegan Bocconcini (Mozzarella Cheese)
This vegan bocconcini recipe is easy to make and gives you small balls of cheesy goodness. Pale in colour and mild in flavour, this plant-based bocconcini cheese resembles its dairy counterpart in so many ways. They're perfect for use in the way that you'd use any semi-soft cheese.
Unfortunately, vegan cheese is still expensive to buy and, most of the time misses the mark with flavour and texture. So creating one at home is the next best thing! This recipe is easy to follow, and I'm super happy with how this cheese turned out!
I think I'm onto a winner. Not only is it a great texture, but the flavour is also spot on. Not too cheesy, and there's no overpowering flavour. I hope you love it as much as I do.
What can you use vegan bocconcini for?
There are so many different ways to enjoy this cheese! Here are a few ways that you can use it:
What's the difference between mozzarella and bocconcini?
The main difference between mozzarella and bocconcini is the size of the cheese and how firm it can be, depending on which kind you're referring to.
One variety of mozzarella is for shredding and cutting thinly as it has a firmer texture and is yellow in appearance. You'll generally find it in a ball tightly wrapped in plastic or pre-grated in packets.
The other variety is fresh, white in colour and has a softer texture and comes in brine. This kind is the size of an orange and can be torn apart with your hands. It's typically made with cow or buffalo milk.
On the other hand, Bocconcini are smaller balls and are best used where a softer cheese is needed and typically comes as a fresh product in brine. Bocconcini is essentially a smaller version of the soft, fresh kind of mozzarella.
With the vegan version I've created, the bocconcini is a little firmer, so it's also great for cutting. I wanted it to have that option, keeping its shape in salads and the like.
If you want to grate this cheese, you can freeze it first, so it firms up and then grate it onto whatever you like!
Want to make a vegan mozzarella instead?
If you want bigger cheese balls, instead of adding them to cold water, you can wrap them in cling wrap the size of a smaller orange and hang it in the fridge to set for 3-4 hours before use.
The trick I use is to tie the ball with a rubber band (at the top of the cling wrap) and suspend it on a chopstick over a glass. It will make two balls.
If you'd like more information about making the cheese this way, please let me know below.
Marinating the dairy-free bocconcini in herbs and olive oil
I wanted to create a recipe that was a little different. A cheese that can sit in herbs, spices, olive oil, or a salty brine. It looks more impressive in the olive oil with all the colours from the herbs and spices. It also makes for a great gift!
It takes only a couple more minutes to prepare and is the perfect addition to a vegan platter or spread on toast. The marinades I've used for this cheese are made of the following ingredients:
Marinade 1:
Extra virgin olive oil
Fresh or dried red chilli pepper
Fresh thyme
Fresh oregano
Salt
Marinade 2:
Extra virgin olive oil
Lemon zest
Fresh rosemary
Peppercorns
Salt
What's in this vegan bocconcini recipe?
All the ingredients in this recipe play a role in the resulting flavour and texture. Here's what you'll find:
Raw cashews are used to add creaminess, thicken it and create the right structure for the cheese. The great thing about raw cashews is that they're pretty much flavourless and work perfectly for a cheese like this.
Unsweetened soy milk adds another element of creaminess and a needed liquid for cooking the cheese to create that cheesy textural integrity. You can use creamy oat milk in its place if you'd like to make this a soy-free cheese.
Unsweetened dairy-free yoghurt adds that sour note known in fresh mozzarella and bocconcini cheese. It comes from the lactic acid in the yoghurt. Make sure you pick one that you like the taste of, as otherwise, you may not like the cheese. I use natural coconut yoghurt.
Salt is crucial for savoury notes and balance.
Nutritional yeast for that all-important but subtle cheesy, salty flavour.
Apple cider vinegar is used for the acidic balance and a slight tang. You could substitute it for lemon juice.
Agar agar powder is crucial for the right consistency in this cheese. It's a powder made from red algae. It gives the cheese a bouncy texture that's so important in a bocconcini cheese.
Tapioca flour (aka tapioca starch) makes it stretchy like cheese. If you want to swap it out, you could try another thickener like cornstarch, potato starch, or arrowroot flour. It won't be as stretchy as tapioca but will act more like a thickener. I haven't, however, tried the corn and arrowroot alternatives yet. Please let me know in the comments if you do!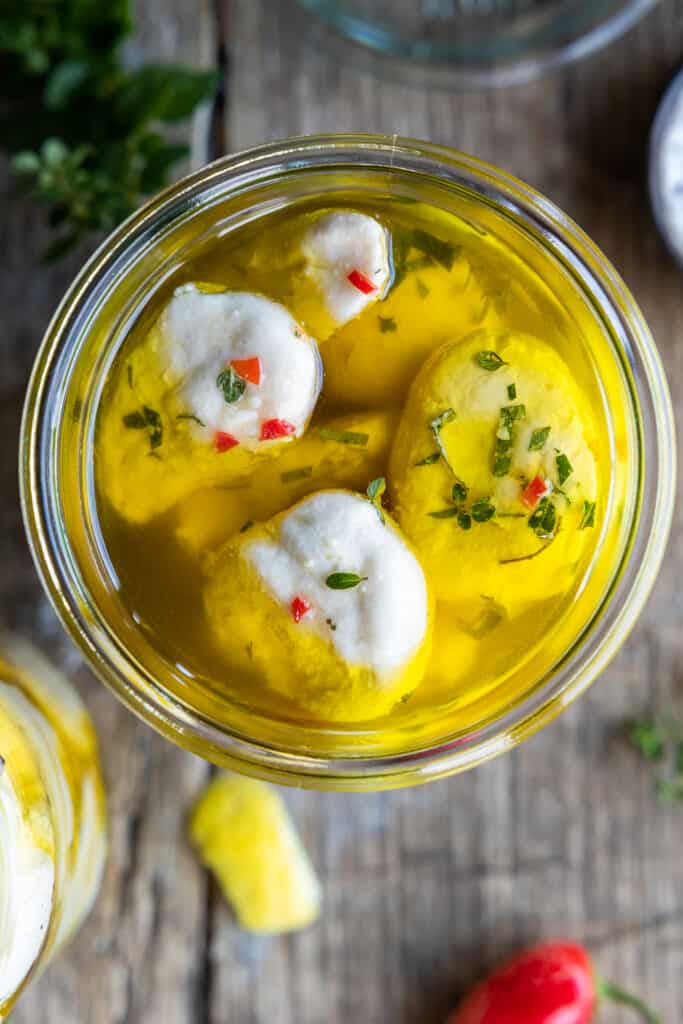 Tips for making this vegan bocconcini cheese
It will keep in the brine solution for 5-7 days in the fridge and up to a week in either olive oil or herb marinades.
For soy-free cheese, replace the soy milk with unsweetened creamy oat milk.
Want to make vegan mozzarella instead? See notes above for details.
If you have a melon baller, you can use that in place of the spoon method. Simply scoop it out with a spoon once it's in the baller. Swift actions help prevent it from getting too stringy when dropping it into the ice bath.
Don't skimp on the cooking time. You need to get it to that super thick stringy consistency to get the right texture in the cheese once set. It will be too soft to use and work with if you undercook it.
This dairy-free cheese is also oil-free (if you choose to keep it in the brine solution instead of the oil and herb marinade) and easily made soy-free.
When marinated, it makes for a beautiful and impressive gift! So next time your want to impress your vegan cheese-loving friend or relative, this recipe will undoubtedly hit the spot!
You'll never repurchase vegan mozzarella cheese once you've tried this recipe. It's so versatile and more affordable!
Other recipes you'll love:
If you try this recipe, let me know! We'd love for you to leave a comment and rating below. If you want to go that extra mile, tag us on Instagram or share your recipe photo on Pinterest. 
Print
Marinated Vegan Bocconcini (Mozzarella Cheese)
---
Author:

Prep Time:

15 minutes

Cook Time:

15 minutes

Total Time:

30 minutes

Yield:

12-15 balls
Description
Soft, delicious and easy to make, these vegan bocconcini balls are perfect for when you need that cheesy addition to your platter, pizza, salad, pasta or simply to enjoy on their own.
---
Bocconcini
½ cup

/ 70g raw cashews

⅓ cup

/ 80ml unsweetened soy milk (or creamy oat milk)

½ cup

/ 125g unsweetened dairy-free yoghurt* (I used natural coconut yoghurt)

½ teaspoon

salt

2 teaspoons

nutritional yeast

1 teaspoon

apple cider vinegar (or lemon juice)

2 tablespoons

tapioca flour* (aka tapioca starch)

2½ teaspoons

agar agar powder
Marinade (option 1)
Extra virgin olive oil

2 teaspoons

fresh thyme, chopped

2 teaspoons

fresh oregano, chopped

2 teaspoons

red chilli pepper, minced (or

¼ teaspoon

red pepper flakes)

½ teaspoon

salt
Marinade (option 2)
Extra virgin olive oil
Zest of

half a

lemon*

1

rosemary sprig

1½ teaspoons

peppercorns

½ teaspoon

salt
---
Instructions
In a heatproof bowl, add the cashews and pour over boiling water. Let it sit for 15 minutes and then drain and rinse them. This is done to soften the cashews.
To a high-speed blender, add the cashews, milk, yoghurt, salt, nutritional yeast, and apple cider vinegar and blend until smooth.
Then add the tapioca starch and pulse until just incorporated. Set aside.
To a small heavy-bottomed saucepan on medium heat, add ¾ cup / 180ml water and the agar agar powder (while the water is still cold) and mix continuously with a spatula until it comes to a gentle simmer and has thickened. It's ready when the spatula is thickly coated when lifted. 
Reduce the heat to low-medium, add the mix from the blender, and stir until it's thick and stringy. This should take around 10 minutes. It will start to look like a really thick custard but stringy. Have patience here as the mixture needs time to thicken and get to the right consistency; otherwise, your balls will be too soft.
Add water and some ice to a bowl to create an ice bath for dropping your bocconcini into.
Using a spoon, scoop out the mixture, scrape it down swiftly with a finger into the ice bath, and leave for 10-15 minutes to firm up before transferring it to a brine or marinade.
For the brine: The solution is 1 cup / 250ml of water (preferably filtered) and ½ teaspoon of good quality salt. Mix well, and it's ready for the cheese. It will keep in the fridge for up to 5 days.
For the marinade: Mix the chosen herbs in a bowl and add the cheese balls. Toss it gently. Transfer them to a jar and then top off with olive oil until it covers all the cheese. It will keep in the fridge for up to a week.
Notes
Yoghurt: Use one that you like the taste of on its own.
Tapioca flour: If you want to swap it out, you could try another thickener like cornstarch, potato starch, or arrowroot flour. It won't be as stretchy as tapioca but will act more like a thickener. I haven't, however, tried the corn and arrowroot alternatives yet. Please let me know in the comments if you do!
Lemon zest: I like to peel the zest first, then remove any of the pith (white part) by sliding my knife along it. Then I slice it thinly on a diagonal. It looks quite pretty, and you get more zest that way. Alternatively, just zest it the way you usually do it.