Wholesome Vegan Lentil Lasagna
If you love lasagna and so happen to be plant-based (or not), you'll love this vegan lentil lasagna!
I set out to make a lasagna that screams comfort and happiness but doesn't contain processed ingredients like vegan butter and cheese. These two processed ingredients can be found in most vegan lasagna recipes on the internet.
This lasagna is the birth child of our baked ziti and lentil bolognese, with the main feature coming from our béchamel sauce recipe. This is the first of many lasagna bakes that will be coming to our blog. So keep an eye out for other variations in the future!
You might be wondering how I managed to achieve that beautiful topping that looks like it has cheese in it and a filling that resembles mincemeat. Well, I've used subtle techniques to make a rich and meaty texture with a cheesy top without using any animal products, which I'll explain below.
The anatomy of this vegan lentil lasagna
The lentil veggie layer is packed full of goodness.
You'll find the base for this flavourful sauce starts with onion, garlic, carrot, and mushrooms cooked down nicely with some colour. I then add the brown lentils, herbs, and spices as well as the tomato paste (puree) and canned diced tomatoes.
Add a touch of water and cook down nicely to create a wonderfully rich sauce. A splash of tamari is for some extra umami.
While the lentil veggie sauce cooks, it's time to prepare the béchamel. This creamy sauce is a combination of olive oil, flour, plant milk, a couple of herbs and spices mixed together to make a rich and diverse sauce. To thicken it a little further and add the umami of cheese-like flavour, I add nutritional yeast at the end.
You'll find one other trick in this béchamel. When you've baked the lasagna for 30 minutes, you add a tapioca starch slurry to create a cheesy pull and nice brown film on top. You won't believe there's no cheese in this recipe!
This is all layered nicely with uncooked lasagna sheets and baked in the oven to make a beautiful home-cooked meal to please omnivores and vegans!
How to layer a vegan lasagna
There are typically two ways to layer lasagna. You can make a béchamel for just the top as a finishing layer (which is how I used to do it), or you can layer the béchamel throughout the lentil veggie sauce and pasta sheets.
I've been doing the latter method for the last couple of years after watching how it was done the traditional way. Adding béchamel throughout the lasagna adds a more balanced flavour profile, as well as a creamier bake.
This was my method of layering:
Lentil sauce (2 cups)
Lasagna sheets
Béchamel sauce (¾ cup)
Lentil sauce (2 cups)
Lasagna sheets
Béchamel sauce (¾ cup)
Lentil sauce (2 cups)
Lasagna sheets
Lentil sauce (the rest)
Béchamel sauce (the rest, minus ½ cup that is left aside for the tapioca slurry topping)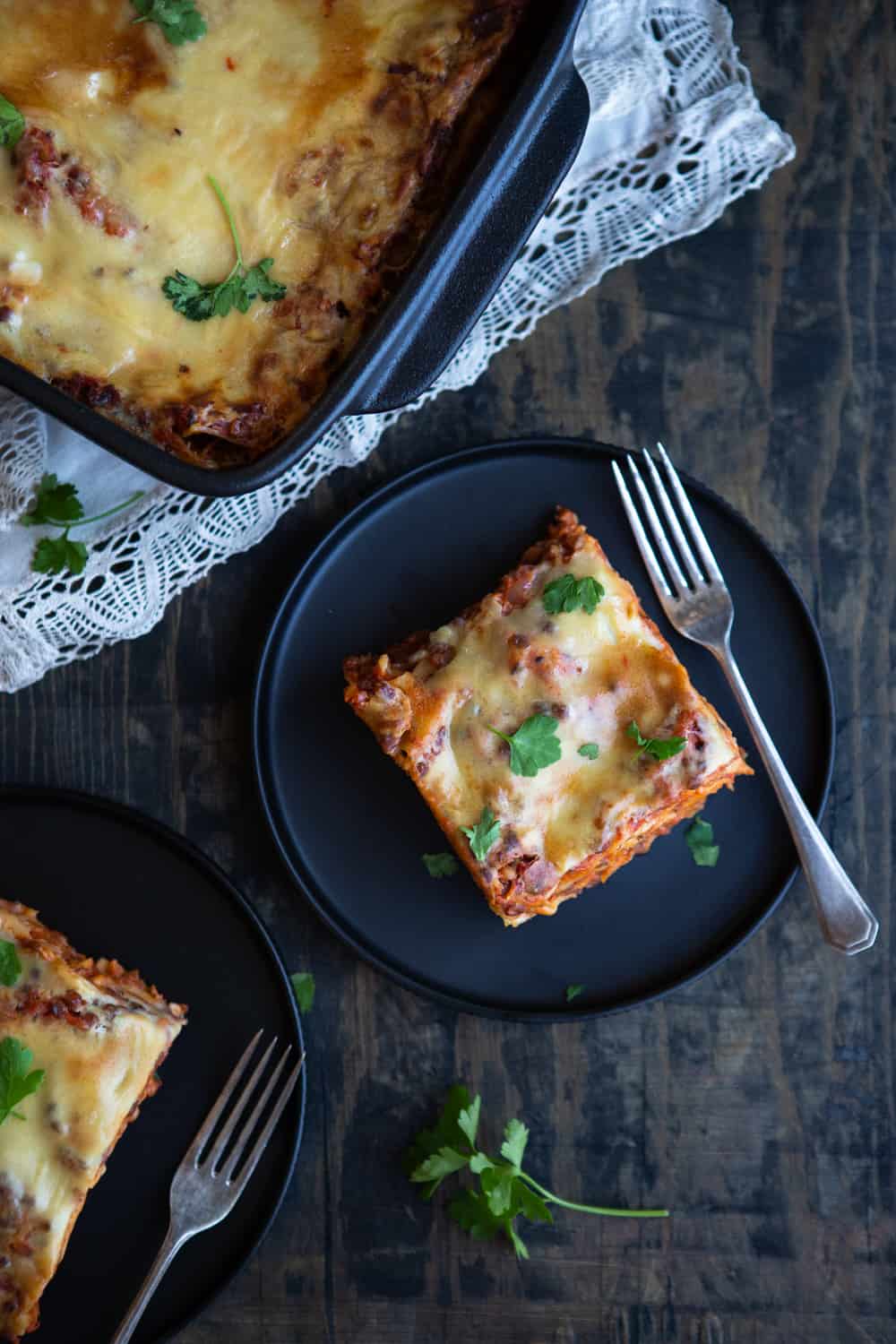 Using a food processor to achieve texture (and speed up the process)
I always love a good kitchen hack to speed up the process of cooking. I mean, who doesn't? I introduced the use of my food processor when doing my third iteration of this recipe and noticed how much quicker the sauce took.
The main thing I noticed when processing the veggies was how much more liquid came out of them. If you use this method, cook the vegetables on medium-high heat as otherwise, you'll be stewing them in their juices.
If you don't use a food processor, lower the heat to medium so that the veggies have time to saute properly.
The veggies that are put through the food processor are the onion, carrots, and mushrooms. You can also pulse the canned tomatoes if you buy them whole to get the diced consistency.
When you use a food processor, you create a nice rhythm when cooking. As things are chopped much faster, you won't have to worry about burning anything if you're preparing the vegetables as you go.
TIP: Make sure to pulse so you don't overprocess them!
If you don't have a food processor, or don't want to use one, simply dice the onion, carrots, and mushrooms finely. I suggest you prep all of these before you start cooking.
Now let's get into this Italian deliciousness! I hope you enjoy this vegan lentil lasagna as much as I do.
Other recipes you'll love:
If you try this recipe, let me know. We'd love for you to leave a comment and rating below. If you want to go that extra mile, tag us on Instagram or share your photo of the recipe on Pinterest.
Print
Wholesome Vegan Lentil Lasagna
---
Author:

Prep Time:

45 minutes

Bake Time:

45 minutes

Total Time:

1 hour 30 minutes

Yield:

Serves 6
Description
This wholesome vegan lentil lasagna is packed with nutritious ingredients and flavour! It's the perfect comfort food for both omnivores and vegans.
---
3 tablespoons

olive oil

1

large onion, diced*

4

cloves garlic, minced

2

medium carrots, diced*

250g

/ 8.81 ounces mushrooms, diced*

1 tablespoon

mixed dried Italian herbs

2

cans / 425g / 14.99 ounces each brown lentils, drained and rinsed (or

3 cups

cooked brown lentils)

1

heaped tablespoon tomato paste

1

jar / 700g / 1.54 pounds passata

1

can / 400g / 14.10 ounces diced tomatoes

2 tablespoons

tamari, or soy sauce

1½ teaspoons

salt

¼ teaspoon

chilli powder, or cayenne pepper (adjust to taste)

250g

/ 8.82 ounces uncooked lasagna sheets
---
Instructions
Preheat oven to 200 degrees Celcius (390 degrees Fahrenheit).
In a large saucepan on medium-high heat,* add the olive oil and onion. Sauté for a couple of minutes until the onions have softened and are browning a little.
Add in the garlic, and cook for a further 2 minutes.
Add in the carrots, and cook for around 4-5 minutes until they're soft. If you find that it's starting to stick to the pan, add a little bit of water – not too much because you don't want them to start stewing. Around 1-2 tablespoons.
Add in the mushrooms and Italian herb mix, stirring well, and cooking for another couple of minutes until all the veggies are nice and soft.
Reduce the heat to medium and add the lentils, cooking for 2-3 minutes.
Add in the tomato paste, passata, can of tomatoes, and ½ cup / 125ml of water (I'll typically add the water to the passata jar and can to get the remainder of the tomato juices). Give it a good stir.
Add in the tamari, salt, and chilli powder, stir well and place the lid on askew to allow some steam to escape the saucepan. Cook for 15 minutes, stirring occasionally.
While the sauce cooks, make the béchamel sauce. You may need to turn off the heat on the lentil sauce while you finish off the béchamel.
Once both the sauces are cooked, you're now ready to start assembling your lasagna. Remember to set aside the ½ cup of béchamel for later.
In a large baking dish—mine is a 5-litre rectangular dish (42cm x 23cm, 16.54 inches x 9.05 inches); start with the lentil sauce (2 cups), then the lasagna sheets, followed by béchamel sauce (¾ cup). Repeat this process two more times, however on the third round, finish it off with all the lentil sauce that you have left, followed by the rest of the béchamel. If you're unsure, see the notes listed above outlining the layering process.
Bake for 30 minutes. While it bakes, combine the tapioca and water slurry and add it to the remaining ½ cup of béchamel you have leftover.
After 30 minutes, take the lasagna out of the oven, and top it with this mixture, spreading out nice and even. Return to the oven for another 8-10 minutes.
Turn the oven off, move the dish to the top shelf, and grill until the top has browned to your liking.
Remove from oven and let cool for 10 minutes before cutting and serving.
Notes
Vegetables: Use a food processor to pulse these veggies to a nice and fine diced consistency.
* If you're hand dicing the veggies, keep the heat on medium, not medium-high.