Easy Vegan Salted Caramel Cheesecake
This vegan salted caramel cheesecake is the perfect marriage of salty and sweet. The flavour combination is irresistible, and the creamy texture will impress even the biggest dairy lovers!
This recipe is easy to follow and creates a baked cheesecake that everyone will enjoy. Serve it at your next party or gathering, or just make it as a special treat for yourself!
This vegan cheesecake is made with a biscuit base and a cashew, vegan cream cheese, and coconut cream filling for that perfect balance of textures and flavours to resemble a traditional cheesecake. It's drizzled with a decadently rich and gooey salted caramel sauce to take it to the next level.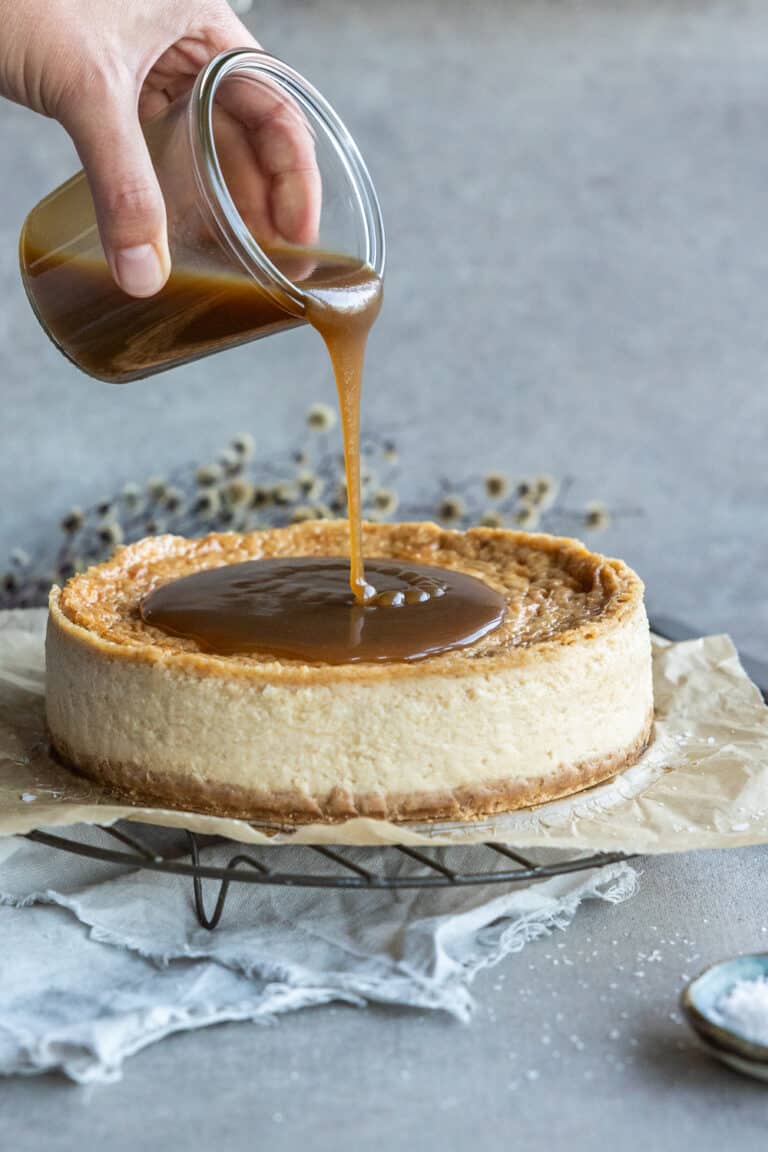 Using vegan cream cheese in a cheesecake recipe
My recipe taste testers gave this cake a massive thumbs up and were impressed by how I managed to get traditional cheesecake flavours in a dairy-free cheesecake.
The secret is to use good-quality vegan cream cheese. This really helps to make the perfect baked vegan cheesecake. I've used the Tofutti 'Better Than Cream Cheese', however, I've heard many others have success with Kite Hill and Miyoko's cream cheese substitutes as well. Let me know in the comments below if you try a different brand and how it turned out!
Using just cashews, coconut cream and coconut oil for me doesn't yield a great baked cheesecake. The flavours and texture just don't match its non-vegan counterparts.
So, for the best results and mind-blowing flavour, trust me on this, vegan cream cheese is the way to go.
The salted caramel topping
I've created a quick and easy caramel for this recipe that doesn't take much effort or time to put together. All you need is brown sugar, vegan butter, coconut cream, vanilla extract, and salt.
No need to stand over the stove mixing it for 30 minutes or wait for the sugar to caramelize on its own first. You just add the sugar, butter and coconut cream together, stir it for 5-6 minutes until it thickens, then turn it off and add the vanilla extract and salt. Stir and let it cool. As simple as that!
Keep in mind that the caramel will thicken as it cools. I like to make it the day before I serve it and let it chill in the fridge overnight to create a decadent drizzling caramel to finish off the creamy cheesecake.
Kitchen tools needed to make this vegan salted caramel cheesecake
The tools that you'll need to craft this recipe:
8-inch springform cake tin
Unbleached parchment paper
Food processor (for the base)
High-speed blender (for the filling)
Silicone spatula
Small saucepan
Spoon
Measuring cups and spoons
Scales
Small bowl (to soak the cashews)
Tips for getting the best results
This cake is pretty straightforward to create, but here are a few tips to make it that little bit easier to get the best results possible.
If you don't like cashews or are allergic to them, you can use macadamia nuts in their place. Keep in mind that I haven't personally tried this option.
It's best to use a high-speed blender for this recipe because you want the smoothest, creamiest cheesecake filling possible.
This cake is best made the day before you'd like to serve it (or even two) so that it has time to cool in the oven and set nicely in the fridge. It's important not to skip this step.
Don't try and substitute the vegan cream cheese. Trust me, I have tried it, and the result is nowhere near the creamy, smooth and "cheesy" flavour that a proper cheesecake should be.
The reason you leave the cake in the oven to cool is that it prevents the top from cracking.
You can swap the digestive biscuit to a biscuit of choice for this. Graham crackers and biscoff also work great.
To make it gluten-free, swap out for gluten-free biscuit of choice.
This cake will keep in the fridge for up to 5 days in an airtight container.
The caramel with thicken as it cools so don't worry if it looks a little thin once you've finished cooking it.
Depending on the cream cheese that you use, you may be able to freeze it. I used Toffuti and would not recommend freezing it. The texture isn't the same once thawed out.
An approachable vegan cheesecake recipe
The best thing about this cheesecake is that it's super straightforward to make. No need to worry about thawing it out if it's in the freezer or fridge before serving. It's ready to slice and it can sit at room temperature comfortably, ideal for parties or get-togethers.
There's also no need to cook it in a water bath like other cheesecake recipes- making it that little bit easier to whip up.
The creamy, rich cheesecake is topped with a delicious layer of salted caramel. If you're looking for an easy and decadent dessert, this recipe is definitely for you!
Like fruit-based cheesecakes? Try my blueberry cheesecake or our no-bake mango cheesecake bars instead! If you fancy a raw one, you can give this passionfruit cheesecake one a go.
Some other sweet recipes you'll love:
If you try this recipe, let me know! We'd love for you to leave a comment and rating below. If you want to go that extra mile, tag us on Instagram, or share your photo of the recipe on Pinterest.
Print
Easy Vegan Salted Caramel Cheesecake
---
Author:

Prep Time:

30 minutes

Chill Time:

6 hours*

Cook Time:

5 minutes

Total Time:

6 hours 35 minutes

Yield:

8-inch cake (10 slices)
Description
Creamy and decadent vegan salted caramel cheesecake that will impress even the biggest cheesecake connoisseur. It's easy to make and even easier to eat!
---
Base:
165g

/ 5.82 ounces digestive biscuits*

3 tablespoons

vegan butter
Filling:
¾ cup

/ 105g raw cashews

460g

/ 1.01 pounds vegan cream cheese* (I used Tofutti)

1½ cups

/ 350g coconut cream*

3 tablespoons

lemon juice

½ cup

/ 160ml maple syrup

2 tablespoons

corn starch

2 teaspoons

vanilla extract

¼ teaspoon

salt
Salted caramel:
2/3 cup

/ 155ml coconut cream*

¾ cup

/ 145g brown sugar (firmly packed)

¼ cup

/ 50g vegan butter

½ teaspoon

salt

1 teaspoon

vanilla extract
Extra:
---
Instructions
Place cashews for the filling in a bowl and fill with boiling water. Set aside for 20 minutes.
Preheat your oven to 180 degrees Celcius (355 degrees Fahrenheit) and line the base of an 8-inch springform cake pan with parchment paper.
For the base: Place all base ingredients into a food processor and pulse until a fine crumb is achieved. 
Transfer the base mix to the cake pan and press down evenly and firmly to line the bottom. Set aside in the refrigerator while you work on the filling.
Drain the cashews and give them a rinse.
For the filling: Add all ingredients for the filling in a high-speed blender and blend until nice and smooth. You may need to take it slow (on a low setting) as the mix will be pretty thick. As it thickens, you can slightly increase the speed. Make sure to stop and scrape down the sides of the blender a couple of times during this step.
Pour the filling into the cake pan and spread the mixture evenly. Tap the pan on the benchtop a few times to eliminate bubbles trapped in the creamy filling.
Place in the oven to bake for 1 hour 15 minutes to 1 hour and 30 minutes. The cake is done when there is a slight wobble in the middle of the cake and slightly browned on the top.
Turn the oven off and leave the oven door ajar. I wedge the handle of a wooden cooking spoon in mine. Leave the cake to cool inside the oven completely.
Transfer it to the fridge to set further for at least 3 hours.
Once the cake is set, carefully run a knife around the inside edge of the springform pan to separate the cake from it. Release the pan and transfer to a plate, also removing the parchment paper.
For the salted caramel: To a small pot on medium-high heat, add in the coconut cream, vegan butter and sugar and bring it to a boil, stirring.  Then reduce the heat to a simmer and stir until it thickens for 5-6 minutes. It will continue to thicken as it cools. Place in the refrigerator to thicken even more. 
Once you're ready to serve, drizzle the chilled caramel over the cake and sprinkle with additional salt flakes on top. 
Notes
Biscuits: For a gluten-free cake, use gluten-free biscuits. I used digestive biscuits, but Graham crackers or Biscoff biscuits will also work well. 
Vegan cream cheese: I've used the Tofutti 'Better Than Cream Cheese'; however, I've heard many others have success with Kite Hill and Miyoko's cream cheese substitutes as well.
Coconut cream: Use only the thick and creamy part of the coconut cream in the can. If you don't have access to coconut cream, refrigerate a can of full-fat coconut milk overnight and then scoop out the cream that has separated on the top. 
Please make sure you make this cake at least one day before you plan to serve it. Both components (the cake and the salted caramel) must be chilled before serving. 
Storage: This cake will keep in the refrigerator for up to 5 days in an airtight container. Depending on the cream cheese that you use, you may be able to freeze it. I used Tofutti and would not recommend freezing it. The texture isn't the same once thawed out. Check the packaging of the cream cheese that you use if it's okay to freeze.