No-Bake Vegan Mango Cheesecake Bars (Gluten-Free)
These vegan mango cheesecake bars are the ideal summer dessert. They're super creamy, refreshing, easy to make and the perfect crowd pleaser!
Using minimal ingredients, this three-layer mango dessert takes less than 30 minutes to prepare, and the rest is chill time. I love that I can make it and just let it set in the fridge while I get on with my day—no need to check the oven and panic that it may burn.
So, if you want a fuss-free vegan mango cheesecake, this is for you!
The different layers in these vegan mango cheesecake bars
The base
You'll need only four basic ingredients for this layer—nuts of choice, coconut, dates, and salt.
You can choose whichever nuts you have on hand. I used a mixture of almonds, cashews and walnuts. I wouldn't, however, use pistachios and peanuts (not technically a nut anyway).
The dates help to sweeten the base as well as bind the nuts and coconut together. If you don't have access to Medjool dates, you can use normal pitted dates that have been soaked in hot water for 20 minutes, completely drained to make sure there's no excess water. Use about 6-7 dates in this case. If dates are not possible, substitute it with 2-3 tablespoons of maple syrup.
The filling
The filling is made of cashews, vegan cream cheese, and coconut cream. The best combination for making a vegan cheesecake.
Coconut cream is the thick cream that sits on top of a can of either full-fat coconut milk or coconut cream. To make sure that it separates, place the can in the fridge overnight. I can normally skip this step if it's cooler weather.
The lemon juice is there to add some tang, as you would get in a cheesecake. The maple syrup gives a balanced sweetness to this dairy-free mango cheesecake. Cheesecakes, by nature, aren't too sweet. This is why I have only used ¼ cup of maple syrup in the filling. You can swap it out for agave nectar if you prefer.
The topping
It uses only three simple ingredients – mango, corn starch and lemon juice, it could not be simpler!
Just add the corn starch and lemon juice to a small saucepan to dissolve the starch. Then add in the mango puree and cook until it thickens. Pour it over the base and set it in the fridge!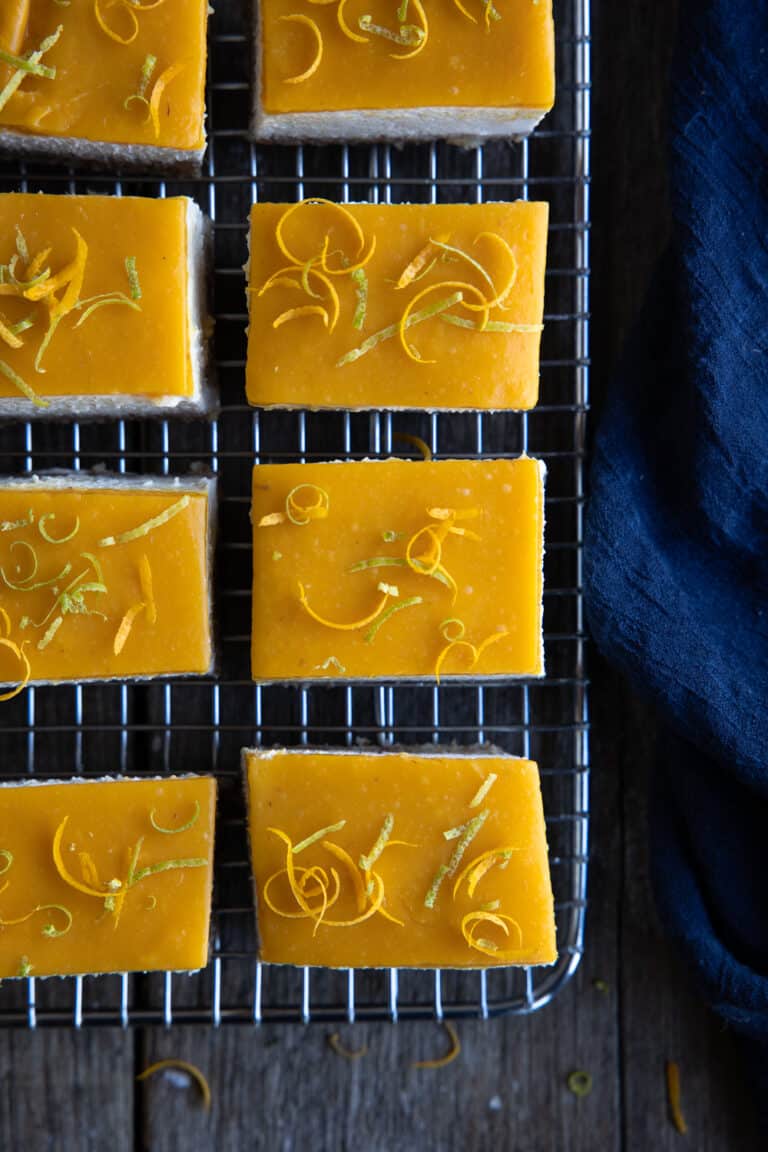 Tips for making these no bake mango cheesecake bars without gelatine
Even though this mango dessert is so easy to make, there are still a few tips that will help you make them perfect every time.
Since we're not using gelatine (as it's not vegan) and agar powder in this dessert, the use of coconut oil and coconut cream in the filling is essential for the bars to set. I wanted to use an accessible ingredient that will make this recipe much more approachable.
The amount of Medjool dates that you use in the base will vary depending on how moist they are. If they're a little more on the dry side, add one more. Mine were very moist and soft.
If you're allegric to cashews or don't want to use them, you can substitute it for macadamia nuts.
If you'd like to make this cheesecake cream cheese free, just add 1 extra cup of cashews in its place. It will resemble a raw slice rather than a cheesecake, but it will still be delicious.
If you want less of a coconut flavour, use refined coconut oil in this recipe.
Using a food processor for each layer is essential for this to work. Don't be afraid to have it running for a few minutes at a time to reach the right consistency. This is especially the case for the filling. Alternatively, use a high-speed blender for the filling.
If you'd prefer this recipe to be a cake, no problem! Use an 8-inch cake tin that has been lined with parchment paper and follow the rest of the instructions as normal. Keep in mind that you may need to set it in the fridge overnight.
Use mango that you would eat raw. Some frozen mango is pretty terrible. When it's thawed out, it can become even more unpleasant. I speak from personal experience. If you're using frozen mango, find a brand that is high-quality and try a piece of mango before using it for the topping.
This dessert can be kept in the freezer for a month if the cream cheese that you're using is freezer-friendly. The Tofutti one that I used is not, therefore I wouldn't freeze the cheesecake bars.
It will keep in the fridge for up to 4-5 days.
Kitchen tools needed to make these cheesecake bars:
You'll need the following kitchen tools to make these bars:
Food processor and high-speed blender (optional for blender)
Small saucepan
Silicone spatula
Parchment paper
Square baking dish
Small bowl (to soak the cashews in)
Measuring cups and spoons
This vegan mango dessert is:
Gluten-free
Refined sugar-free
Dairy-free
Free from agar and gelatine (note: gelatine is not vegan)
Super creamy
Easy to make
Refreshing
Perfect dessert for a tropical summer flavour
Other recipes you'll love:
If you try this recipe, let me know! We'd love for you to leave a comment and rating below. If you want to go that extra mile, tag us on Instagram or share your photo of the recipe on Pinterest.
Print
No-Bake Vegan Mango Cheesecake Bars (Gluten-Free)
---
Author:

Prep Time:

30 minutes

Chilling Time:

6 hours

Total Time:

6 hours 30 minutes

Yield:

15 bars
Description
These vegan mango cheesecake bars are a great summer treat with their tropical and creamy texture—the perfect refreshing gluten-free dessert to share with family and friends.
---
Base:
2 cups

/ 140g nuts (I used almonds, walnuts, and cashews)

½ cup

/ 40g desiccated coconut (unsweetened)

5

Medjool dates 
Pinch of salt
Filling:
1 cup

/ 140g raw cashews (soaked for

30

minutes in boiling water)

1½ cups

/ 360g coconut cream*, (or full-fat coconut milk)

1 cup

/ 245g vegan cream cheese, at room temperature (I used Tofutti)

3 tablespoons

lemon juice (or lime juice)

¼ cup

/ 80ml maple syrup

¼ cup

/ 55g coconut oil (measured while solid)
Topping:
2 tablespoons

 corn starch

2 tablespoons

lemon juice (or lime juice)

1¼ cup

mango puree*
---
Instructions
For the base: In a food processor, blend all the base ingredients until you can pinch it and it sticks together. (I like to have some smaller pieces of nuts to add a crunch to the bars.)
Line a square baking dish (mine was 24cm x 24cm / 9.45 inches x 9.45 inches) with parchment paper and press down the base evenly into the bottom of the dish. You can use the bottom of a measuring cup to make it flat. 
For the filling: In a food processor or high-speed blender, add the cashews and blend for around 30 seconds. Then add in the rest of the filling ingredients. Blend the mixture until smooth. You'll need to stop and scrape down the sides a few times.
The filling should be pretty thick. Pour on top of the base, and even out the mixture. Set aside in the refrigerator.  
For the topping: In a small saucepan, dissolve the corn starch with the lemon juice. Make sure there are no lumps. 
Add in the mango puree and place on medium heat—cook for around 5 minutes, stirring until it thickens up. Remove from heat and let it cool for 30 minutes. 
Pour the puree over the filling and even it out with a spatula.
Place in the refrigerator for 6 hours or until set, preferably overnight. Don't skip this step, as the bars will be too soft to slice otherwise.
Remove from the baking dish and slice to the desired size. Mine were 6.5cm x 4.5cm / 2.56 inches x 1.77 inches. Grate some lemon and lime zest over each slice (optional).
Store the rest in the refrigerator. It will keep for 4-5 days. 
Notes
Coconut cream: Coconut cream is the thick part that sits at the top of the can of coconut cream or chilled coconut milk. 
Mango puree: Just as a guideline, 1 medium-sized mango is around 1 cup. To make the mango puree, place the mango chunks in a food processor and pulse until smooth. 
Please note: These cheesecakes are meant to be a little softer than your baked varieties, and the mango topping is not meant to firm up completely, it will be set but still soft. 
This recipe was adapted from a recipe that was originally posted in March 2016. It was updated in September 2021.