Tempeh: A Beginner's Guide (And 5 Ways To Make it Taste Amazing)
Tempeh (pronounced TEM-pay) is a fantastic food from Indonesia, first documented in the 1600s. It's made by cooking soybeans and then mixing them with a special mould called Rhizopus oligosporus, which turns them into a firm, nutty-tasting cake after a day or two of fermentation.
Indonesians use tempeh to make mouthwatering dishes like "Sambal Goreng Tempeh" (spicy tempeh) and "Tempeh Satay," skewers of grilled tempeh served with a delicious peanut sauce. Yuuuuum!
I've had the pleasure of trying tempeh in Indonesia and can confirm it's divine.
But navigating tempeh for the first time can be tricky, as not all products are created equal, and the taste and texture can vary significantly. Get it wrong, and you may be turned off tempeh forever and miss its potential.
This guide will share the benefits of tempeh, what it tastes like, tips on buying and preparing tempeh to accentuate this plant-based staple. But first, let's explore why there is (or should be) so much hype about tempeh.
The incredible benefits of tempeh
In the quest for healthier, more sustainable, and budget-friendly eating, one food source stands out – tempeh. For better context, I'm putting it head-to-head with beef.
This comparison is grounded in insights from the research paper Tempeh: A semicentennial review on its health benefits, fermentation, safety, processing, sustainability, and affordability.
The paper dives deep into tempeh's potential to be a game-changer on your plate, and I'm here to break it down for you. If you prefer a video, you can watch the TedTalk below from Dr. Amadeus Driando Ahnan Winarno.
Nutrition
Tempeh is no slouch in the nutrition department. It's a plant-based protein powerhouse with approximately 19-20 grams of protein per 100 grams. In the opposite corner, we have beef, known for its protein content and lives up to its reputation with an extra 5 or so grams per 100 grams.
But here's where tempeh starts to shine even more. Tempeh is low in saturated fat, a plus for heart health, while beef carries extra in this department.
Tempeh is a fibre champion, offering about 5-6 grams of dietary fibre per 100 grams, while beef? Well, it's pretty much a no-show when it comes to fibre.
For minerals, tempeh steps up. It's rich in calcium and iron, essential for strong bones and red blood cells. To be fair, Beef holds its ground here, but tempeh gets the nod.
Lastly, tempeh has zero cholesterol. Beef, conversely, carries some dietary cholesterol baggage, which doesn't always bode well for your heart.
| | | |
| --- | --- | --- |
| Nutrient | Tempeh | Beef |
| Protein (g/100g) | 19-20 | About 26 |
| Saturated fat (g/100g) | Low | Moderate |
| Dietary fibre (g/100g) | 5-6 | Minimal |
| Calcium (mg/100g) | Rich | Moderate |
| Iron (mg/100g) | Rich | Moderate |
| Cholesterol (mg/100g) | None | Present |
Nutrition: tempeh vs. beef
Sustainability
Tempeh enters this round with a significant advantage. The research paper shows tempeh has a far lower environmental impact than beef.
Tempeh's energy consumption and greenhouse gas emissions are a fraction of what you'd find in beef production. Plus, tempeh's production methods are diverse, allowing for traditional, semi-traditional, or modern approaches, which can cater to varying preferences.
Additionally, tempeh's score in protein delivery efficiency, both in terms of energy and greenhouse gases, is off the charts. It outperforms beef substantially.
And that's not all. Tempeh's influence on land use and eutrophication indicators is largely tied to soybean cultivation. Tempeh can potentially reduce these negative impacts when sourced locally, making it a more sustainable choice.
| | | |
| --- | --- | --- |
| Sustainability Indicator | Tempeh | Beef |
| Energy consumption (MJ/kg) | Lower | Higher |
| Greenhouse gas emissions (kg CO2 eq./kg) | Lower | Higher |
| Influence on land use | Soybean cultivation | Grazing land and feed production |
| Impact on eutrophication | Soybean cultivation | Manure and nutrient runoff |
| Sustainability practice | Potential to use locally grown legumes, grains, and nuts | Dependent on various practices and agricultural methods |
Sustainability: tempeh vs. beef
Affordability
Finally, how does tempeh compare in the affordability department? Well, tempeh is no lightweight here either. In Indonesia, tempeh is up to 8 times cheaper than beef for the price per kilogram of food.
Tempeh is still a wallet-friendly option in the United States compared to beef, although it may fluctuate in cost compared to other meats and eggs.
Here in Australia, a standard block of tempeh is AUD $15.70 per 1kg.
Beef stir-fry strips are AUD $24 per 1kg, making it 34.58% more expensive than tempeh.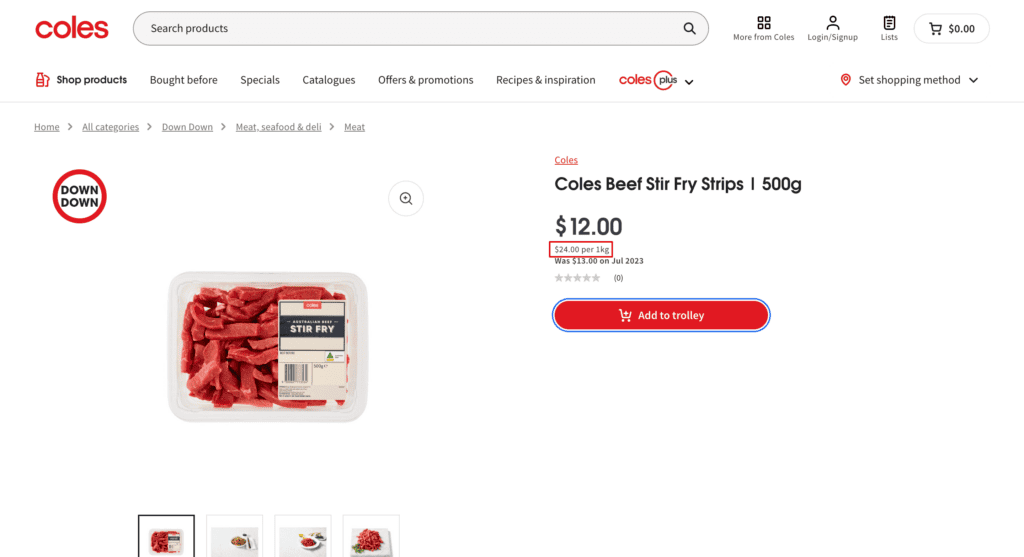 Also, keep in mind that government subsidies make animal products cheaper. For instance, the United States government spends $38 billion every year subsidising meat and dairy, reducing the price of a pound of hamburger meat from $30 to $5.
But affordability isn't just about the price tag. It's about what you get for that price. Tempeh brings added health benefits, like dietary fibre and isoflavones, which might not always come with other familiar protein sources. In other words, you're getting more bang for your buck.
And there you have it. Tempeh stands strong in nutrition, sustainability, and affordability. Oh, and that's not to mention that no animal suffering, exploitation, or death is caused when you choose to consume tempeh.
So sure, there's a lot to be excited about with tempeh — but it doesn't mean much unless it tastes good.
What does tempeh taste like?
Tempeh's taste can be a surprise, as its unique flavour profile is hard to compare to anything else.
It's crucial to understand that you can use different bean and grain variations to make tempeh, each offering a unique flavour and texture. For example:
Soybean tempeh: This is the most common and traditional type of tempeh, known for its earthy, nutty flavour and dense, firm texture.
Black bean tempeh: Using black beans results in a darker tempeh with a rich, earthy flavour and slightly softer texture.
Chickpea tempeh: Chickpea tempeh has a milder, nuttier taste and a somewhat softer texture than soybean tempeh.
Lentil tempeh: Made from red or green lentils, this variation has a sweeter, mild flavour and a softer texture.
Mixed grain tempeh: Combining various grains like rice, barley, and wheat with legumes creates a more complex flavour profile and texture.
Now, that's the general flavour profile of different tempeh products. Let's see what folks on Twitter have to say about the taste of tempeh:
As expected, some unpleasant experiences…
Some describe tempeh as weird and alien…
Then it gets better as people get used to it.
In summary, tempeh can be a bit of an acquired taste. Some folks have their share of not-so-pleasant experiences when they first tried it. They described it as "alien" or "weird," and the initial taste didn't quite hit the mark for them.
But don't fret; it gets better. Others (like me) have grown to love tempeh over time, especially when they figured out the right way to cook it. However, getting the right tempeh can make all the difference.
Tempeh buying tips (IMPORTANT)
You're new to tempeh and standing in the supermarket aisle. What do you do? Follow the tips below.
Start with pre-marinated tempeh
One crucial thing to note, especially if you're new to tempeh, is the risk of buying non-marinated or raw tempeh. Raw tempeh on its own can taste bitter. It might not be the best choice if you're just starting and unsure about how to season it to your liking.
My advice is to start with pre-marinated tempeh. These packages are often labelled with flavours like "Barbecue" or "Teriyaki" and are ready to cook. They offer a flavorful introduction to tempeh without the need for much seasoning.
Get a feel for the texture
When you pick up the tempeh, gently squeeze through the package. You want it to feel firm and solid. Avoid any packages that look crumbly or excessively moist, as they might not give you the best taste and texture.
Start with soy-based tempeh
Consider starting with soy-based tempeh (and preferably organic) for your first few tries. Soy tempeh has a relatively mild and neutral flavour, making it a good introductory option. Once you gain more experience and confidence, you can start experimenting with other types with distinct and stronger flavours, like black bean or chickpea tempeh.
Experiment with different brands
Don't hesitate to explore different brands and varieties. Each brand may offer a slightly different flavour profile, so you might discover one you really enjoy. The key is not giving up on the first or second product.
Learn how to cook tempeh
Lastly, consider seeking some recipe inspiration before heading to the store. This can help you get ideas on preparing and seasoning tempeh for a tasty meal. For example, look up a simple tempeh stir-fry recipe or a tempeh sandwich idea to get you started. I have plenty of ideas in the next section.
Read more: 16 Tempeh Recipes That Prove It's Not Bland
5 Ways to make tempeh taste good
Tempeh is a versatile ingredient that shines when it's treated right. Below are five fantastic ways to take tempeh from ordinary to extraordinary, allowing you to savour its nutty goodness in diverse and delectable forms.
Tip #1: Pan-fry over baking
When it comes to cooking tempeh, the choice between pan-frying and baking can make a significant difference in the outcome. When you opt for pan-frying, you can expect a few fantastic advantages:
Crispiness: Pan-frying tempeh gives it that coveted golden, crispy finish. The direct contact with the hot surface allows the tempeh to develop a delightful outer crust that's both visually appealing and satisfying to the palate.
Better taste: Pan-frying enhances the flavour of tempeh. The high heat caramelises the natural sugars in the tempeh, creating a richer, nuttier taste that is simply mouthwatering. It's a transformation that can turn tempeh sceptics into fans.
Moisture retention: The quick cooking time of pan-frying ensures that the moisture within the tempeh is retained. This means you're left with a tender, juicy interior, providing a pleasant contrast to the crispy exterior.
Quick and convenient: Pan-frying is a time-efficient method. You don't need to wait for an oven to preheat or for long baking times. It's perfect for those moments when you're looking for a speedy yet delicious meal.
Versatility: Whether you're crafting a tempeh sandwich, a protein-packed salad, or any other dish, pan-frying provides the perfect base. The crispy and tasty tempeh pairs well with a wide variety of seasonings and sauces, allowing for endless creativity.
Conversely, baking in the oven takes longer, indirect heat often leads to drier tempeh. So, whether you're aiming for a hearty sandwich filling, a tasty salad topping, or any other tempeh creation, pan-frying is your approach to a mouthwatering meal.
Tip #2: Crumble your tempeh for a crispy and meaty finish
Crumbling tempeh is your new go-to move for making it incredibly tasty. Break up your tempeh into little pieces. This form opens up possibilities from whipping up a tempeh taco filling, a rich tempeh bolognese for your spaghetti, or a tempeh scramble for breakfast.
However, there are a few things to keep in mind when crumbling and frying tempeh. You need the right oil. Selecting high-heat oils like avocado or good-quality sunflower oil is essential when frying crumbled tempeh due to their impressive smoke points and crispy texture results.
These oils can withstand the high cooking temperatures required for frying, preventing them from breaking down and emitting unwanted smoke, which could compromise the dish's quality. The ability to reach these temperatures quickly also enables the development of a delightful, crispy outer layer while preserving the tempeh's inner tenderness.
Another thing – don't rush it. When you're cooking crumbled tempeh, don't stir it too often. Let it sizzle and get all crispy on one side before you stir. This is where the flavour magic happens. It's like making a pancake; you flip it only when it's perfectly golden on one side, right? Tempeh is just the same.
After your crumbled tempeh is all crispy and golden, place it on a paper towel to soak up any excess oil. Add a pinch of salt to enhance the flavours.
But we're not done yet! Mix in some soy sauce or tamari for an extra umami punch and a squeeze of fresh lemon or lime juice for a touch of zesty acidity. These additions do wonders in banishing the occasional bitter taste that tempeh can have.
Tip #3: Use sauces and marinades
Now, let's talk about elevating your tempeh game with mouthwatering sauces. The magic happens when you marry tempeh with a flavour-packed marinade or sauce. What makes tempeh a perfect match for these sauces? It's all about its fantastic absorption abilities.
Tempeh's porous nature allows it to soak up flavours like a sponge, making it the ideal candidate for marinades and sauces.
Start by frying your tempeh to that perfect crispy state, creating the ultimate canvas for your sauce to shine. Once your tempeh is fried up, remove any excess oil so it can absorb all the sauce.
Here are five simple and tasty tempeh marinade ideas:
Teriyaki: Mix soy sauce, ginger, garlic, brown sugar, and a bit of pineapple juice.
Lemon herb: Combine lemon juice, olive oil, garlic, fresh basil, and thyme.
Sesame soy: Blend soy sauce, toasted sesame oil, rice vinegar, maple syrup, and sesame seeds.
BBQ: Create a classic barbecue marinade with ketchup, brown sugar, apple cider vinegar, paprika, and a dash of liquid smoke.
Garlic-herb: Mix olive oil, minced garlic, rosemary, thyme, and a squeeze of lemon.
Tip #4: Cut tempeh into different shapes
The way you cut your tempeh can change its crispiness, texture, and even the way it tastes. It's like a mini science experiment in your kitchen.
Start with thinner slices. When you cut tempeh into delicate, thin pieces, it tends to get super crispy. These thin slices are perfect for making tempeh bacon – you get that irresistible crunch.
Cubes offer a mix of crispy edges and a slightly tender centre. It's like the best of both worlds. You can toss these cubes into a salad or a stir-fry for a delightful contrast in texture.
And then there are triangles. They're great for marinating and then pan-frying. You get those crispy corners that are bursting with flavour. It's all about the bite-sized goodness.
Lastly, we've got the good old crumble, which we've already covered. When you crumble tempeh, it gets wonderfully crispy, making it a versatile addition to various dishes.
So, the next time you're whipping up a tempeh dish, don't just reach for your knife – think about what shape will elevate the flavours and textures in your creation. Your tempeh, your rules!
Tip #5: Avoid boiling tempeh
Boiling tempeh can lead to a texture that's less than desirable. It can become a bit spongy and might lose some of its natural nuttiness and pleasant chewiness. So, why take that risk when there are many other great ways to prepare tempeh?
Instead of boiling, try pan-frying (or sometimes baking) – which I've covered in earlier tips. Frying helps to maintain the tempeh's delicious qualities so you can enjoy it at its best. Keep the pot for your pasta, and let tempeh shine with other cooking techniques. Your taste buds will be grateful!
Debunking the tempeh steaming myth
There's a lingering myth in the tempeh world that steaming is a must-do to rid tempeh of its bitterness. But let's set the record straight – it's not always necessary.
The bitterness in tempeh comes from a compound called saponin. However, many modern tempeh brands and production processes have tackled this issue. They've either reduced the saponin content during fermentation or eliminated it, resulting in tempeh that's not bitter to begin with.
So, if you've got high-quality tempeh or a trusted brand and you've been following our previous tips like pan-frying until golden and infusing it with delicious sauces and marinades, steaming might be unnecessary. Many cooks skip the steaming step entirely and still enjoy fantastic tempeh dishes.
However, if you're working with tempeh that's a bit bitter or unsure about its quality, a quick steam can help. Cut your tempeh into smaller pieces and steam it for about 10-15 minutes. This should reduce any lingering bitterness.
It all comes down to the tempeh you have, your personal taste, and the cooking techniques you've been using. If you're confident in your tempeh quality and have been following our tips, feel free to skip the steaming. If bitterness is a concern, a brief steam can help – just don't overdo it, or you might end up with overly soft tempeh.
Unlocking tempeh's potential
Beyond its incredible taste, remember that tempeh offers many benefits, from being a protein powerhouse to its sustainability and affordability.
With the right approach, you can turn tempeh into a star ingredient in your meals, whether you're a seasoned plant-based enthusiast or just beginning to explore meat alternatives.
The versatility of tempeh allows you to craft healthy, delectable dishes that cater to various tastes and preferences.