Vegan Ferrero Rocher Truffles
These vegan Ferrero Rocher truffles are easy to make and have the perfect balance of silky smooth and velvety rich chocolate ganache with the crunch and flavour of the roasted hazelnuts.
Make them ahead of time to serve as a sweet treat at any dinner, birthday or a treat for someone special.
They're decadent, rich, nutty and look like professionally made chocolates that cost a fraction of the price and make you feel like a master chocolatier without all the fuss.
The tools that you'll need to make these vegan chocolate hazelnut truffles
You'll require the following kitchen utensils:
Silicone spatula
Heat-proof bowls
Small saucepan or Turkish coffee pot (or similar)
Plate
Spoon
Little bowls
Food processor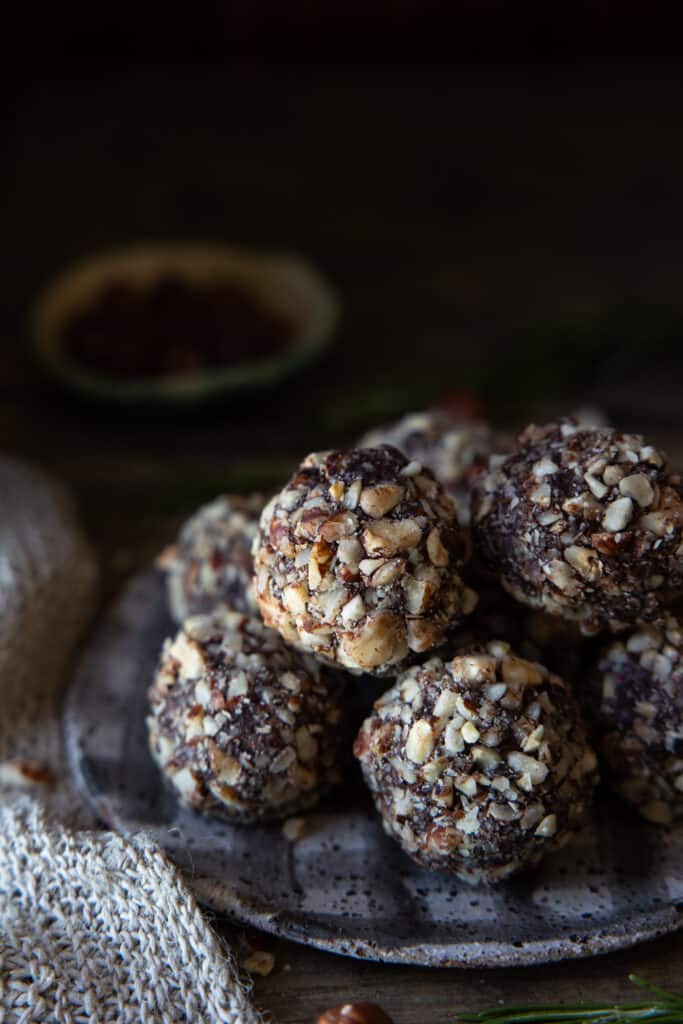 Tips for making these dairy-free nut truffles
There are a few tips and tricks to help you make these melt in your mouth truffles at home.
If you're using a double boiler to melt your chocolate, be careful that the water doesn't come to a boil. You want it to be simmering and not touching the bowl that you have placed over the saucepan. The chocolate can overheat and in the process lose its beautiful texture and shine.
If the chocolate splits for whatever reason, use an immersion blender or electric whisk for around 30 seconds to a minute, and it should come back together. No need to toss it and start again!
This recipe makes 10 truffles, if you'd like more, just double or triple the recipe.
If the truffle mix starts to get a bit too soft to roll, place it back in the fridge for 20-30 minutes to firm up again.
Ideally, the truffles should be kept in the fridge until eaten (for up to one week). If the weather is cooler where you are, they'll be fine at room temperature for a while.
I've used the ratio of 150g / 5.29 ounces of chocolate to 7 tablespoons of liquid. If you choose to add different ingredients, make sure that at least 4 tablespoons are coconut milk/coconut cream. That will help to make the chocolate firm, yet chewy.
If you'd like these truffles to have the finished look just like the classic Ferrero Rochers, dip them in melted chocolate. You can see how that's done in this ginger truffles recipe (just omit the ginger powder).
If you're after a beautiful luxury handmade gift, these vegan Ferrero Rocher truffles are the perfect treat!
You won't even know that these are dairy-free truffles because they're so creamy and silky smooth.
If you'd like to try some of my other truffle recipes, they're linked below!
Other truffle recipes you'll love:
If you try this recipe, let me know! I would love for you to leave a comment and rating below. If you want to go that extra mile, tag us on Instagram or share your photo of the recipe on Pinterest. 
Print
Vegan Ferrero Rocher Truffles | 4-Ingredients
---
Author:

Prep Time:

25 minutes

Cool Time:

2 hours

Total Time:

2 hours 25 minutes

Yield:

10 truffles
Description
These Ferrero Rocher truffles are the perfect balance of textures. Smooth and velvety ganache, with the contrast of a crunchy roasted hazelnut inner and outer layer.
---
150g

/ 5.29 ounces 

vegan chocolate

*

7 tablespoons

 

coconut milk or cream

* (from a can)

10

/ 8g / 0.28 ounces 

whole roasted hazelnuts

60g

/ 2.12 ounces hazelnut crumb,* for rolling
---
Instructions
If your chocolate is a block of chocolate, you'll first need to chop it up into smaller pieces. The smaller they are, the easier and quicker it will melt—ideally the size of buttons. If you're using buttons or pre-chopped chocolate, you can skip this step.
Place the chocolate in a heat-proof bowl and set aside.
In the meantime, using a small saucepan or a Turkish coffee pot, heat the coconut milk or cream until it comes to a gentle simmer. Do not boil!
Pour it over the chocolate and leave it to sit for 4-5 minutes. This will melt your chocolate and make it easier for you to mix.
Using a silicone spatula or wooden spoon, mix the chocolate until it's nice and smooth. If you're finding that the chocolate isn't melting completely, place the heat-proof bowl over a small saucepan with some water in it (the saucepan) on low-medium heat and stir until it completely melts. Make sure that the water inside the saucepan is not touching the bottom of your bowl.
Once the chocolate is melted and well incorporated, place it in the fridge for your ganache to set for at least 2 hours or overnight.
Once the ganache is ready, using a tablespoon, scoop out a tablespoons worth of ganache placing a roasted hazelnut in the middle. Enclose the hazelnut and roll in the palm of your hands working quickly until you have a ball.
Roll the truffle in the hazelnut crumbs and reshape if necessary.
Continue the process for all the ganache and hazelnuts until finished. It should make 10 truffles.
Place them in the fridge in an airtight container for up to 1 week or at room temperature for a few days if it's cold.
Notes
Chocolate: Use chocolate that has a high cacao butter ratio. I like to use 70% dark. It has the perfect balance between sweet and bitter.
Coconut cream/milk: Make sure you only use the thick creamy part that sits at the top of the can, not the watery part that sits at the bottom. If it's not separated, place the can in the fridge overnight. 
Hazelnut crumb: Hazlenut crumb is made using roasted hazelnuts that have been pulsed in your food processor until you achieve smaller pieces to roll your truffles in. Please see the photo for reference.
If you'd like these truffles to have the finished look just like the classic Ferrero Rochers, dip them in melted chocolate. You can see how that's done in this ginger truffles recipe (just omit the ginger powder).
For tips and tricks to make these perfect every time, please refer to my notes earlier in the post.