Vegan Matar Paneer with Tofu
This vegan matar paneer (aka mattar paneer and mutter paneer) with tofu and green peas is rich, creamy, and packed full of wonderful ingredients. I've used different techniques to extract as much flavour from the vegetables and spices used in this dish.
A vegan-friendly version of a mater paneer is not as accessible at Indian restaurants as you'd think. Many use ghee, cream, and/or yoghurt, and of course paneer (cottage cheese).
The conventional approach is to have paneer in a dish with green peas in a mildly spiced tomato gravy. I set out to make a vegan version (also gluten-free) of matar paneer so you can still enjoy this flavour-packed dish!
Using tofu in place of paneer
To make this dish vegan, it's common to use tofu instead of paneer, which is precisely what I've used in this recipe.
Paneer is cottage cheese with a mild taste (not cheesy), so it resembles the taste and texture of firm tofu. The main difference is that it's milkier, which is to be expected from a dairy product.
I'd typically advise to lightly fry the tofu before adding to the curry, however, I found that the oil and crust can keep the sauce from soaking into the tofu in this recipe.
Paneer is also usually quite firm so I added the tofu at the end because you don't want it to be too soft.
The tofu here, like paneer, does a fantastic job of soaking up the flavours of the gravy. At first, I was worried that it would taste too much like raw tofu, but it really works! No raw tofu taste here, phew…
It's crucial that you use firm tofu for this recipe to achieve the right consistency and an organic one if possible.
Peas are the hero of the show
I've already highlighted the importance of the tofu (paneer) for this recipe, but peas share just as much of the limelight. The small bursts of goodness are the perfect flavour and texture combination in this beautiful rich tomato sauce.
In North India, where this dish originates from, they make it during the winter months when fresh peas are in season. So, if you have access to fresh peas, please feel free to use them in place of frozen.
We use frozen organic peas and they add a nice sweet flavour to this recipe.
Different ways to serve matar paneer
There are many ways to serve matar paneer. We often eat it with either basmati rice, or my vegan naan, which is one of our favourite recipes!
Other ways you can serve it are with roti, paratha (Indian stuffed bread), different types of pickled vegetables, potatoes, and chapati.
If you want to keep this recipe gluten-free, serve it with any rice.
Tips when making this vegan matar paneer
Matar paneer is typically made using fresh tomatoes, and I definitely recommend keeping that tradition for extra flavour. However, if you don't have access to fresh tomatoes, you can use canned tomatoes instead.
I chose to use cashews in this recipe to add the creaminess that you'd get in a matar paneer. The addition of cream or yoghurt normally achieves this. I felt that cashews create a beautifully rich and creamy flavour without being overpowering. Frying them off at the beginning gives the masala (gravy sauce) a nuttier depth.
If you don't have cashews or are allergic to them, swap them out for coconut cream. Add the coconut cream towards the end when you've added water or stock to the gravy.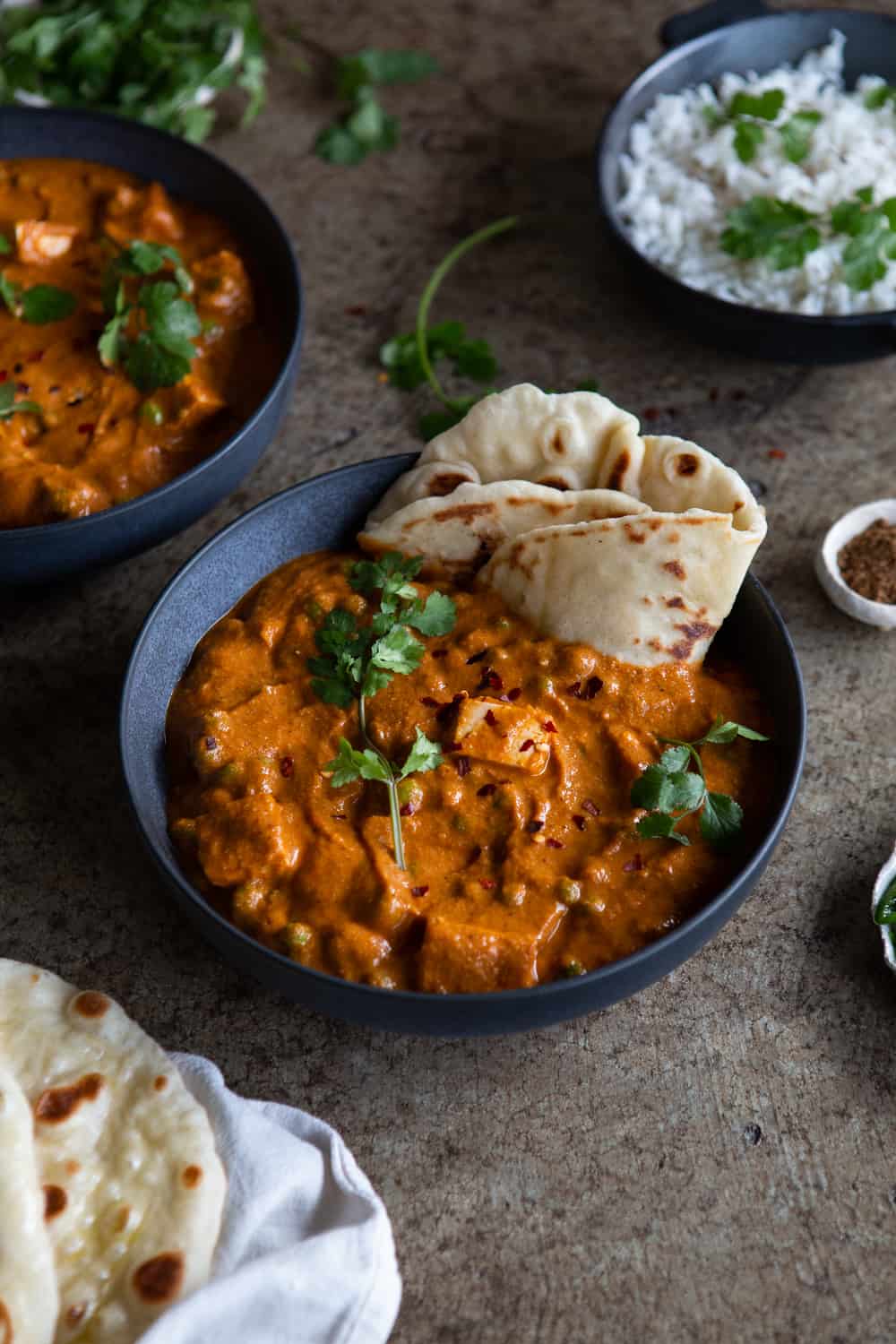 Here are some more vegan curries to try!
If you try this recipe, let me know! We'd love for you to leave a comment and rating below. If you want to go that extra mile, tag us on Instagram or share your photo of the recipe on Pinterest. 

Print
Vegan Matar Paneer with Tofu
---
Author:

Prep Time:

15 minutes

Cook Time:

30 minutes

Total Time:

45 minutes

Yield:

4
Description
This vegan matar paneer features a rich and spiced-up tomato gravy with tofu and peas. Serve with rice or vegan naan, you won't regret it!
---
4 tablespoons

neutral oil (I used rice bran)

⅓ cup

/ 50g raw cashews

1

medium onion, diced

3

cloves of garlic, diced

½

inch fresh ginger, grated or minced

1

medium green chilli, chopped (deseeded if you like)

3

medium / 500g tomatoes, diced

1

–

1 ½

teaspoons salt

½ teaspoon

cumin powder

¾ teaspoon

garam masala

¼ teaspoon

chilli powder (or more for extra heat)

¼ teaspoon

cinnamon powder

3 tablespoons

tomato paste

1¼ cup

/ 310ml vegetable stock, or water (keep in mind if using stock that you adjust the salt levels accordingly)

250g

/ 8.82 ounces firm tofu, cubed (any excess water pressed out using a paper towel)

1¼ cup

/ 160g frozen peas
Fresh coriander/cilantro, for garnish
---
Instructions
In a wok or large skillet on medium-high heat, add two tablespoons of the oil and the cashews.
Once the cashews start to colour, add the onion and saute until it starts to caramelise. This will take a couple of minutes.
Add in the garlic, ginger, and green chilli and saute for a further couple of minutes until they start to soften and release their aroma.
Add in the fresh tomatoes and salt to taste and cook for 4-5 minutes, then remove from stove.
Carefully transfer to your blender (be careful, it will be hot!) and blend until nice and smooth. If you would prefer to wait for it to cool a little before blending the ingredients, do so. Alternatively use an immersion blender, you'll just have to take the gravy out of the skillet if using this method once done.
Place the same skillet back on medium heat, wipe it out clean then add the other 2 tbsp of oil to the pan.
Add in the cumin, garam masala, chilli, cinnamon and saute for 30 seconds to a minute to release all the aromas in the spices.
Add in the tomato paste and stir well to combine.
Pour in the tomato base from the blender and add the water/stock. Stir well and simmer for 15 minutes. It will spit a little as it thickens so be careful when stirring. If you'd like a thicker gravy, cook for an additional 3-5 minutes.
Add in the tofu and peas and cook for 5 minutes.
Remove from heat and garnish with coriander. Adjust seasoning to taste and serve with your choice of sides as recommended above. I like mine with basmati rice and naan.