Creamy Vegan Mushroom Risotto
This creamy vegan mushroom risotto has some serious flavour! If you love Italian food, mushrooms and that umami in dishes, you'll fall in love with this. I must admit, I used to suck at making risotto.
They'd always turn into a gluggy mess, and the whole pot would pretty much become one big rice ball. I didn't realise that there was an art to making a delicious and perfectly cooked risotto.
Even though I wasn't overly confident for many years making it at home, when I ate it out, I was never too impressed with it either.
So I put the risotto making on the back burner for a long time. Until recently, I started dreaming of having it again. I have about five different combinations in mind that I'll be sharing over the next little while with you.
In the first of the risotto recipes, I wanted to make a classic one that made the main ingredient, being mushrooms, shine. I love mushrooms. I've always dreamed of going mushroom foraging in the forest. There's something really magical and majestic about them.
This post may contain affiliate links, for which we earn a small commission at no additional cost to you. Read our full disclosure here.
If you feel like venturing out to do some mushroom foraging, make sure you either go with someone that knows the right edible mushrooms to harvest or buy a book that will help you like this one.
The variety of mushrooms you can use in this risotto
There are so many different varieties of mushrooms you can get. This creamy vegan risotto was the perfect excuse to use as many kinds as possible. I mean, how amazing do they all look?
The types of mushrooms that I used in this recipe:
A variety of oyster mushrooms
Swiss brown
King trumpet
Pioppini
Other varieties you can use:
Cremini (Italian brown)
Button mushrooms (most common mushrooms)
Enoki
Shiitake
I prefer to have them fresh; if however, you can't get your hands on some fresh mushrooms, you can use the dried variety and rehydrate them before adding to the pan.
Wanting to make sure that I made as good of a risotto I possibly could, I did quite a bit of research and watched a few (too many) videos on YouTube of Italians making risotto and how they make it traditionally.
I knew that mine would be different as they all had lots of butter and cheese. I was confident that I could make it nice and creamy without the dairy.
The other ingredient that kept coming up time and time again was white wine. I was thinking about keeping it traditional and using it, but then realised that I don't think I've even bought a bottle of white before!
If it's clearly not something I would typically consume, and I'd want it to be a healthier version, then I should leave it out. So I have.
How to make the perfect vegan risotto
This creamy vegan mushroom risotto is super simple to make, but here are a few tips to help you get it perfect.
When you add the rice to the pot, use a wooden spoon instead of a metal one to stir. The metal spoon can break the rice.
You want the rice to cook more in its steam rather than boiling it. This way, you'll get that beautiful creamy, rich consistency.
Make sure to stir the rice often. Doesn't have to be consistent but every 30 seconds to a minute is ideal. Scrape the sides as well so that they don't stick to the bottom of the pot.
Use hot stock as this will help the rice to cook quicker and more evenly. Adding cold or room temperature stock will also prevent the risotto from releasing its starches. Arborio or risotto rice is starchier than other rice varieties.
Preferably use homemade stock over store-bought. The flavours and umami that you'll get from the homemade stock are much nicer and richer than store-bought. However, if that's all you have or don't have the time to make your own, then it will do just fine. I've included a recipe for a homemade vegetable stock for this recipe below.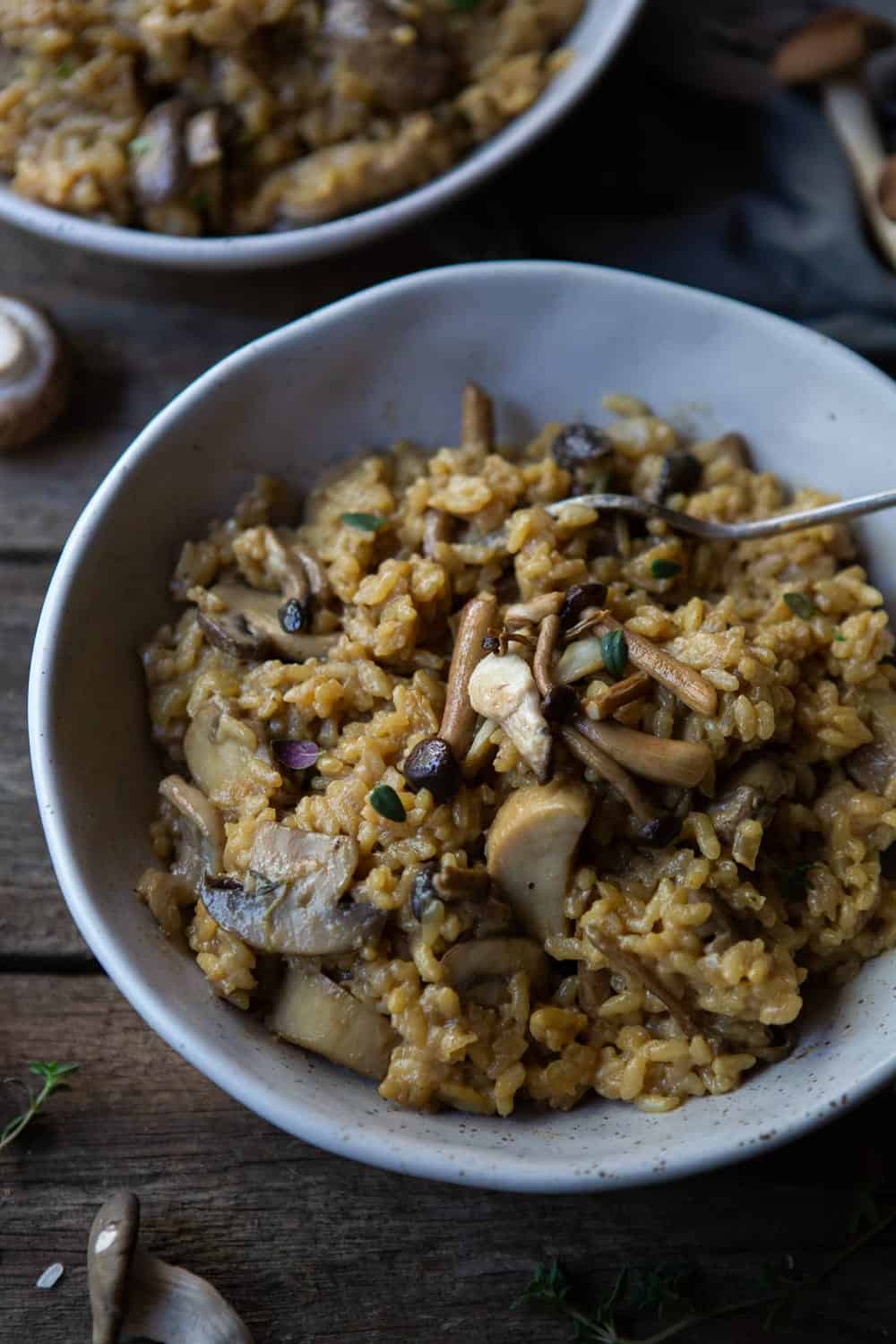 Other recipes you'll love:
If you try this recipe, let me know! We'd love for you to leave a comment and rating below. Want to go that extra mile? Tag us on Instagram or share your photo of the recipe on Pinterest. Don't want to make it now? Pin it for later!
Print
Creamy Vegan Mushroom Risotto
---
Author:

Prep Time:

10 minutes

Cook Time:

25 minutes

Total Time:

35 minutes

Yield:

Serves 2-3
Description
A delicious creamy vegan mushroom risotto that is restaurant-style quality in the comfort of your own home. Quick and easy meal for everyone to enjoy.
---
5 cups

/ 1.25 litres vegetable broth* or stock

¼ cup

/ 50ml +

2 tablespoons

olive oil

1

onion, diced

2

cloves of garlic, minced

1½ cups

/ 300g arborio rice (risotto rice)

450g

/ 15.87 ounces variety of mushrooms*

2

sprigs of fresh thyme

¼ cup

nutritional yeast

2

–

3

tablespoons lemon juice (optional)
Salt to taste
Pepper to taste
---
Instructions
Heat the vegetable stock in a pot and have it on a gentle simmer, ready for the risotto.
In a large pot on medium heat, add the ¼ cup of olive oil, onions and garlic and saute for a couple of minutes until the garlic and onions start to get a bit of colour.
Add in the dry rice and stir to combine. Saute the rice like this for around 5 minutes. This will lightly toast the rice.
Pour in one ladle of stock, which should be just enough to cover the rice. You don't want the stock to cover more than just the rice. Mix well. Make sure to mix every 30 seconds to a minute, so it doesn't stick to the bottom and cooks evenly.
As soon as the stock starts to evaporate from the bottom of the pot, add in more stock. Keep repeating the process until you use all the stock.
While the rice cooks, add the 2 tablespoons of olive oil and mushrooms to a hot skillet on medium-high heat. Saute until the mushrooms start to cook down and get a nice brown colour on them.
Add the mushrooms to the risotto when you have the last bit of stock left. At this point, also add in the thyme.
Once the rice is cooked and you've used up all your stock, turn the risotto off and stir in the nutritional yeast.
Season with salt and pepper and add a squeeze of lemon if desired. Stir well and taste test to make sure you've seasoned it well.
Cover the pot with the lid fully on and let sit for 2-3 minutes to finish cooking in its own steam.
Serve immediately.
Notes
Vegetable broth: If you don't make the broth that I have linked, make sure when warming up your stock to add a generous tablespoon of dark miso paste that will add a beautiful umami flavour and colour to your risotto.
Mushrooms: I have listed the variety of mushrooms you can use earlier in the post. Any mushrooms will do.