Watermelon Rind Tomato Sauce (Vegan and Gluten-Free)
This watermelon rind tomato sauce recipe is the perfect way to save parts of the watermelon that we throw away so easily when indulging in a delicious, sweet, juicy watermelon.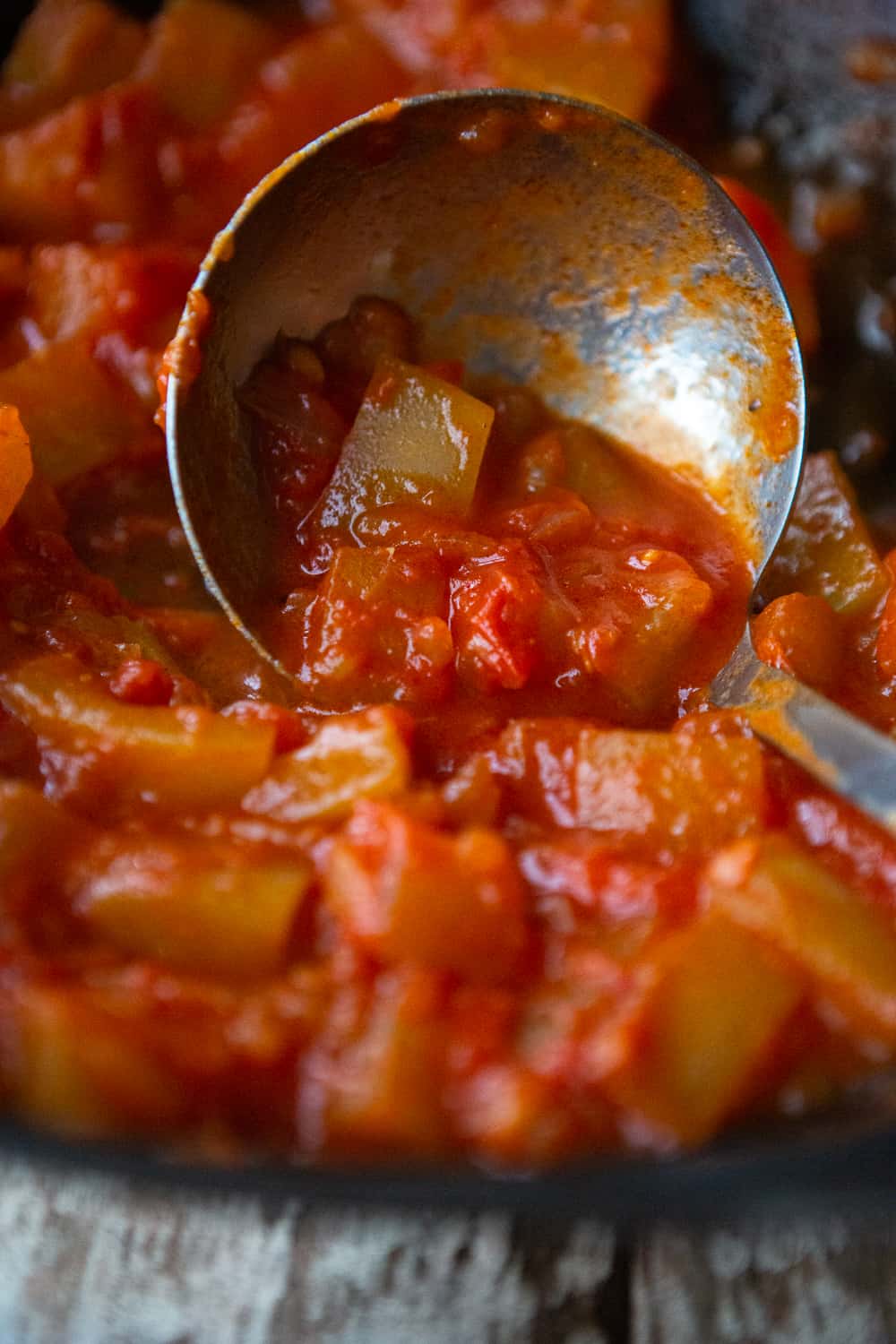 Not many people think that you could make a rich, tasty tomato sauce that pairs perfectly with mashed potatoes using watermelon rind.
This recipe is a family recipe, and my mum has been making it for a long time. Not until I started thinking about sharing it, did I realise how unique it truly is!
So next time when you buy a whole watermelon, don't throw out the rind! Make sure to use it all and notice how much less waste you'll create in the process. I find that my compost bin is much smaller when I make this.
You can use all parts of the watermelon, including the outer thicker and darker green skin, but it is quite tough, even when cooked. Using a peeler, simply peel off the darker parts, and you've got some excellent watermelon rind ready to use!
The watermelon rind has some wonderful health benefits too! Here are a few:
High sources of vitamin B and C
It's a wonderful workout booster
Helps reduce blood pressure
It's rich in fibre
Can boost libido
How to peel watermelon and use the rind
I have grown up peeling and cutting things in my hands. And while I know, it's not a safe option; this is how I've been doing it for a long time.
I imagine that I picked it up from my mum that picked it up from hers.
To separate the outer darker, tougher watermelon skin from the rind, you can do it one of three ways – this is once you've cut off the sweet pink, eating watermelon.
Sit it sideways on the chopping board and run a large, sharp knife along the darker green part separating it from the rind. You can also chop it off straight down and continue to rotate it. Like you would a pineapple.
Not recommended, but this is how I do it. Hold firmly in your hand with the darker skin facing you, slide the knife just underneath the skin to cut it off towards you. I usually do it in smaller chunks rather than one big piece.
This is probably the most practical way to do it. Use a peeler!!
This watermelon rind tomato sauce recipe-
Melts in your mouth
Is the perfect balance of sweet, sour and salt
Super easy to make with minimal ingredients (there are only four!)
Helps reduce waste – this recipe saves almost a kilo of delicious, useable watermelon rind that would otherwise go to waste!
Very affordable to make
You can whip this together to feed you and your family in no time! Try something a little different and use an ingredient that would otherwise end up in either your trash can or compost.
If watermelon is not in season and you'd like to make this when it is or don't feel like making it now, you can always freeze the chopped watermelon rind and thaw it before using it.
Other recipes you'll love:
If you try this watermelon pasta sauce recipe, let me know! I would love for you to leave a comment and rating below. If you want to go that extra mile, tag us on Instagram, or share your photo of the recipe on Pinterest. Or Pin It for later!
Print
Watermelon Rind Tomato Sauce (Vegan and Gluten-Free)
---
Author:

Prep Time:

15 minutes

Cook Time:

45 minutes

Total Time:

1 hour

Yield:

Serves 4
Description
This four-ingredient rich tomato sauce with watermelon rind is a great zero-waste, budget-friendly tasty recipe.
---
3 tablespoons

olive oil

1

onion, diced

6 cups

(approx

850g

/ 1 medium sized watermelon) of watermelon rind, cut into bite-sized pieces* (the white part of the watermelon)

1

can / 425g / 14.99 ounces diced tomatoes
Salt, to taste
Pepper, to taste
---
Instructions
Place a large saucepan on medium heat and add the oil and onion. Saute for around 5 minutes.
Add the watermelon rind cooking for 10 minutes, stirring occasionally with the pot lid slightly askew to keep all the moisture in the pot.
After 10 minutes, add in the diced tomatoes and ½ cup / 125ml of water (I add the water to the tomato can to get the remained of the tomatoes and juices out of the can).
Cook for 30 minutes or until the watermelon is nice and soft, making sure to stir occasionally.
Once it's cooked, season with salt and pepper to taste and serve with mashed potatoes.
Notes
Watermelon rind: Use one of the methods that I outlined above to peel the darker green skin off. This part you discard and only use the white section (and a little bit of pink is okay too).