Dalmatian-Style Stuffed Artichokes (Vegan)
If you've always wanted to try artichokes but have no idea how to prepare them, these Dalmatian-style stuffed artichokes are the perfect way to get started.
Not only is it a simple recipe, but it also only requires eight ingredients that you may already have at home. So all you need to do is get some fresh artichokes from the markets or local fruit and veg store, and get cooking!
The flavours are simple as we want to let the artichoke shine. Eating them is a lovely experience, but it can get a little messy!
A little personal story…
This recipe was passed down by my grandmother to my mum when we were still living in Ljubljana, Slovenia.
My grandmother sent my mum a parcel with artichokes and broad beans from Split, Croatia, with the recipe for using the artichokes.
I've had this dish many times but not as much since moving out of my family home. If you like more subtle flavours, you'll enjoy this dish. It's super simple but delicious.
The labour with artichokes will always be in eating the leaves and making sure you don't scratch the back of your throat with the heart centre. If you eat artichokes (not the kind you find in the can or jar), you'll know what I mean!
There's a lot of love in this letter from my grandmother expressing how much she loves and misses us. When I asked my mum about this dish and the recipe, she pulled out her handmade recipe book and handed it to me. She read it out, tearing up as she got a little emotional.
I hope that this recipe is cherished in your household as it is in mine. I've adjusted it a little from the original to be entirely plant-based.
How do you clean & trim an artichoke for stuffing?
Once you know how to clean and trim the artichokes, it's easy to prepare them.
Start by giving them a rinse underwater. They don't get much dirt built up inside the flower like other vegetables do, so a quick rinse is all they need. Just pay a little more attention to the outer leaves. The inner, closed ones are fine.
Remove one layer of leaves from the stem and trim the hard part of the stem. Like you would trim asparagus.
Clean and remove the rest of the stem like a broccoli stem and chop it into smaller pieces. If you see any tough leaves at the base of the flower, peel them off and compost those too.
Cut the top of the artichoke to create a flat top. I aim to get the hardest parts of the inedible leaves and show some spikes on them. See the image below to see how it should look.
Compost the top part of the artichoke that you've chopped off (bottom left hand in the image), and now it's ready for stuffing.
If you want to prevent them from browning, you can submerge them in some cold water with lemons while you prepare the stuffing. However, it's not necessary.
How do you eat a stuffed artichoke?
Eating a stuffed artichoke is pretty straightforward when you know what to do.
Pull a leaf from the artichoke flower and place the base of the leaf (the softer part) in your mouth. Pull the leaf out with your teeth down on it, sliding off the 'meat'. This is what you eat, and discard the remaining leaf (it's too tough and chewy to eat).
The outer leaves will have less edible flesh than the inner ones. The more you get to the centre of the flower, the softer the leaves will be.
About ½ – ¾ of the way into the middle, the whole leaf will be edible (this depends on how fresh or old your artichoke is).
You know the hearts that you see marinated in a jar that you get from the supermarket? That's only ¼ of the whole artichoke, but the softest part.
What should I serve with artichokes?
I love this dish on its own and enjoy it with a spoon to scoop up its soup component.
You can, however, serve it with some fresh crusty bread to soak up the juices. I add a slice or two to my serving if I have some around. This also bulks up the meal to turn it into a main dish.
The other options I've heard of but never tried is serving it with young baked potatoes or mashed potatoes.
It's important to serve it with something that would work well with artichokes and not overpower the flavours.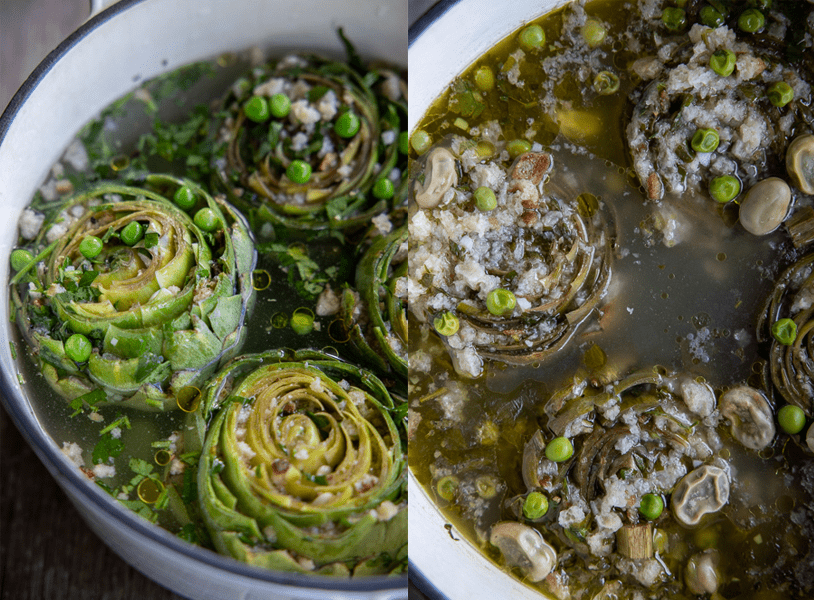 Some tips for making these stuffed artichokes
When buying artichokes you need to make sure they are firm, with fresh leaves and not open.
Home-made breadcrumbs are best for this recipe, however, you can still use store-bought, just make sure that they're vegan. See notes in the recipe card to see how to make your own.
You can use either fresh or frozen broad beans and peas for this dish.
If you want to use only broad beans or peas, you can. Just double the amount used to make up for the lack of one of them.
This will keep in the fridge for up to 3 days. Just reheat it when you want to eat it.
If you want to keep the artichokes down in the liquid as they cook, you can put a heatproof plate over them to keep them fully submerged. I've seen this done in other recipes, but have never bothered with it myself.
Artichokes are a great delicacy. A brilliant Spring vegetable that looks stunning, however, is in season for a very short amount of time. No wonder not many people know how to prepare them.
But if you get the chance to buy some fresh artichokes, give this recipe a try! It's straightforward to make and creates a beautiful light appetiser, side dish or even a main.
Other wonderful recipes you'll love:
If you try these recipes, let me know! We'd love for you to leave a comment and rating below. If you want to go that extra mile, tag us on Instagram or share your photo of the recipe/s on Pinterest.
Print
Dalmatian-Style Stuffed Artichokes (Vegan)
---
Author:

Prep Time:

20 minutes

Cook Time:

50 minutes

Total Time:

1 hour 10 minutes

Yield:

4
Description
Artichokes stuffed with bread crumbs, parsley, and garlic, in a soup of peas and broad beans with a drizzle of olive oil is a great Dalmatian specialty that is easy to make. Enjoy it as an appetiser or a main with some crusty bread. 
---
Stuffing:
1 cup

/ 95g breadcrumbs* (ideally fresh)

4

cloves garlic, finely minced

2 tablespoons

nutritional yeast

1 cup

/ 15-20g (large handful) parsley, chopped

1⁄8 teaspoon

pepper

1 ½ teaspoons

salt
For cooking:
3 tablespoons

olive oil

1 cup

/ 150g fresh or frozen peas

1 cup

/ 130g fresh or frozen broad beans
---
Instructions
Clean the artichokes by opening the leaves and washing in between them, particularly the outer layered ones.
Cut off the stem and chop off the hard section – this is the bottom section, just like you would with asparagus.
Clean and remove the rest of the stem; you can use a peeler if it's easier – like you would a broccoli stem and chop it into small pieces. Set the chopped stem aside for later.
In a bowl, mix the stuffing ingredients together.
Cut about 1cm / .4 inch off the tops of the artichokes and spread them open with your hands by pulling on opposite ends and jiggling (see the photo in the post for reference).
Spreading the leaves, take about a tablespoon of stuffing and push down in between each one. Stuff them as much as you can.
Continue this process until all the artichokes are stuffed and look nice and full. Use the stuffing evenly between all four artichokes. If you have some leftover, keep it aside.
In a saucepan that will fit the four artichokes, add the oil – making sure it covers the bottom of the pan generously, add more if needed. 
Add in half of the peas and broad beans and place the artichokes flat over them, making sure they fit in snug.
Pour over the artichokes the remainder of the peas and broad beans, the artichoke stems, the remained (if any left) stuffing as well as water – enough to just cover the top of the artichokes (I used just over 2 litres / 8 cups). 
With the lid on, bring it to a boil. Once boiling, reduce the heat to low-medium and let it simmer for 45-50 minutes* with the lid partially on. You will know once it has finished cooking as they will slowly start to fall apart when you pick them out of the liquid. Try one leaf, and if it's soft, it means they are cooked.
Adjust seasoning if needed with more salt and pepper and serve with bread or on its own.
Notes
Please see the photos in the post to help guide in preparing this dish.
Breadcrumbs: Ideally, use stale bread and put it in the oven or toaster for about 10 minutes and then blitz it up to make a fine crumb. You can make a bigger batch and store it in an airtight container once cooled for later use. If you want to use store-bought bread crumbs, they will work too – just make sure they're vegan.
Cooking time: It can depend on how young or old the artichokes you're using. The younger they are, the quicker they will cook.
This dish will keep in the fridge for up to 3 days. Just reheat it when you want to eat it.