Creamy Chickpea Curry (Vegan, Without Coconut Milk)
This creamy vegan chickpea curry is a delicious dish that is bursting with flavours from fragrant aromatics and a medley of spices. This recipe is a twist on conventional curry by excluding coconut milk, resulting in a lighter version that is perfect for those who avoid coconut products or just don't like the taste of it.
It's really easy to make and perfect for your weekly meal rotation, as it serves six! It's a budget-friendly, nutritious and super tasty way to enjoy a plant-based protein-packed ingredient.
What makes this chickpea curry so good?
Creamy texture thanks to the cashew sauce
Budget-friendly ingredients
Easy to make
Nutritious and satisfying
Suitable for vegetarians and vegans
Perfect for those avoiding coconut-based products
Great meal prep option
This recipe was originally intended to be a 30-minute meal, but to make a flavourful curry, it does take a little longer for all the aromatics and spices to develop and deepen in flavour. This is why I make big batches of curry, so we can have leftovers as the dish gets better with age.
What ingredients are used for this curry?
Tips
Make sure to soak the cashews for the cashew sauce in room-temperature water for at least 2 hours or in boiling water (as mentioned in the recipe) for 20 minutes to soften them. Otherwise, you may end up with very small chunks of cashew in your curry, and it won't be as thick and creamy.
Adding the spices at the right time plays a big role in how the dish will end up tasting. For example, cooking down the aromatics (onion, garlic, ginger and chilli) and then adding most of the spices will create a great base for any curry.
If it's not tomato season where you are, I would avoid using fresh tomatoes as the flavour just won't be there. You can instead use a can of chopped tomatoes in their place.
Variations of this dish
If you're not avoiding coconut products, you can swap the cashew sauce for 1 can of coconut milk. Add it in at the same time as the chickpeas and let it simmer.
Add vegetables like sweet potatoes, pumpkin (squash), peas, broccoli, zucchini, or spinach to this curry to add more nutrients. I've kept it as a simple chickpea curry recipe so that you've got a great base to work with.
You can adjust the spice level according to your preference. If one green chilli is too spicy for you, start with half and see how you like it. You can always add fresh sliced chilli at the end when serving.
We really like adding a big dollop of plain unsweetened coconut yoghurt at the end. It balances the heat in the curry and adds another dimension of flavour to the dish.
Try: Quick Chickpea Spinach Curry (Vegan)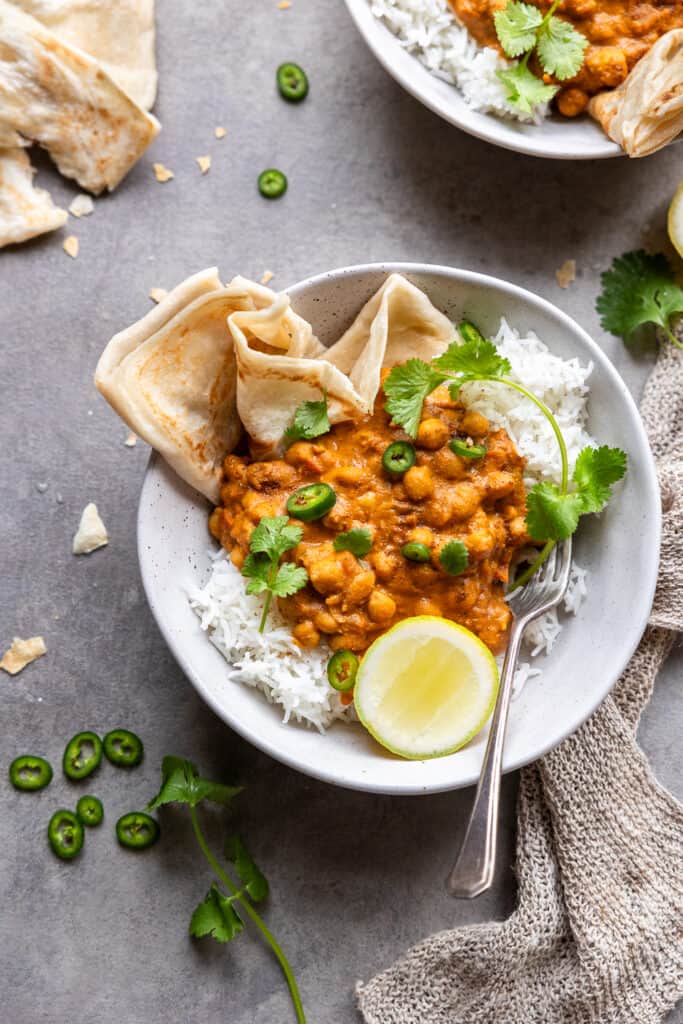 Storage
This curry can be stored as part of meal prep or frozen to be enjoyed later when you need a quick midweek comforting dinner. Here's how:
Fridge – You can store it in the fridge for up to 3 days in an airtight container. It is important to ensure that the container is sealed tightly to maintain the freshness and quality of the curry and that your fridge doesn't smell like a curry as well.
Freezer – To freeze it for later use, divide it among airtight containers, leaving about 1 inch of space at the top to allow for expansion during freezing. Label the containers with the date and contents, then place them in the freezer. Use within a couple of months of storing.
When you're ready to enjoy, just thaw it out in the fridge overnight or on the bench for a few hours before reheating.
Serving ideas
Serve the vegan chickpea curry over cooked rice with warm naan or roti.
Garnish with fresh cilantro and a squeeze of lime juice for added freshness.
Don't want to eat it with rice? Use other grains like quinoa, millet or brown rice.
For a refreshing twist, serve the curry over a bed of fresh spinach leaves or mixed greens.
Top the curry with a dollop of vegan yogurt or coconut cream for added creaminess.
Garnish with a sprinkle of toasted cashews or sliced almonds for extra crunch and texture.
Pair the curry with a side of roasted vegetables, such as cauliflower, carrots, or Brussels sprouts, for a nutritious and colourful plate.
Add a touch of heat with a drizzle of your favourite hot sauce or a sprinkle of red chilli flakes.
Serve with a side of homemade pickles or chutney for a tangy and flavourful accompaniment.
Love Indian food? Some more delicious recipes.
If you try this recipe, let me know! We'd love for you to leave a comment and rating below. If you want to go that extra mile, tag us on Instagram or share your photo of the recipe on Pinterest.
Print
Creamy Chickpea Curry (Vegan + Without Coconut Milk)
---
Author:

Prep Time:

7 minutes

Cook Time:

35 minutes

Total Time:

42 minutes

Yield:

6
Description
This creamy vegan chickpea curry is not only a delight for the palate but also a wholesome and nourishing meal. Packed with plant-based protein and essential nutrients, it offers a satisfying and balanced option for vegetarians and vegans alike. 
---
½ cup

cashews

3 tablespoons

neutral oil (we used avocado)

1

onion, diced

3

garlic cloves, minced

1

-inch piece ginger, finely grated

1

green chilli, minced (around

2 tablespoons

)

1 tablespoon

curry powder

1 teaspoon

ground cumin

½ teaspoon

ground coriander

¼ teaspoon

cinnamon

3 tablespoons

tomato paste

4

medium (around 550g / 1.2 pounds) tomatoes, diced

2 tablespoons

tamari (or soy sauce)

3

cans / 400g / 14.10 ounces each chickpeas, drained and rinsed (

4.5 cups

cooked chickpeas)

1 teaspoon

salt (more to taste)

1 tablespoon

sugar (if in the US, use organic)

1 tablespoon

garam masala
Fresh coriander / cilantro, for garnish
---
Instructions
Soak the cashews in boiled water and set aside.
In a large pot, heat the oil over medium heat. Add the diced onion, garlic, ginger and green chilli and cook until softened and fragrant, about 6-8 minutes. In the meantime, chop up the tomatoes.
Add the curry powder, cumin, coriander and cinnamon and cook for 1 minute, stirring. Make sure you don't burn the spices. If need be, deglaze the pot with a little bit of water.
Add in the tomato paste and stir in well, cooking for another minute.
Pour in the tamari and diced tomatoes, mix and put the lid on. Stir occasionally and let it simmer down for 10 minutes. It will turn into a thick, creamy consistency.
In the meantime, prepare your cashew sauce. Drain the cashews and add them along with 1 ¼ cup of water to a small blender and blend until smooth. Set aside.
After it's been cooking for 10 minutes, add in the chickpeas, salt and sugar and stir well. Let it cook for 5 minutes.
Stir in the cashew sauce, and garam masala cooking for another 8-10 minutes so that the sauce thickens and becomes creamy.
Adjust seasoning if needed.
Serve the vegan chickpea curry hot, garnished with fresh coriander with a side of rice, quinoa or other grain of choice.