This easy vegan mulled wine has beautiful notes of citrus and spices to give your drink complex flavours in no time. Sit back and enjoy on a cold and cozy day.
In 20 minutes, you can be enjoying a drink to warm you up from the inside out. A mulled wine can transport you into a state of calm and give you holiday vibes in an instant.
It's the perfect drink to share with others during the holiday season!
Is mulled wine suitable for vegans?
Making a mulled wine vegan comes down to what type of wine you use. It's the wine that's often the culprit, not the other ingredients that can make a mulled wine not vegan-friendly.
Some wines use animal-based products in processing wine. To learn more about it, read our in-depth guide on this topic.
So when you're buying the wine, double-check the label and look to see if it says on it that it's vegan. Sometimes the bottle will clearly state what fining agents they use to process the wine.
Sometimes it will also not specify. In that situation, I would err on the side of caution and assume that it's not vegan unless you know the brand or have checked with the salesperson in the store to confirm otherwise.
We have also seen some mulled wine recipes that use honey as a sweetener, so this would be one other factor that would make mulled wine not vegan.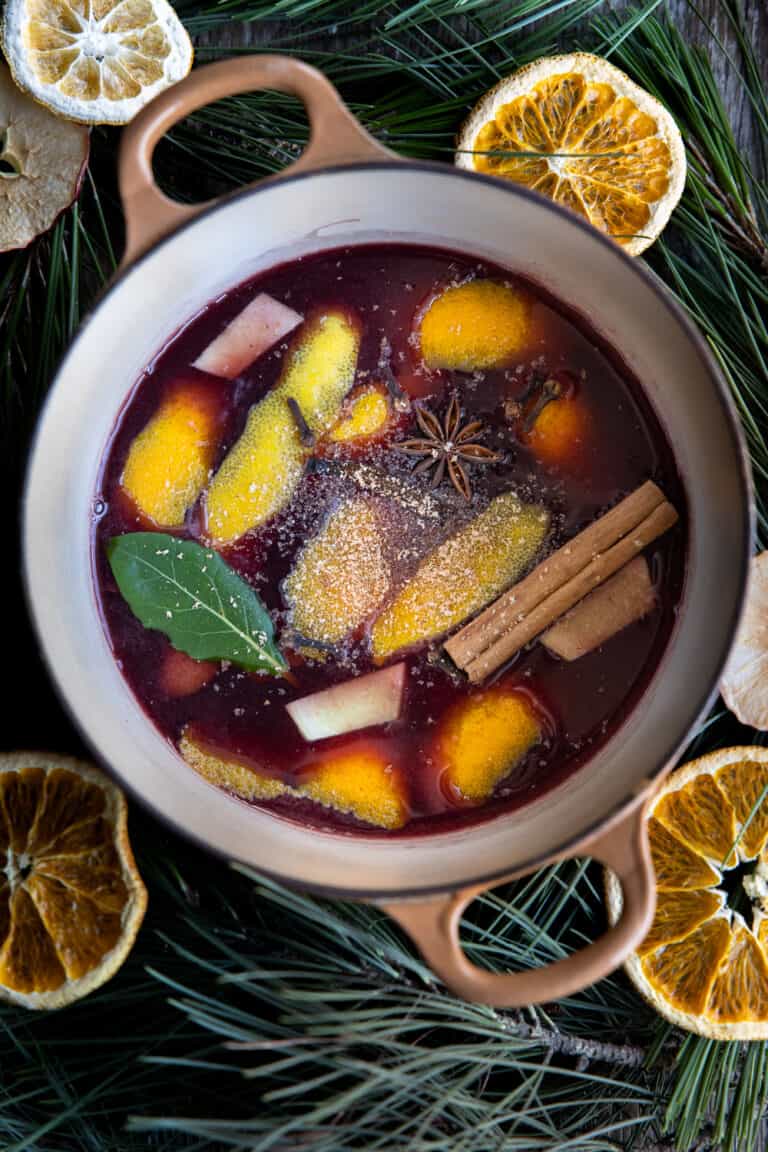 Does boiling mulled wine remove alcohol?
Yes, it will, well most of it. You would need to bring it up to 78 degrees Celcius (172 degrees Fahrenheit) to pretty much remove the majority of the alcohol. It would also concentrate the flavour, making it sweeter and more acidic.
However, this will change the taste of the drink and that's not what we're going for in a mulled wine. More on this below.
Can I make a non-alcoholic mulled wine?
If you want to have a non or low-alcoholic mulled wine, use a non-alcoholic base. We have tested it with a 0.5% wine and the flavours were different but still really nice.
The only thing that needs to be adjusted is the amount of sugar that is used from ½ cup to ¼ – ⅓ cup depending on how sweet your non-alcoholic wine is and your personal preference.
We would strongly suggest using a base that you would enjoy drinking, otherwise, the drink will be only as good as the bottle that you've picked to use for it.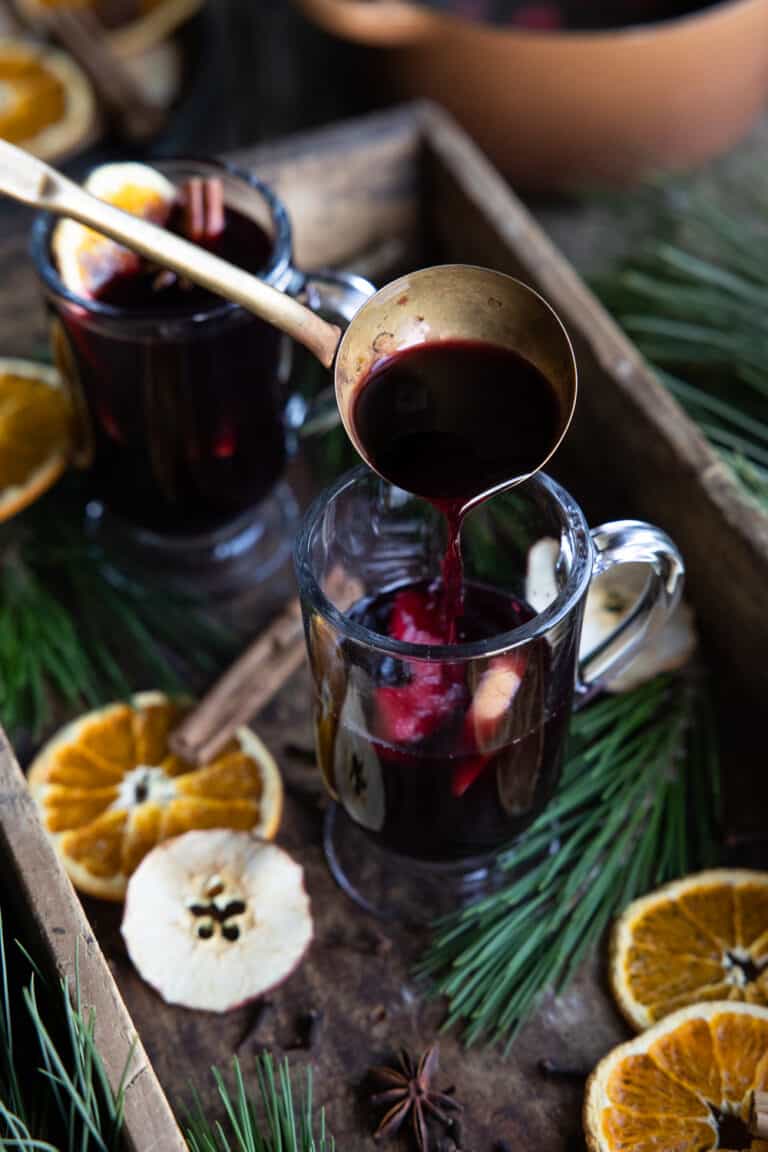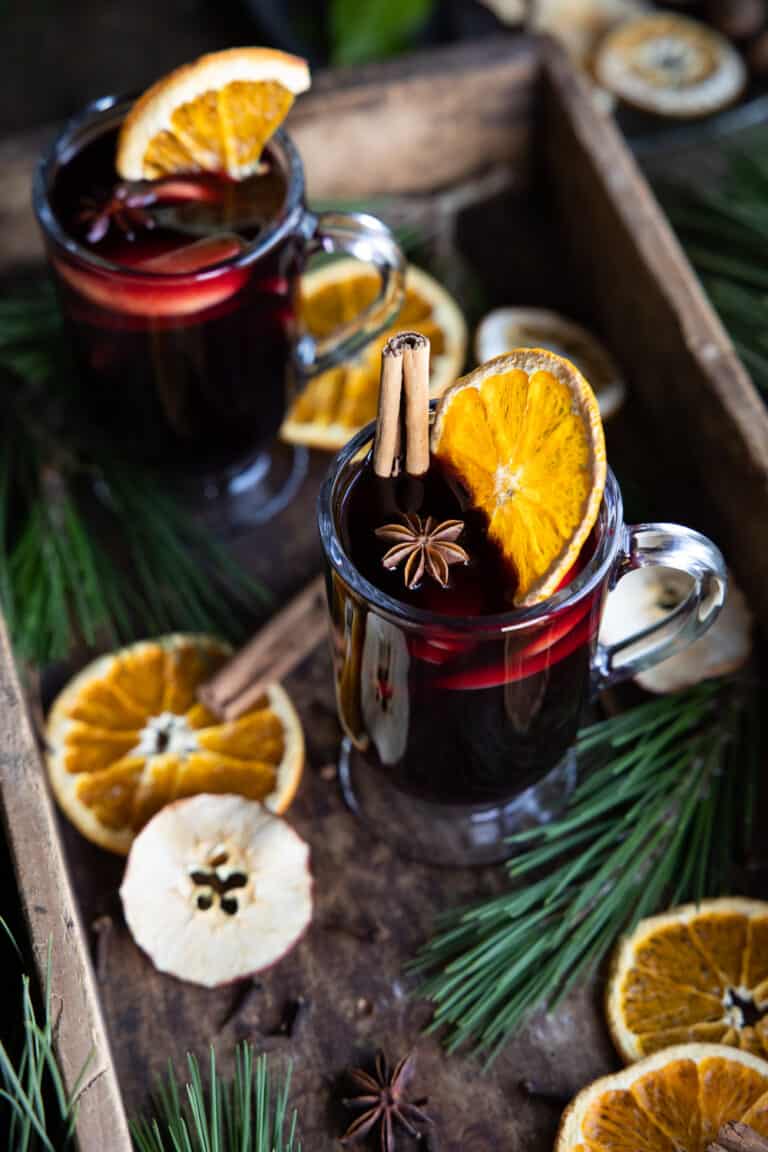 What is in mulled wine?
What you find in a mulled wine will vary from recipe to recipe. However, you'll see a combination of fruits (or berries) and whole spices.
In this recipe the fruits and spices used are:
Orange peel and juice
Lemon peel
Apple
Star anise
Vanilla pod
Bay leaf
Cinnamon quill
Cloves
Fresh ginger
Nutmeg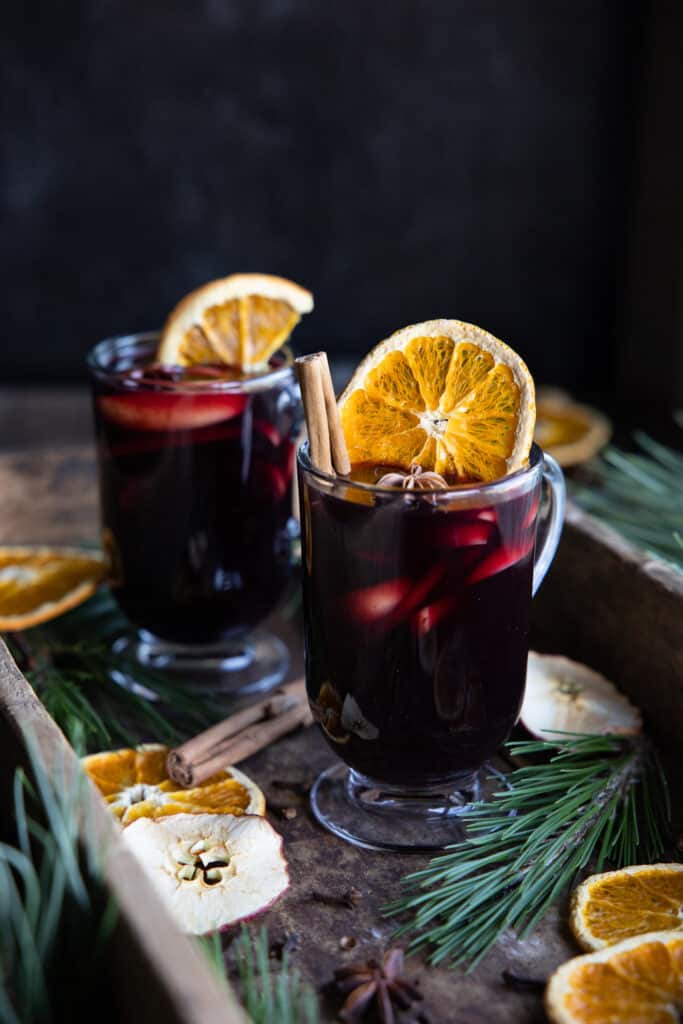 What type of wine is best?
For mulled wine, the best wines are the full-bodied ones like Merlot, Cabernet Sauvignon, or Grenache. These wines are dark and fruity, which is what we want in a mulled wine.
In saying that, any wine you enjoy drinking otherwise will be fine. Just make sure you don't mix different varieties if making a bigger batch.
Keep in mind that the flavours will be reflected in the end result based on the wine you choose to use.
Tips for making this mulled wine
You can use either normal vegan wine or a non-alcoholic wine for this recipe.
When peeling the citrus, make sure you to avoid peeling the pith with it as this will give the wine a bitter taste.
We have tested this recipe with Fuji and Pink Lady apples, and they both worked well. You can use any apple you like as long as it's firm and crunchy. You don't want a floury soft one to disintegrate in the drink.
Cooking the wine with the citrus and spices at the beginning is crucial to get the most out of the ingredients. If you don't do this step, the wine will not be as flavoursome.
Make sure you don't boil the wine when adding the larger amount into your pot as that will cook out the alcohol.
What should I top my mulled wine with to serve?
I dehydrated some apples, oranges, and lemons to decorate the drinks. However, this is purely decorative and totally unnecessary if you add chunks of the cooked apples inside the drink to enjoy as you drink the wine.
You can still top with some decorative elements like a cinnamon quill, star anise, or some freshly grated or peeled citrus.
But if you want to go all out, go ahead and dehydrate your own fruits in the oven or a dehydrator.
I won't keep you in any more suspense. I hope you enjoy this mulled wine recipe as much as we enjoyed creating it!
Other holiday recipes you'll love:
If you try this recipe, let me know! We'd love for you to leave a comment and rating below. If you want to go that extra mile, tag us on Instagram or share your photo of the recipe on Pinterest. 
Print
Vegan Mulled Wine
---
Author:

Prep Time:

5 minutes

Cook Time:

15 minutes

Total Time:

20 minutes

Yield:

4
Description
This vegan mulled wine has notes of citrus and spices that will create the perfect balance for a warm drink. Perfect to share during the holidays!
---
½ cup

/ 115g sugar (make sure it's organic if in the US)

⅓ cup

/ 80ml orange juice (about

1

orange)

3 cups

/ 750ml vegan red wine*
Peel of

one

orange*
Peel of

one

lemon*

1

 star anise

½

 vanilla bean pod, cut lengthways and opened

1

 bay leaf

1

 cinnamon quill

6

 cloves

1

-inch knob fresh ginger, sliced
Pinch freshly grated nutmeg

1

 apple,* thinly sliced
---
Instructions
Into a medium-sized saucepan on medium heat, add the sugar, orange juice, ⅓ cup / 80ml of the wine, and all the other ingredients besides the apple slices. Stir to let the sugar dissolve. Bring it to a boil and let it simmer for 5 minutes creating the base flavour for the drink.
Add in the apple slices and the rest of the wine and lower the heat. Let it warm up slowly; keep an eye on it. Turn it off before it gets to the boiling point. Do not let the wine boil, as this will burn off all the alcohol.
Ladle out straight away, removing everything but the apples to pour into the glasses or mugs.
Serve warm with a garnish of choice. We used a cinnamon quill, dehydrated orange disks, and star anise.
Notes
Wine: The best wines to use are full-bodied wines like Merlot, Cabernet Sauvignon, or Grenache. These wines are dark and fruity. However, any wine you have is fine; just don't mix different bottles if making a bigger batch. If you enjoy drinking the wine normally, you'll enjoy it in this mulled wine. Keep in mind that the flavour profile will change depending on which bottle you choose to use.
Citrus peel: When peeling the citrus fruits, pay attention to try and peel only the zest. The orange and lemon's white part (pith) makes the drink bitter, so the less of it in there, the better.
Apple: We have tested this with both a Fuji and Pink Lady apple, but you can use any apple you like as long as it's firm and crunchy. You don't want a floury soft one to disintegrate in the drink.
If you don't plan to serve the drink straight away, remove the citrus peels so that the wine doesn't get too bitter over time.