Spiced Roasted Pumpkin with Farro and Hummus
This spiced roasted pumpkin with farro and hummus is a great starter, light meal, or dish when you want to impress someone. It's easy to make and the perfect crowd pleaser!
I must say I was delighted with the flavour combinations in this dish—a hint of smokiness, nutty tones, sweet pops, saltiness and acidity. The beautiful chewy texture from the farro with the silky-smooth hummus and melt-in-your-mouth pumpkin will have you going back for more with every bite.
What are all the components of this dish?
You'll find three different components in this starter. Here's the breakdown:
The creamiest hummus
I recently published a hummus recipe that will change your life. I've become so obsessed that I wanted to include it in as many dishes as possible. This is why and how this dish came about. If you've been eating store-bought hummus or making your own but feel like it could use some improvements, this will be your new go-to recipe. Trust me, it will be a game-changer. It's the perfect base for this delicious entree!
Spiced roasted pumpkin
Quick and easy to make, the spice mix that I've created for the pumpkin is Middle-Eastern inspired. It has beautiful smoky, nutty, earthy and citrus notes. You can use this spice mix on anything from chickpeas and cauliflower to tofu and seitan. It's so versatile! I always keep a jar of the spice mix in my pantry. 
Farro salad
I only recently started using farro, and now I'm a big fan! I love the chewy texture and subtle nuttiness you get from this green durum wheat. It's an ancient grain and can be added to so many different things.
This little salad is a perfect addition to leafy salads, in place of any salad on your plate, tossed through roasted vegetables, with vegetable skewers, in lettuce cups, sprinkled on top of soups, in place of tabbouleh, oh and so much more! Farro is super easy to cook. It's versatile, high in protein, rich in fibre and the perfect flavour carrier.
What can be used in place of farro?
As much as I'd love for you to try this recipe as is because it tastes amazing, I'm aware that not everyone has either access to farro or can digest it (it's not gluten-free). Here are a few options for you to try instead:
Barley
Wheat berries
Brown lentils
Puy (aka French) lentils
Beluga beans
Brown rice (medium grain)
Tips and tricks for making this vegan starter
Here are a few tips and tricks to help you get the best results.
Use freshly made hummus, if not, make sure that you dilute it a little with water and adjust seasoning if needed before spreading onto the plate. You want a creamy consistency.
You can prepare all components ahead of time and assemble when you're ready to enjoy. The only thing I would add before serving would be the mint and parsley to the farro.
It can be served warm or cold. I like it both ways.
If you don't have pumpkin at home, you can swap it out for a cauliflower steak. A cauliflower steak is simply a slice of cauliflower rather than florets.
See above suggestions for what you can use in place of farro if you don't have access to it or would like to make this gluten-free.
See below suggestions for what kind of pumpkin is best for this recipe.
What is the best type of pumpkin/squash for this recipe?
Depending on where you are in the world, it can get a little confusing to identify and understand what we call here in Australia a pumpkin. To clarify which varieties are best, here's a list for you to select from. Any of these will work:
Jarrahdale
Fairytale
Long Island Cheese (yes that is a name)
Queensland Blue
Kent/Japanese/Kabocha
Perfect starter for the holidays or special occasions
This spiced roasted pumpkin with farro and hummus is the perfect accompaniment to a three-course menu when you're planning something a little more special over the holidays or other occasions.
It can be served as a generous starter or a light meal for four. As I mentioned earlier, it can be prepared ahead of time, making it a great meal prep dish to make the day before to have a hassle-free day to spend with family and friends during the holidays. They'll be very impressed if you serve this at dinner!
It's not only great for special occasions but for your weekly meal prep for when you want to pack a light meal on the go. It will last in the fridge for up to 3-4 days. The flavours will get better with age.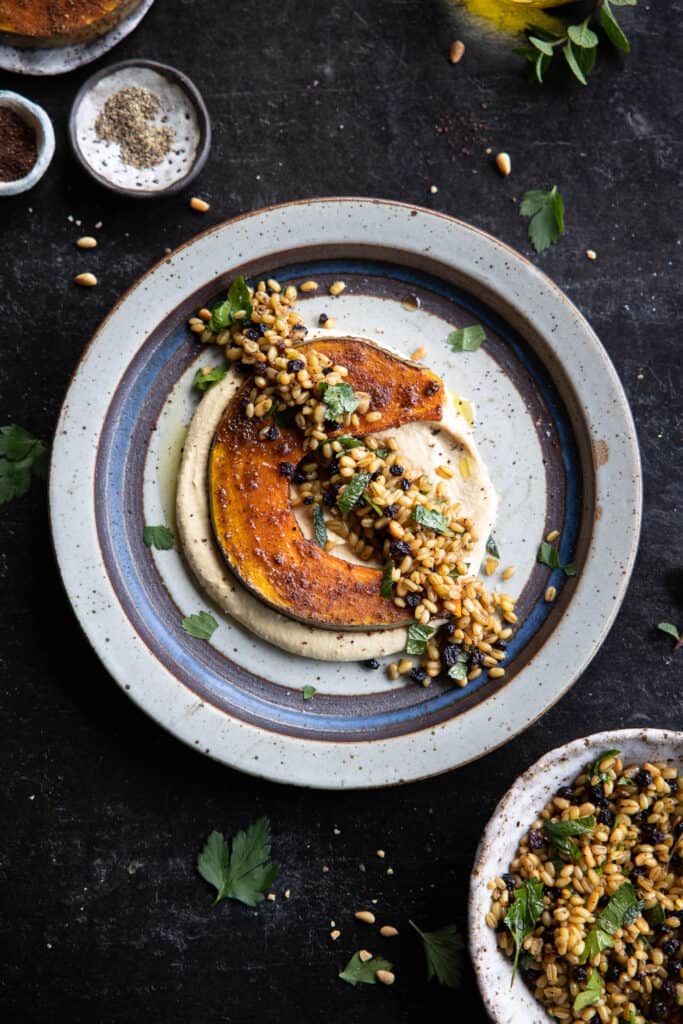 This dish is:
Flavourful
Beautiful
Nutritious
Protein rich
Packed with herbs and spices
Balanced
Easy to make
​​Other recipes you'll love:
If you try this recipe, let me know! We'd love for you to leave a comment and rating below. If you want to go that extra mile, tag us on Instagram or share your photo of the recipe on Pinterest.
Print
Spiced Roasted Pumpkin with Farro and Hummus
---
Author:

Prep Time:

15 minutes

Additional Time:

15 minutes

Cook Time:

40 minutes

Total Time:

1 hour 10 minutes

Yield:

4 generous starters or light meals
Description
This recipe is the perfect vegan starter for any special occasion when you want to impress someone without too much effort.
---
1½ cups

hummus

500g

/ 1.1 pounds pumpkin,* deseeded, washed, cut into

4

half-inch pieces
Spice mix:
1 teaspoon

smoked paprika

1 teaspoon

ground cumin

½ teaspoon

black pepper

½ teaspoon

ground coriander

½ teaspoon

sumac

¼ teaspoon

cinnamon

½ teaspoon

salt

2 tablespoons

olive oil
Farro salad:
½ cup

/ 100g farro*

⅓ cup

/ 45g currants

⅓ cup

/ 45g pine nuts

⅓ cup

parsley, chopped

10

mint leaves, chopped

½ teaspoon

sumac

1 tablespoon

balsamic vinegar

3 tablespoons

olive oil

½

–

1

teaspoons salt, to taste
Pepper, to taste
---
Instructions
Preheat oven to 200 degrees Celcius (390 degrees Fahrenheit) and line a sheet pan with parchment paper. Set aside.
Cook the farro as per the packet instructions.*
In a small jar, add all the spice mix ingredients and mix well. Rub the spice mix on each of the four pumpkin wedges on both sides liberally (see picture above for reference). Place in the oven and bake for 30-35 minutes or until the pumpkin is cooked when a knife or fork is inserted.
10 minutes before the pumpkin is finished, add the pine nuts to a flat baking tray and add them to the oven. Toast the nuts until golden.
Once the farro is cooked, add it to a bowl along with the toasted pine nuts, currants, parsley, mint, sumac, vinegar, oil, salt and pepper. Toss well to combine.
Now you're ready to plate up. Spread a generous few spoons (around ⅓ cup) of creamy hummus on the bottom of your serving plate in a secular motion. Add the wedge of pumpkin and sprinkle a ¼ of the farro salad over the top. Repeat process for all serves.
Enjoy straight away or keep components separate in the fridge to serve at a later time.
Notes
Pumpkin: Please refer to notes above on the best pumpkin varieties for this recipe. You can leave the skin on as it's edible.
Farro: I used roasted farro and the cooking instructions were as follows: Add ½ cup of farro, 1¼ cups cold water and a pinch of salt to a small saucepan. Bring to a boil. Cover the saucepan with a tightly fitting lid and lower the heat to medium. Cook for 30-40 minutes. Ensure all the water has been absorbed and the grains are tender.
Gluten-free options: Please refer to notes above for farro substitutes.
Hummus: I typically make the hummus after placing the pumpkin in the oven with the cooked chickpeas.