Lemongrass tofu is a popular Vietnamese side dish that is an easy and delicious way to enjoy tofu. With a few simple yet punchy ingredients, you can transform a plain block of bland tofu into something quite remarkable.
Serve it with rice, noodles, or a salad, add it to a curry, or to a noodle bowl. This Vietnamese lemongrass tofu recipe will be yet another reason to love the versatility of tofu!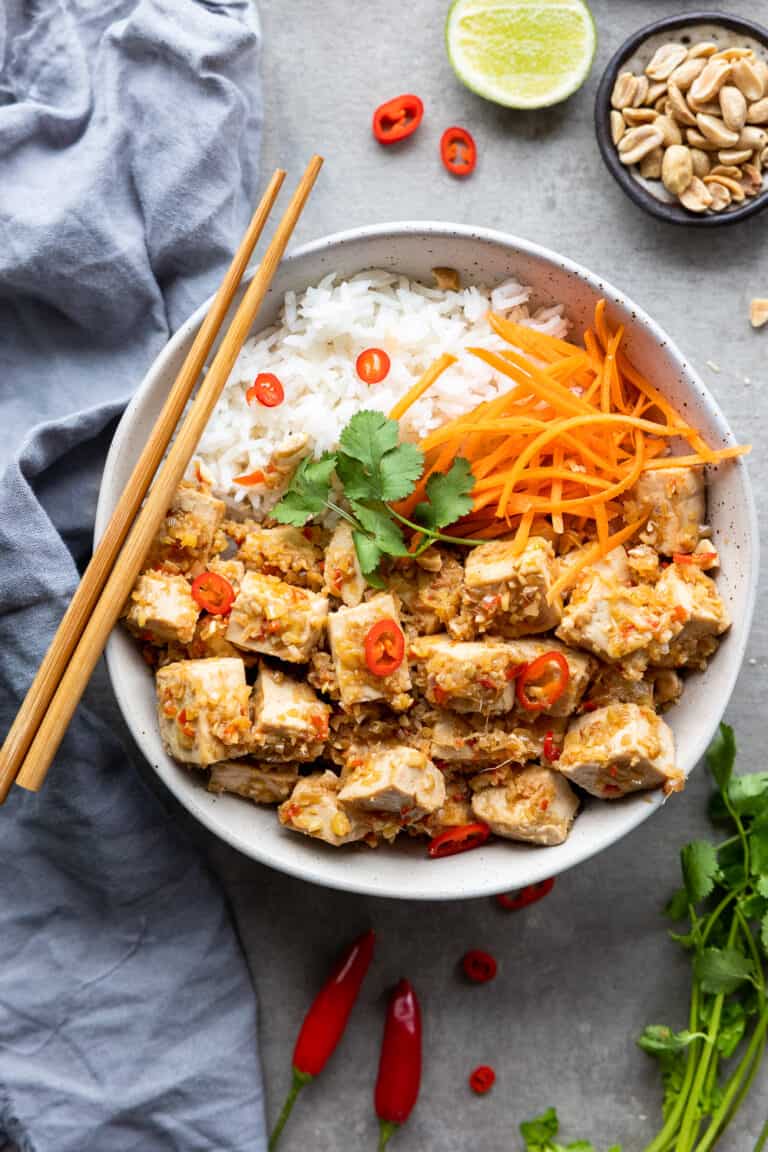 How long should I marinate the tofu?
For this recipe, marinate the tofu for at least 1 hour and up to 24 hours before use. The longer you leave it, the bolder the flavours will be.
Lemongrass tofu recipes that I've seen are generally not marinated before being pan-fried. I have tried both methods, and I find that marinating first deepens the flavour and gives you a tastier overall dish.
Yes, it's more time-consuming, but the results are worth it. You can prepare it the night before and let it sit in your refrigerator until you're ready to use it.
I wouldn't recommend using fried tofu or tofu puffs for this recipe, as the skin formed on the outside won't let the flavour penetrate as well as a raw one.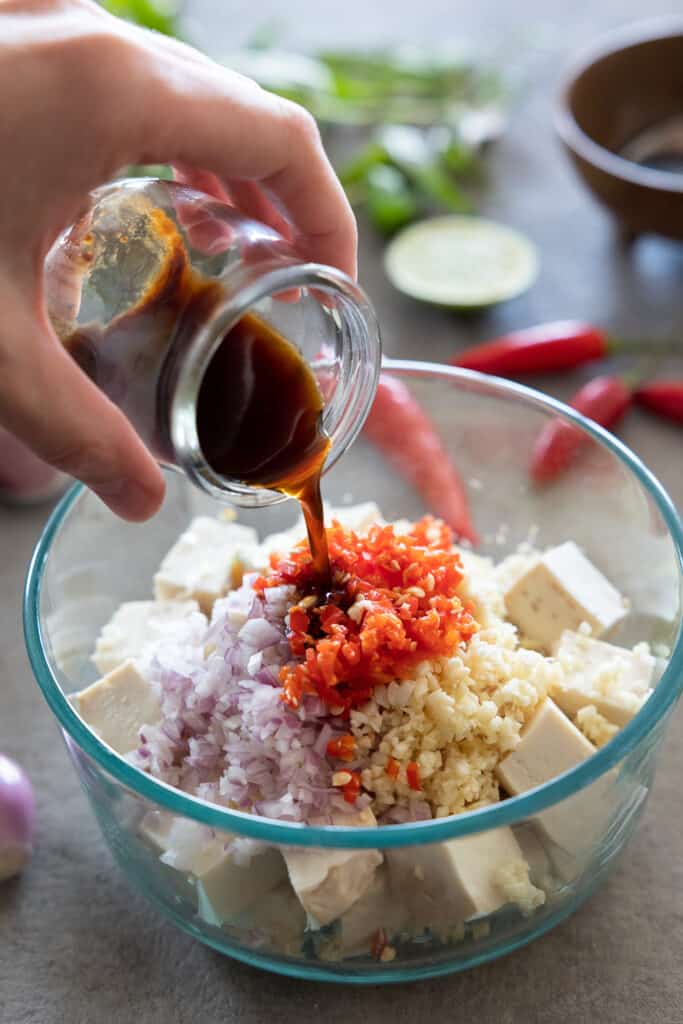 Here's an example of the two different types of tofu I generally buy (unless I need silken tofu for something). You can see that the one on the left is softer and will melt in your mouth rather than be chewy. The one on the right is great for so many other uses. It's perfect for shaving, on skewers, or in curries.
The one we're using hasn't had all the liquid pressed out of it, so it is lighter and bouncier.
How to trim and prepare lemongrass
This is important to know if you're like me and haven't used it much in your cooking. I've been using it more in my cooking in the last year. It adds lots of flavour and citrusy notes to your meal.
Lemongrass can be a little intimidating. So, to give you some reassurance and confidence that you'll get this right, here are a few things to keep in mind when using it.
The stalk's soft, inner, white part will be used for the marinade. The rest is super hard and fibrous and not ideal for eating. Save it for stock or tea.
Cut down the lemongrass to about a 3-4 inch long piece. This part has the most flavour and is softer than the rest. Trim off the hard base and peel back a leaf or two that's pretty tough and woody.
Now all you have to do is chop it finely (essentially mince it as fine as you can) and add it to the other ingredients with the marinade.
Tips for making this lemongrass tofu recipe
Use medium-firm tofu, not an extra firm, as the texture and overall flavour won't be the same. I find that firm tofu needs to be pan-fried first to get some colour before use.
Use fresh lemongrass, chilli, and garlic for the best results. The jarred product won't yield the same delicious flavour.
You can use a mortar and pestle, a small food processor, or chop it all finely by hand. I find that I get the best results with the latter two. I personally like some small chunks in the tofu marinade, but if you want to create more of a paste, use the mortar and pestle method. You will still have to chop it before turning it into a paste to speed up the process.
The longer you leave it to marinade, the more intense the flavour. I like to leave it for at least two hours.
Toss the tofu gently when covering with the marinade and when pan-frying. Don't be rough with it, as the tofu will fall apart.
The smaller the pieces of tofu, the more flavour will go into the pieces of tofu, and give each piece will be a flavour bomb.
If you struggle to find lemongrass and manage to get some, buy a few stalks of it and freeze some. Chop it up finely and keep it handy whenever you want to use it at a later date. Want other uses for lemongrass? Try my laksa recipe!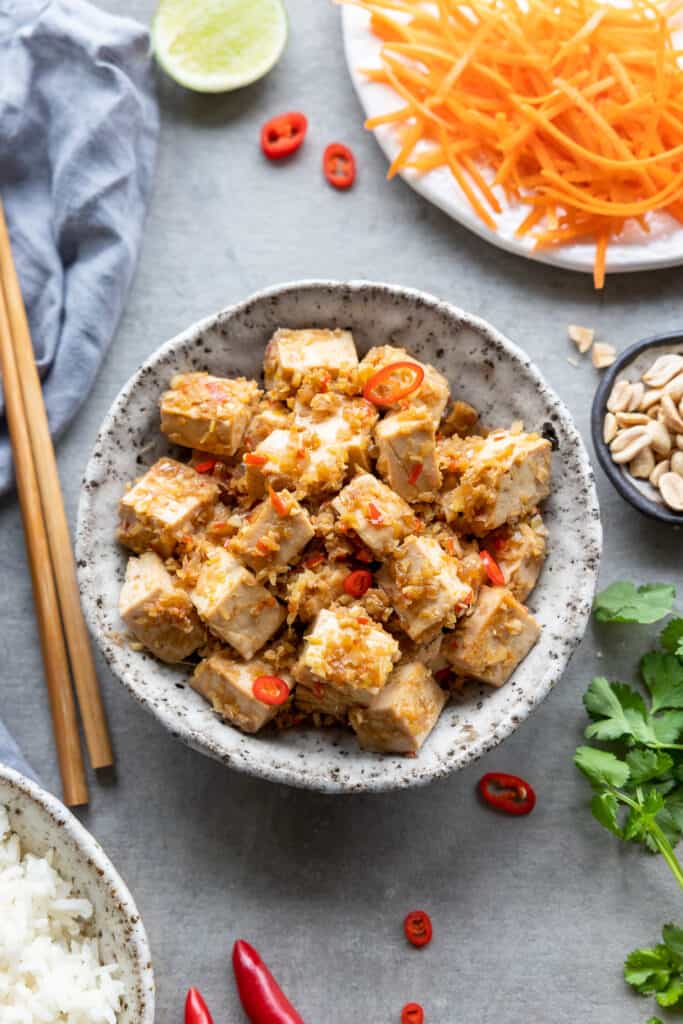 What can you serve with lemongrass tofu?
It can be used in so many different ways. Here are a few suggestions:
Curries
Stir fry
Spring rolls or rice paper rolls
Tossed through a salad
Part of a Buddha bowl
In a laksa
With rice noodles
Fried or plain rice
Other recipes you'll love:
If you try this recipe, let me know. We'd love for you to leave a comment and rating below. If you want to go that extra mile, tag us on Instagram or share your photo of the recipe on Pinterest.
Print
Lemongrass Tofu
---
Author:

Prep Time:

15 minutes

Cook Time:

5 minutes

Total Time:

20 minutes*

Yield:

2
Description
This is an easy lemongrass tofu recipe with punchy and rich flavours using fresh ingredients. It's perfect served with rice, as part of a salad, added to a curry, stir fry, or in a laksa. 
---
1

small shallot, minced

½

red chillli, minced (regular or birds eye, depending on how hot you like it)

1

stalk lemongrass, trimmed and finely minced

2

garlic cloves, minced

1

-inch ginger piece, finely grated

2 tablespoons

tamari (or soy sauce)

2 teaspoons

lime juice

1 teaspoon

coconut sugar

250g

/ 8.82 ounces medium-firm tofu, cut into bite-sized cubes

2 tablespoons

neutral oil (like grapeseed or rice bran)
---
Instructions
Prepare the aromatics. Make sure you chop them as fine as you can. If you'd like to speed up the process and have a small food processor, you can use that instead. 
Add the aromatics that you've minced to a container, along with the tamari, lime juice, sugar, and tofu, mixing well. Set aside to marinade for at least an hour, ideally overnight in the refrigerator. The flavours will develop further the longer you leave it.
Place a frypan or skillet on medium-high heat and add oil once it has warmed up. Follow in with the tofu as well as all the marinade with it. Toss the tofu pieces gently every 30 seconds or so. If it starts to stick, add a splash of water. Cook for around 5-6 minutes until the tofu has some colour. Don't overcook it or add too much water as it will become too soft and may be mushy.
Serve straight away with rice or as part of a bowl. 
Notes
Total time: Time does not include the minimum marinade time of 1 hour. As it varies depending on how long you will leave it. You can prepare it up to 24 hours prior. 
You can easily double or triple this recipe to serve 4-6 people.